Community involvement
LET'S PAY IT FORWARD!
In an effort to affect change in our community and impact others, Christian Brothers Automotive Castle Rock will make a donation to one of the following entities each time we service a vehicle – you choose!

Christian Brothers is proud to support Hide in Plain Sight. This organization is bringing together generous people with students who are living in poverty. Hide in Plain Sight was founded in order to support students who have been faced with homelessness, and provide them with an opportunity to pursue their educational goals. Hide in Plain Sight currently supports homeless and poverty stricken students throughout the state of Colorado.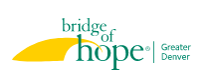 Bridge of Hope is a three-way partnership that includes: Family Facing Homelessness, Neighboring Volunteers, and Case Managers. This organization equips and trains the local Christian Communities (churches, Bible study groups, house churches, etc.) to go out and help the less fortunate in practical, tangible and neighboring ways.

The Dumb Friends League is a full-service shelter that offers adoption, admissions, lost-and-found services, and humane education classes for the public. This organization is working with its kindhearted community to end pet homelessness and animal suffering.
No More Locked Doors Ministries

The purpose of this ministry is to empower female parolees by providing structured and positive mentor-ship, along with practical solutions to every day problems; creating a smoother conversion from prison to the community. No More Locked Doors Ministries provides opportunities for the parolees to experience the joys of Jesus.

Secor Cares reaches out to families who are in need of basic necessities. The organization provides food, financial assistance, and the restoration of dignity along with the hope for a better life. Their vision is to build a team who provides their services for more than 5,000 families, working along side like-minded organizations planting the SECOR model.
Christian Brothers Automotive Castle Rock is honored to be named Best of the Best 2015, 2017 & 2018, indicating your faith and trust in us for your auto repair needs.