What to Expect With a Battery Replacement
1. Schedule Your Appointment
Whether scheduling online or over the phone be sure and let us know what you're experiencing so we can provide fast and accurate service advice.
2. Diagnostics and Inspections
Drop off your vehicle and the shop will get to work with inspections and diagnostics using the same equipment as the manufacturers to determine issues and next steps.
3. Digital Vehicle Inspection Report and Estimate
Following the diagnosis we will text you a digital vehicle inspection report, containing pictures and videos of our findings and recommendations.
4. Review and Approval
A service advisor will reach out to walk you through the findings and recommendations to determine how you would like to proceed, or you can approve work directly in your DVI.
5. Work Performed or Scheduled
Most work can be completed immediately, or scheduled based on parts and customer availability.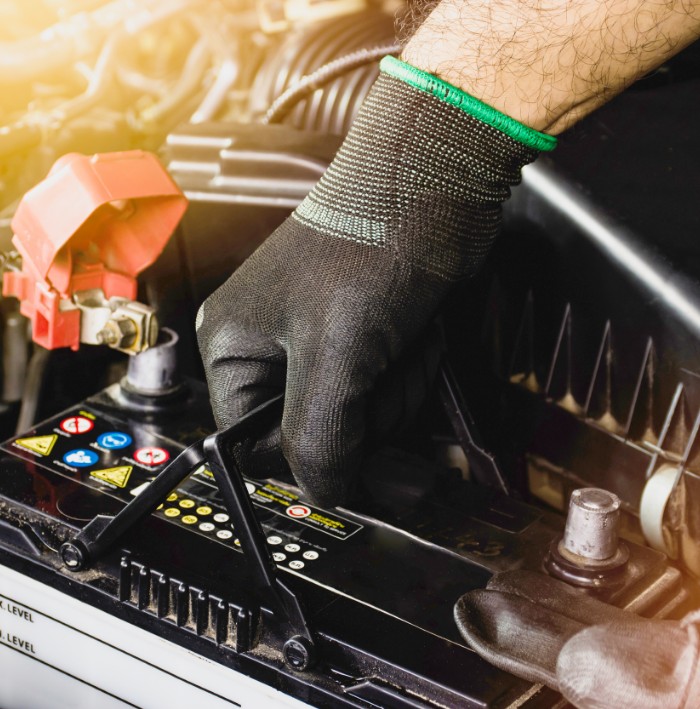 Dead or Weakened Battery Warning Signs
A common misconception about modern car batteries is that they'll give you plenty of warning before they give out. While it is true that vehicles used to start slower and slower before a battery finally died, most modern batteries have evolved to work at full capacity until they just can't anymore. Though it's nice that batteries today function longer than they used to, you have to look for smaller signs that it may be on the fritz.
Common ways to tell that your battery is about to go out include:
Diminished electric functions (slower power windows, dimmed headlights, etc.)
Slower engine crank
Clicking noise when turning the key
Old age
Corroded terminals
Choose Christian Brothers Automotive
When it comes to replacing your car battery, it's crucial to choose a reliable and trustworthy service provider that prioritizes both quality and customer satisfaction. At Christian Brothers Automotive we offer a range of exceptional services backed by our commitment to honesty, expertise, and unmatched customer care.
Read More
Read Less
FAQs
Q. "How long can a car sit before the battery dies?"

The battery in your car can die within as little as two weeks when unused. While our cars are more technologically advanced than ever, this comes at a cost. Due to the various gadgets and computer technology manufacturers include in our vehicles, the newest models coming off the line are always on, continually monitoring the car's systems around the clock.

Q. "Does the temperature affect my vehicle's battery?"

Hot and cold temperatures can ruin your battery, especially if it's already weak. Most customers in warm, southern climates don't realize that hot weather drains their batteries. On the other hand, cold temperatures slow down chemical reactions, which means that your car battery will become sluggish and appear to be far lower than it actually is. Most modern batteries are designed to deliver an abundance of power at what is considered a "cold crank" temperature, but older batteries or batteries which are further into their lifespan may even fail to start your car on a particularly frigid and frosty morning.

Q. "Why do car batteries fail?"

The answer to this popular question includes many different reasons, ranging from age, corrosion, alternator problems, extreme weather conditions, or the classic case of headlights being left on. We explain why these common problems affect your vehicle's battery on our auto repair blog.

Q. "Do you look at all makes and models?"

Yes! Christian Brothers Automotive has been providing reliable car maintenance and repair for over 40 years. Over that time, our professionals and ASE-certified technicians have handled a vast range of makes and models, and they continue to navigate the forefront of the auto industry's technologies. If you own a vehicle from a major American or foreign car maker, we are ready to service it.

Q. "Do you offer a warranty?"

As part of our Nice difference.® commitment to providing our customers the best auto service experience possible, we also offer a3-year/36,000-mile warranty on all the work that we do. We offer this warranty at every Christian Brothers Automotive nationwide, and it will be honored at any location, regardless of which branch did the initial work.

Q. "How do I jump start my car?"
Have more Questions?
Our friendly auto service experts have the answers.
Call your local Christian Brothers Automotive car shop today
Hear What Our Customers Had to Say About Us
"I liked the customer service and going above and beyond to make sure I was comfortable while waiting in the store for my vehicle work to be done, specifically being offered a nice hot coffee with creamer."

- J.L.