What to Expect With a Fuel System Service
1. Schedule Your Appointment
Whether scheduling online or over the phone be sure and let us know what you're experiencing so we can provide fast and accurate service advice.
2. Diagnostics and Inspections
Drop off your vehicle and the shop will get to work with inspections and diagnostics using the same equipment as the manufacturers to determine issues and next steps.
3. Digital Vehicle Inspection Report and Estimate
Following the diagnosis we will text you a digital vehicle inspection report, containing pictures and videos of our findings and recommendations.
4. Review and Approval
A service advisor will reach out to walk you through the findings and recommendations to determine how you would like to proceed, or you can approve work directly in your DVI.
5. Work Performed or Scheduled
Most work can be completed immediately, or scheduled based on parts and customer availability.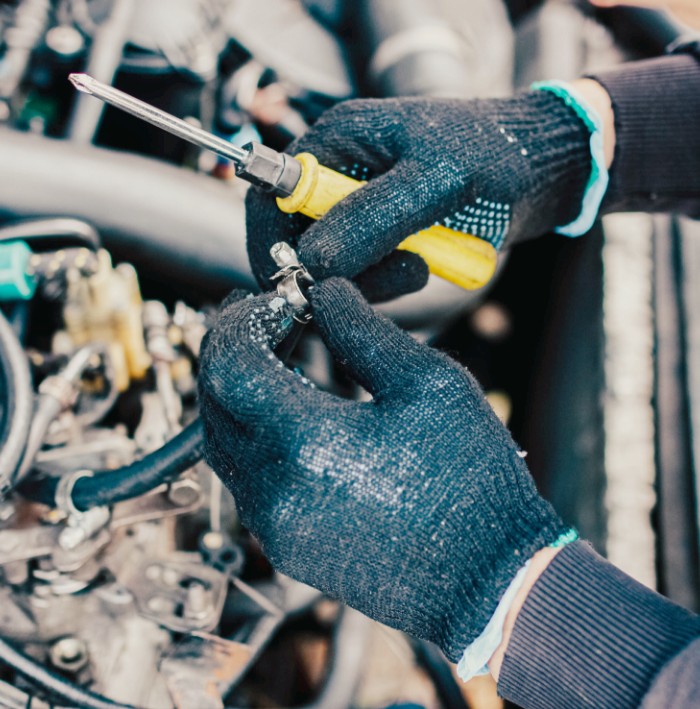 More about Your Fuel System
The right fuel system cleaning can do wonders for your vehicle's performance. Dirty fuel systems lead to sluggish cars, dirty spark plugs, and low fuel mileage. Christian Brothers Automotive provides a fuel system checkup for a more fuel-efficient vehicle.

Injectors spray fuel through a nozzle into the combustion chamber. Ideally, they spray a fine, cone-shaped mist. But deposits and wear can cause them to spray inefficient streams of fuel into the chamber. These streams burn poorly and can cause hesitation and other performance problems. Fuel injection cleaning involves removing deposits from the injectors and fuel lines, and adding a clean fuel filter to the vehicle.

Dirty fuel and inefficient fuel systems also can lead to more expensive repairs. One of the major causes of premature catalytic converter failure is improper fuel burning. A new catalytic converter can cost thousands. But a bit of preventative maintenance can help you avoid these kinds of costly repairs and system replacements.
Don't wait for your fuel system problem to turn into a headache. Contact Christian Brothers Automotive today.
Read More
Read Less
FAQs
Q. "Why is my engine making bucking sounds when I drive?"

The fuel system is a good place to investigate first whenever your engine starts to give you problems. The two most common issues we see are clogged fuel filters and damaged fuel pumps. Both of these will harm your engine if not taken care of promptly.

Q. "What are fuel filters?"

Fuel injectors are easily clogged due to their small openings. They are susceptible to the dirt particles that your car drives through on the road. It's important that the fuel remains clean and free of dirt so that it can be easily sent to the engine. The fuel filters ensure the fuel is protected from dirt. Typically, filters are made from a paper material that is thrown away and replaced when it becomes too dirty or worn out. Sometimes, cars will have filters that use a mesh material. These can be washed and then put back in the vehicle.

Q. "How do fuel filters affect the fuel pump?"

Clogged fuel filters make it hard for the fuel pump to deliver gas to the engine. If the filter is blocked with dirt, the pump has to work a lot harder to pump the fuel. This will cause it to wear out and unable to perform over time.

Q. "Do you offer a shuttle service?"

Yes! we understand you have a full schedule. Whether you need to get to work, school, or need to attend to other responsibilities, we can take you where you need to go. Click here to learn more.

Q. "Do you offer a warranty?"

As part of our Nice difference.® commitment to providing our customers the best auto service experience possible, we also offer a 3-year/36,000-mile warranty on all the work that we do. We offer this warranty at every Christian Brothers Automotive nationwide, and it will be honored at any location, regardless of which branch did the initial work.

Q. "Can you provide service under my extended warranty?"

Yes. At Christian Brothers Automotive, we work with all major extended warranty providers to make needed repairs for our customers. If you have an extended warranty, you can discuss your carrier with our team when scheduling an appointment and confirm that the work will be covered. You can find a partial list of the extended warranty companies we work with here.
Have more Questions?
Our friendly auto service experts have the answers.
Call your local Christian Brothers Automotive car shop today
Hear What Our Customers Had to Say About Us
"I liked the customer service and going above and beyond to make sure I was comfortable while waiting in the store for my vehicle work to be done, specifically being offered a nice hot coffee with creamer."

- J.L.