What to Expect with a Check Engine Light Diagnostic Service
1. Schedule Your Appointment
Whether scheduling online or over the phone be sure and let us know what you're experiencing so we can provide fast and accurate service advice.
2. Diagnostics and Inspections
Drop off your vehicle and the shop will get to work with inspections and diagnostics using the same equipment as the manufacturers to determine issues and next steps.
3. Digital Vehicle Inspection Report and Estimate
Following the diagnosis we will text you a digital vehicle inspection report, containing pictures and videos of our findings and recommendations.
4. Review and Approval
A service advisor will reach out to walk you through the findings and recommendations to determine how you would like to proceed, or you can approve work directly in your DVI.
5. Work Performed or Scheduled
Most work can be completed immediately, or scheduled based on parts and customer availability.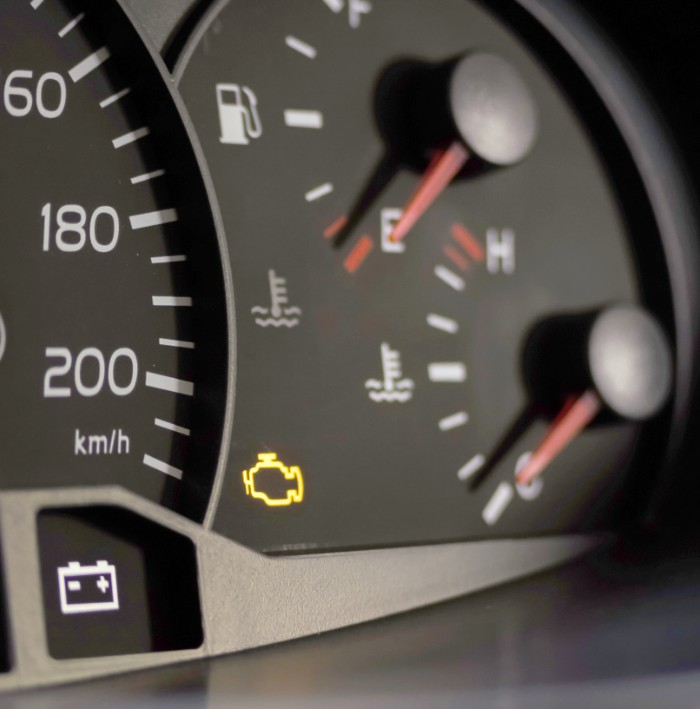 Check Engine Light explained
Flashing Check Engine Light
If your check engine light is flashing at you, this indicates a very serious problem–such as a cylinder misfire. This could lead to a very costly and dangerous situation. Bring your vehicle in for your service immediately if your check engine light begins flashing.

Solid Check Engine Light
Even if your check engine light is solid, rather than flashing, your vehicle is still releasing an irregular amount of emissions due to a problem and should be serviced as soon as possible. Problems causing a solid check engine light can range from your engine or another crucial system–any of which can hinder your vehicle's mileage and performance. At Christian Brothers Automotive, our skilled technicians will diagnose and fix the underlying issue, ensuring your vehicle is safe to drive.


How Christian Brothers Automotive Can Help
When it comes to choosing an automotive repair shop, we understand that trust and transparency are vital. At Christian Brothers Automotive, we prioritize building long-lasting relationships with our customers based on honesty, integrity, and exceptional service. Our certified technicians take the time to explain the problem and the repair process in a clear and understandable manner. We provide accurate estimates and seek your approval before proceeding with any repairs. With us, you can have peace of mind knowing that your vehicle is in capable hands.
Read More
Read Less
FAQs
Q. "What is the difference between a steadily lit and a flashing check engine light?"

A steadily lit light means that a sensor is sending a signal to your vehicle's computer that something is wrong or it could simply mean that the sensor is out. If your check engine light is flashing, however, that means there is a serious issue and you should stop driving immediately.

Q. "Why is my check engine light on but nothing seems to be wrong with my vehicle?"

If nothing within your vehicle stands out, then it is possible that it is just a minor issue such as a loose gas cap or a bad O2 sensor. It is still recommended to see a mechanic if the light doesn't disappear to check for any larger issues.

Q. "Do you offer a warranty?"

As part of our Nice difference.® commitment to providing our customers the best auto service experience possible, we also offer a3-year/36,000-mile warranty on all the work that we do. We offer this warranty at every Christian Brothers Automotive nationwide, and it will be honored at any location, regardless of which branch did the initial work.

Q. "Can you provide service under my extended warranty?"

Yes. At Christian Brothers Automotive, we work with all major extended warranty providers to make needed repairs for our customers. If you have an extended warranty, you can discuss your carrier with our team when scheduling an appointment and confirm that the work will be covered. You can find a partial list of the extended warranty companies we work with here.

Q. "What to do if your check engine light turns on?"

We recommend heading to your local auto shop as soon as you are able. This is typically a sign that there is an abnormality within your engine.

Q. "Is it safe to drive your car when the check engine light is on?"

It depends. If you are experiencing other noticeable issues with your vehicle, it may be best to pull over. Otherwise, it is typically okay to drive to your local auto shop. You will want to get this checked sooner rather than later to avoid being stranded with a broken-down car.
Have more Questions?
Our friendly auto service experts have the answers.
Call your local Christian Brothers Automotive car shop today
Hear What Our Customers Had to Say About Us
"I liked the customer service and going above and beyond to make sure I was comfortable while waiting in the store for my vehicle work to be done, specifically being offered a nice hot coffee with creamer."

- J.L.