What to Expect With AC Maintenance And Repair Service
1. Schedule Your Appointment
Whether scheduling online or over the phone be sure and let us know what you're experiencing so we can provide fast and accurate service advice.
2. Diagnostics and Inspections
Drop off your vehicle and the shop will get to work with inspections and diagnostics using the same equipment as the manufacturers to determine issues and next steps.
3. Digital Vehicle Inspection Report and Estimate
Following the diagnosis we will text you a digital vehicle inspection report, containing pictures and videos of our findings and recommendations.
4. Review and Approval
A service advisor will reach out to walk you through the findings and recommendations to determine how you would like to proceed, or you can approve work directly in your DVI.
5. Work Performed or Scheduled
Most work can be completed immediately, or scheduled based on parts and customer availability.
Call For a Quote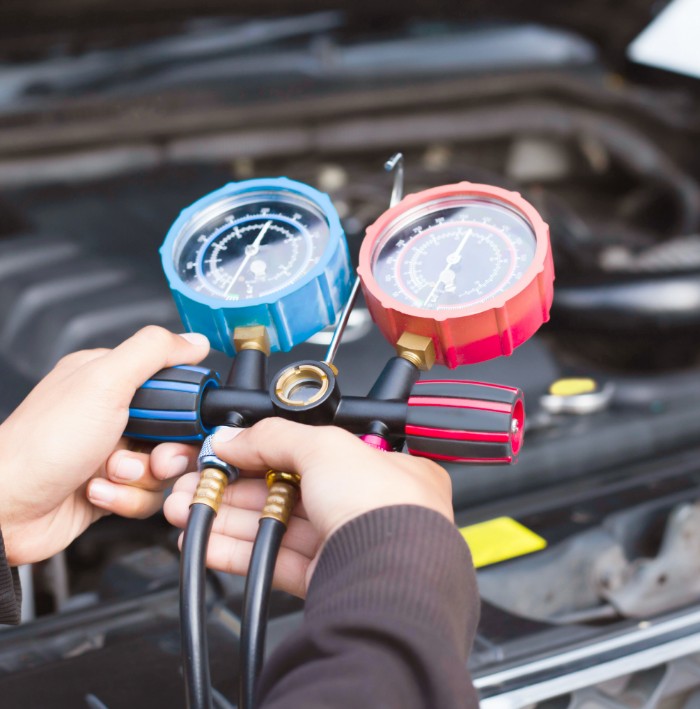 Problems with vehicles' air conditioning
A variety of factors can cause AC systems to malfunction. A few examples are provided below:
Condenser cloggedor leaking
The refrigerator level is not accurate
Combination of refrigerants
Switches that resist pressure
A compressor has failed
A belt has been broken
Filters rubber-ridden and dusty
The air conditioner is leaking
Head control problem
Low refrigerant levels often compromise air conditioner quality. Providing you with a low-refrigerant and cost-effective AC system is our goal.
You should not recharge your AC using DIY cans sold in stores. Your AC system will be irreparably damaged if refrigerant is added incorrectly or unnecessarily.
You usually become aware of a problem when your AC unit fails or struggles.
Symptoms of a malfunctioning AC include:
A malfunctioning air conditioner may produce unusual noises from its vents or hood.
Evaporators may contain bacteria.
Your compressor may be malfunctioning if your temperature is inconsistent.
We take care of all your automotive needs at Christian Brothers Automotive
A modern diagnostic system allows Christian Brothers Automotive of Arvada to diagnose and repair any AC problem.
Your system can also be recharged in addition to the refrigerant replacement. In addition, we offer condenser and air filter cleaning, as well as tube repair services. Regardless of the vehicle or issue, we can handle it. AC repair and service are provided by Christian Brothers Automotive.
Need your AC serviced in Arvada? Turn to the professionals at Christian Brothers Automotive. Call us today at (970) 601-6674 or schedule an appointment online.
Read More
Read Less
FAQs
Have more Questions?
Our friendly auto service experts have the answers.
Call your local Christian Brothers Automotive car shop today
Hear What Our Customers Had to Say About Us
"I liked the customer service and going above and beyond to make sure I was comfortable while waiting in the store for my vehicle work to be done, specifically being offered a nice hot coffee with creamer."

- J.L.
Read More Testimonials