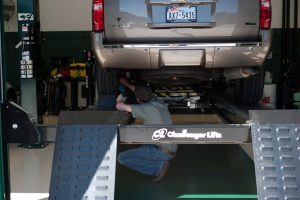 Most Georgia drivers understand every part of their car or truck will require maintenance over the course of its life. While some services only need to be scheduled every few years, others need to be scheduled every few months. One car system that needs to be regularly repaired and maintained is the brake system.
Your brake rotors, calipers, brake pads, and brake fluid need to be kept up with in order to guarantee a safe drive. Depending on your driving habits, your brake pads especially can wear down more quickly. To ensure you're driving with a safe brake system, the expert technicians at Christian Brothers Automotive Sandy Springs are here to answer a few frequently asked brake pad questions.
1. How often should brake pads be replaced?
It's difficult to give a concrete answer to this question. Even the professionals at our brake repair shop in Sandy Springs have a hard time providing a blanket estimate on when brake pads need to be replaced. Every car's brake system can wear faster or slower depending on the amount of miles driven and the driver's normal traffic conditions. That's why we offer a complimentary Courtesy Inspection with every repair or maintenance service. During this inspection, our ASE-certified experts check the condition of your brake pads to ensure they're okay to drive on.
2. How do I know it's time for my brake pads to be replaced?
The most common indicators of worn out brake pads are a high-pitched screeching sound or a low, grinding noise while braking. It's important to schedule brake service as soon as you notice your brake system changing. Thin brake pads cause the caliper to rub against the rotor, which creates damaging friction between the two metal components. This can lead to a more expensive repair down the road. You may be able to tell if your rotors are damaged or warped if your steering wheel shakes or vibrates when you brake.
3. How much do new brake pads cost?
The longer you wait to have your vehicle checked out by your Sandy Springs mechanic, the worse (and more expensive) the damage will get. With a general brake pad replacement, you get what you pay for. Different types of brake pads have different price points. We offer organic, ceramic and semi-metallic, so you have different options to choose from. It should be noted, cheap brake pads will wear out much faster, and luxury vehicle often require more expensive parts.
If you have any questions regarding your system or the services offered at Christian Brothers Automotive Sandy Springs, don't hesitate to contact us. Our professional auto repair technicians are always ready to lend a helping hand. For exceptional auto repair near Roswell, GA, call to schedule an appointment today.