What to Expect With Alternator and Starter Services
1. Schedule Your Appointment
Whether scheduling online or over the phone be sure and let us know what you're experiencing so we can provide fast and accurate service advice.
2. Diagnostics and Inspections
Drop off your vehicle and the shop will get to work with inspections and diagnostics using the same equipment as the manufacturers to determine issues and next steps.
3. Digital Vehicle Inspection Report and Estimate
Following the diagnosis we will text you a digital vehicle inspection report, containing pictures and videos of our findings and recommendations.
4. Review and Approval
A service advisor will reach out to walk you through the findings and recommendations to determine how you would like to proceed, or you can approve work directly in your DVI.
5. Work Performed or Scheduled
Most work can be completed immediately, or scheduled based on parts and customer availability.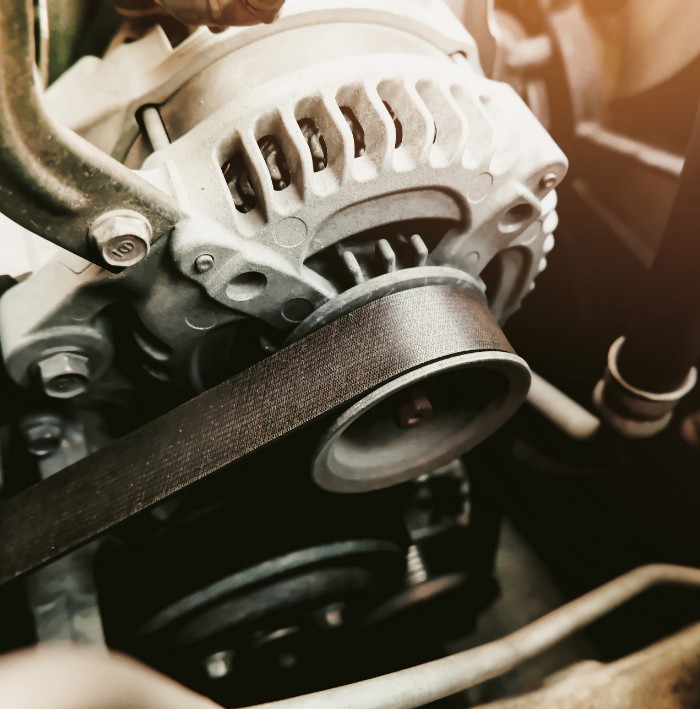 More About Your Alternator and Starter
If your car won't start, the car battery may not be the only culprit. Problems starting can also be an indicator of a bad starter or alternator.
Your starter is what actually cranks your engine. When a starter isn't working properly, the engine may start with difficulty, or won't start at all. Starter issues may stem from electrical or mechanical failure, or from it breaking down completely.
Additionally, your alternator is responsible for two important tasks involved in powering your vehicle. First, it recharges your battery while your car is running, and second, it also works with your battery to operate integral electrical components, such as headlights, windshield wipers, and more. A damaged alternator can cause erratic electrical functions or prevent your engine from running. Normally if you have a bad alternator (versus a dead battery), your engine may still start, but will die quickly and often because your alternator is no longer maintaining a charge. If you aren't sure what is causing your starting problems, we can help.
How Christian Brothers Automotive Can Help
Our experienced automotive technicians are well-versed in starting problems–including batteries, starters, and alternators. As your partner in automotive care, the best way for us to help you is to start with a comprehensive inspection of your vehicle. Our inspection will determine your exact problem.
Once we know what we're facing, we will offer you the best, most cost-efficient solution. We will walk you through the repair process every step of the way, keeping you informed of the cost, parts needed, and repair turnaround time.
Read More
Read Less
FAQs
Q. "Why is the alternator important?"

The alternator helps the battery maintain power. As the car is driving, it's gaining power from the engine. During this time, the alternator is charging the battery. When the car stops running, the charge from the alternator allows the battery to continue providing power to the car.

Q. "What does the alternator do?"

As an alternate source of power, the alternator helps many features in the car run. It helps your air conditioning maintain proper airflow, powers the radio, and turns on the headlights, among other things. It can also add power to the engine.

Q. "Where is the alternator located?"

You'll typically find the alternator near the front of the engine, bolted in with two brackets. One is adjustable (to allow for drive belt-tightening) while the other is fixed.

Q. "What are some signs that my starter is going bad?"

Some common symptoms that your starter is going bad or is dead include: clicking or other odd noises, lights working in your car but the engine won't turn, taking more than one attempt to start, or smoke coming from the hood.

Q. "Do you offer a warranty?"

As part of our Nice difference.® commitment to providing our customers the best auto service experience possible, we also offer a3-year/36,000-mile warranty on all the work that we do. We offer this warranty at every Christian Brothers Automotive nationwide, and it will be honored at any location, regardless of which branch did the initial work.

Q. "What is a Digital Vehicle Inspection?"

With a complimentary Digital Vehicle Inspection (DVI) on every visit, you'll see firsthand photos of your vehicle from under the hood. We'll let you know if everything is functioning properly or if there are any areas of concern. You can even approve or deny our service recommendations, all straight from your smartphone, or you can, of course, give us a call and we'll explain our findings in further detail.
Have more Questions?
Our friendly auto service experts have the answers.
Call your local Christian Brothers Automotive car shop today
Hear What Our Customers Had to Say About Us
"I liked the customer service and going above and beyond to make sure I was comfortable while waiting in the store for my vehicle work to be done, specifically being offered a nice hot coffee with creamer."

- J.L.