We all know Texas weather can be difficult to predict and the weather can turn on you instantly. Weather can yo-yo from freezing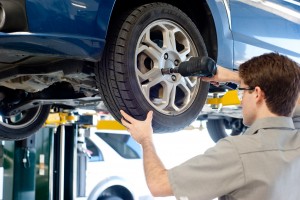 one day to a gorgeous one the next. No matter what the weather is coming this winter, you and your vehicle should always be prepared.
At Christian Brothers Automotive Granbury, our mission is to keep our customers safe on the road this winter. The ASE-certified technicians at our local Granbury auto repair shop have 3 great tips for preparing your car for winter. Winterizing your vehicle is the first step to a safe holiday season on the road!
Check the tire pressure
When the temperature sinks, so does the air pressure in your car's tires. Air compresses in the cold, meaning your tires will be in need of some extra air to maintain their correct pressure. Nearly all drivers are surprised when they start their car and find the tire-pressure light lighting up for no apparent reason. It's a great reminder that you need to get your tires inflated at a local Granbury, TX repair shop right away. Ignoring your tires can be a big problem, as the car won't have the proper traction for driving over wet, snowy, or even icy roads.
Keep your windshield clear
In Texas, most drivers have trouble keeping the condensation off the windshield when it appears during the colder months. When you're in a rush during the morning commute, it can be a huge inconvenience to wait for your defroster to clear the windshield. To keep your windshield as clear as possible, it's wise to get a new set of wipers. Keeping enough wiper fluid in the reservoir is also a good idea. Finally, make sure your defroster and heater are functioning properly so you can maintain visibility while driving.
Replenish your antifreeze levels
Antifreeze prevents your engine from overheating as well as freezing during the winter. The radiator's task is to keep your engine at the correct temperature and also serves as the storage for the antifreeze. This mixture in the radiator of antifreeze and water should be kept at a 50:50 ratio. An incorrect balance makes your engine vulnerable and prone to damage. You should always check to be certain that the radiator has the proper mixture before the start of the season.
Winterize your car at Christian Brothers Automotive Granbury
The experts at our auto repair center in Granbury are ready to make sure your vehicle survive the winter. We offer all of our customers a courtesy inspection and guarantee most of our services with a 2-year/24,000-mile Nice Difference warranty. Call Christian Brothers Automotive in Granbury, Texas today to schedule your next courtesy inspection, and see the nice difference!