About Our Westfield Auto Shop
Westfield's Source for Automobile Repairs & Maintenance
When you bring your vehicle to Christian Brothers Automotive Westfield, you're choosing the Westfield and Carmel area's experts in automobile repair and maintenance. What's more, you're choosing a better, friendlier approach to automotive services. Since 1981, Christian Brothers Automotive has been providing drivers with reliable, trustworthy auto services, while living out a simple and straightforward mission: Love your neighbor as yourself.
Reliable Automobile Repair for Westfield and Carmel
At Christian Brothers Automotive Westfield, we strive to deliver the very best in automobile repair and maintenance. From the minute you drive onto our lot until the moment when your car's keys are back in your hand, you can rest assured that your vehicle is in expert hands.
All automobile repairs and maintenance services provided by Christian Brothers Automotive Westfield are performed by ASE-certified technicians who bring years of auto service experience to the table. Our team is committed to using top-quality diagnostic equipment and materials, and all replacement parts we install either meet or exceed manufacturer standards.
Our commitment to superior parts and workmanship allows us to offer our Nice difference® warranty. This 3-year/36,000-mile warranty covers all major automobile repairs by Christian Brothers Automotive Westfield. Our warranties cover both the term and distance of the policy in full, meaning your warranty lasts for the full 3 years and the full 36,000 miles on every repair.
Discover the Nice Difference
At Christian Brothers Automotive Westfield, it's not just the quality of our automobile repairs that sets us apart – it's also the quality of our service. In addition to our Nice difference warranty, there are a number of other Nice differences you'll discover when you visit our auto service center. These include our Courtesy Inspections, Courtesy Shuttle service, and the many amenities offered in our cozy, home-style waiting area.
The Nice difference is also found in our commitment to eco-friendly automobile repair for the Westfield and Carmel area. To be as green as possible, Christian Brothers Automotive Westfield goes to great lengths to limit the environmental impact of our services. Not a drop of oil or shred of scrap metal from our services goes into the ground. Instead, we recycle all motor oil and scrap materials with trusted vendors, giving Westfield/Carmel-area vehicle owners a greener choice for automobile repair.
Discover why countless vehicle owners have chosen Christian Brothers Automotive Westfield as their automobile repair and maintenance center. We are proud to work with vehicle owners in Westfield, Noblesville, Carmel, and Hamilton County.
Meet The Team
Our Leadership Team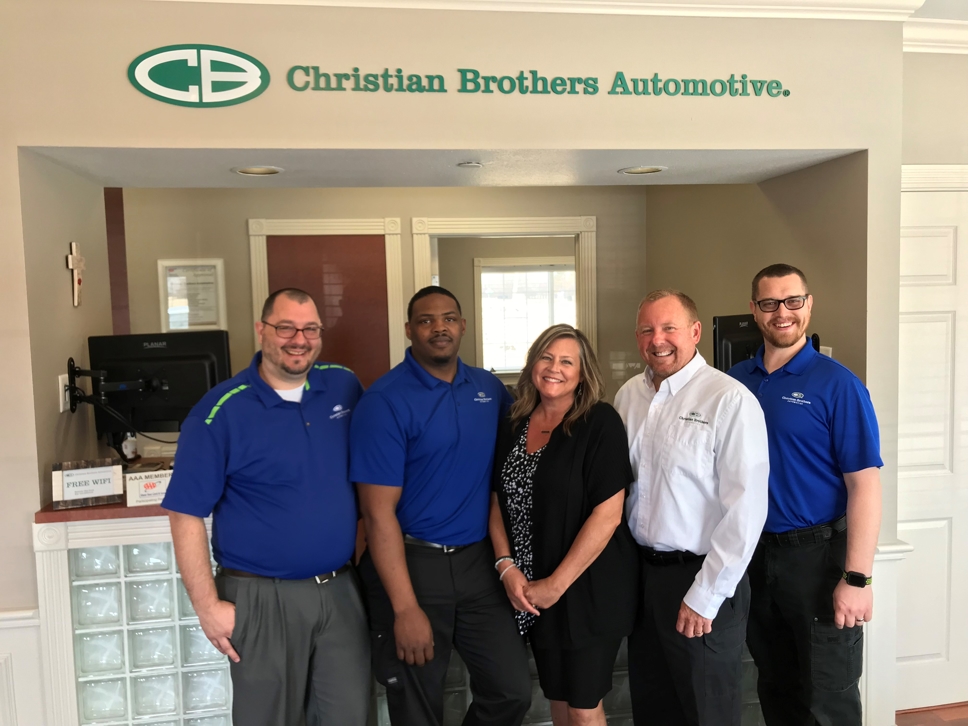 Pictured above is Josh Lainhart, Dre Herring, Debbie Miller, Russ Miller, Per Jensen
We are very excited to be a part of the Westfield Community!