Meet Our Staff in West Chester
For trusted and reliable service, hire Christian Brothers Automotive West Chester
Doug and Jamie Beachy

Owner & Operator
Welcome to West Chester
Meet the West Chester team that makes our friendly service possible
We are committed to honest, upfront automotive repairs that respect the people in our community. We are blessed to be able to work with some of these community members, and we happen to think they are some of the best!
Christian Brothers West Chester Front Office Staff
Jake, Ryan and chris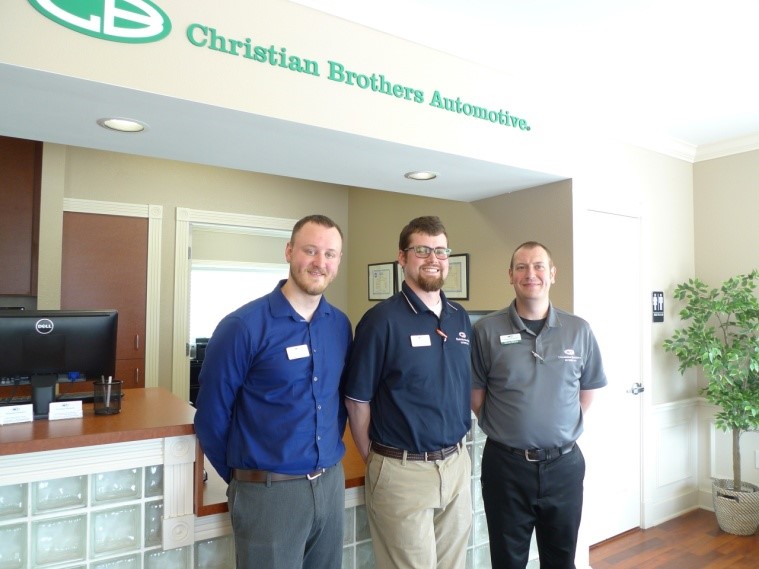 Together this team combines friendly, caring listening skills with extensive automobile knowledge to serve each individual who enters our doors with expertise and superior service.
Jake: Service Manager
Jake has more than 13 years experience in the automobile industry and customer service. Newly married to Kristen, Jake enjoys his dogs and playing some serious paintball.
Ryan: Service Advisor
Ryan has had experience working in the car industry for 10 years. As a home owner he and Brittany take care of their 2 dogs and enjoy home improvements and restoring a Mustang.
Chris: Service Advisor
Chris has years of experience working to provide customers with excellent service on their vehicles. When not around cars, he loves relaxing and time with his family: wife Brandy and their two girls. He enjoys camping, fishing and car racing.
Technicians
Doug: ASE Certified Master Technician
Doug has been working on cars for 16 years as a profession. He is an expert on engine work. He enjoys hanging out with his family; wife Christina and their 3 children, Dylan, Bethany, and Ian. They enjoy camping and 4H among other family activities. Doug also enjoys dirt track racing, shooting guns with his son, and building racecars.
Todd: ASE Certified Master Technician
Todd's dedication and hard work ethic are evident every time he puts on his uniform. Todd and his wife, Annie, have been married 22 years and have a lovely teen-age daughter named Aida. Todd enjoys running in "Tough Mudder" events and is actually quite good! He trains hard to improve his times and is definitely in shape! He loves to take naps when he is not working on cars or exercising.