Meet Our Team
For trusted and reliable service, hire Christian Brothers Automotive Wake Forest
Scott & Ginny Lillie

Owner & Operator
Scott & Ginny Lillie - Owners
Within its first two years of business, Christian Brothers Automotive in Wake Forest won Best Auto Repair company in the reader's choice awards sponsored by the local community newspaper.
The accolade comes after a deep commitment to the community by owners Scott and Ginny Lillie who moved to Wake Forest from Grand Rapids, Michigan, to open Christian Brothers Automotive in 2015.
The couple believe in putting customers first and providing ethical, professional service. Their customers have access to free shuttle service, refreshments and wireless internet in a comfortable waiting room.
Their hard work and volunteer involvement have been noticed in the community that they now call home.
Scott and Ginny met while in college at Michigan State University and married upon graduation. The couple will soon celebrate 35 years of marriage.
Prior to becoming the independent owners and operators of Christian Brothers Automotive Wake Forest, Scott worked in grocery store management, directed a food outreach program for a non-profit and owned a fresh flower market. Ginny worked as a primate caretaker, a veterinarian technician and co-managed the flower business. She became a stay-at-home mom and school volunteer when their adopted children were born-- Emilee in 1998 and Nathan in 2003. Once the children were older, Ginny worked in food services at her children's schools.
The Lillies are members of St. Luke the Evangelist church and spend time volunteering for Wake Forest and Rolesville Chambers of Commerce events, the Rolesville BBQ Cookoff, Wake Forest Charity Car Show, Friday Night on White music series and the Wake Forest Christmas Parade. Ginny is a Chamber Ambassador and member of Women in Networking-Wake Forest.
They enjoy activities they can do together as a family, including camping, hiking, biking, canoeing and traveling the road less traveled.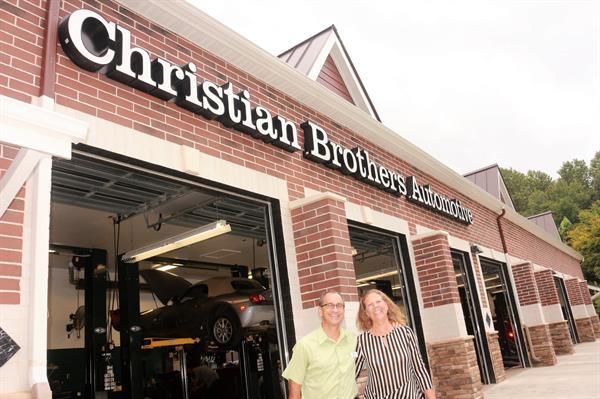 ---
Meet Our Service Team
You'll find our service team at the front desk as you enter the Christian Brothers Automotive lobby. They are our customers' first contact and want to provide you the best car repair experience possible. Our service team help customers understand the work that needs to be done to their cars and why.
Carolyn Robinson – Service Manager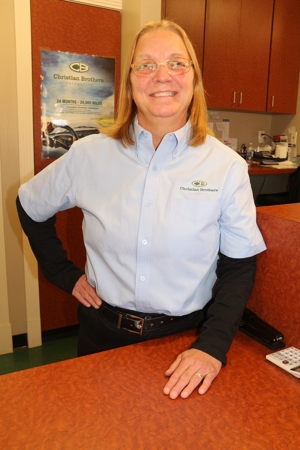 With nearly four decades of experience working in the automotive repair industry, Carolyn is the service manager for Christian Brothers Automotive in Wake Forest. She oversees customer service, manages the technician workflow throughout the auto repair shop and is responsible for inventory and parts deliveries.
Originally from Illinois, she always wanted a career that allowed her to work with her hands. It was at Joliet Junior College where she discovered her love for working on cars. Upon graduation, she began her career as a service technician in Chicago, working for Sears, Firestone and a commuter bus system.
A job opportunity and family ties brought Carolyn to North Carolina in 1984. She worked at auto repair shops in Jacksonville and Swansboro, before moving north to work as a district manager for a national chain of car, muffler and exhaust repair shops. She was responsible for eight locations in the Baltimore, Maryland-area and Northern Virginia.
Her first service advisor job for a car dealership brought her back to North Carolina. Prior to joining Christian Brothers Automotive in November 2018, she was service advisor for local car dealership.
Carolyn and her husband live in Youngsville, N.C. When she's not working, she enjoys gardening and cooking. Her favorite food to prepare is chicken wings in her Masterbuilt electric smoker.
Jay Franks – Service Writer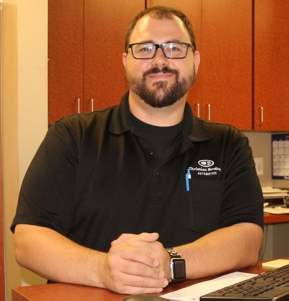 As a Raleigh native, Jay is a rarity in the Triangle area nowadays. He grew up near PNC Arena on family-owned land off of Edwards Mill Road and lived there until his family moved to Wake Forest when he was 15 years old.
Jay has worked in the automotive industry since 2005. His first job was servicing Volvo vehicles at an automotive repair shop in Raleigh. His next position was at Firestone in Wake Forest where he worked as a technician for five years and a service manager for three years.
He joined Christian Brothers Automotive Wake Forest in July 2019 as a service writer. In his job, he's responsible for writing job tickets, ordering parts and checking customers in and out. Jay says he's the first person to greet customers and the last to tell them goodbye.
Jay and his wife April live in Franklinton with their daughter Brooklyn and son Bentley. During his free time, Jay enjoys collecting comics, watching movies, fishing, and drawing and creating bottle cap art.
---
Meet our Technicians
Christian Brothers Automotive technicians are ASE-certified through the National Institute for Automotive Service Excellence to provide the best quality of vehicle repair and service and certified North Carolina State Vehicle Inspectors.
Jason Snyder – Master Technician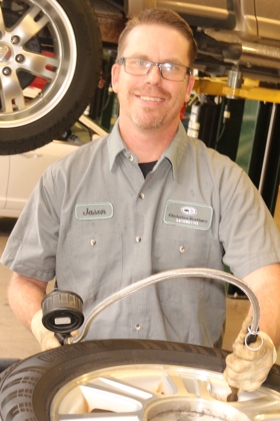 Originally from San Jose, Calif., Christian Brothers Automotive Master Technician Jason Snyder and his wife and children moved to the Triangle in 2018, to be closer to family. While he admits that North Carolina is hotter and more humid, he's happy to no longer work around the wildfires that frequent The Golden State each year.
Jason comes from a mechanically inclined family. His father was an electrical engineer and he says they always maintained their own vehicles while he was growing up—even his sister. After his father passed away, and a short stint working in computers, Jason enrolled in De Anza Community College in Cupertino, Calif. for their automotive program.
While in school, he also worked for Lexus and upon graduating in 2006, continued to work at the Santa Clara dealership for nine more years. He reached the senior tech level before leaving for a position at the Maserati/Alfa Romeo/Bentley/Aston Martin dealership in Walnut Creek, Calif. During his five years there, he also attended Maserati and Bentley Academies, was Level I Alfa Romeo Certified and became a Maserati and Bentley Diagnostic Specialist. Today, Jason is also an ASE Master Technician and hybrid certified.
After moving to the East Coast, his first job in North Carolina was at the Leith Maserati/Alfa Romeo dealership in Raleigh as a master technician. He worked there for one year before starting his current position with Christian Brothers Automotive in 2019.
Jason says after working in the dealership world for many years, he most enjoys the family environment created by Christian Brothers Automotive Owners Scott and Ginny Lillie.
Jason and his wife have two daughters and when not working, he enjoys taking them fishing at Lake Royale and Ocean Isle Beach