Meet Our Team
For trusted and reliable service, hire Christian Brothers Automotive Wake Forest
Scott & Ginny Lillie

Owner & Operator
Scott & Ginny Lillie - Owners
Within its first two years of business, Christian Brothers Automotive in Wake Forest won Best Auto Repair company in the reader's choice awards sponsored by the local community newspaper.
The accolade comes after a deep commitment to the community by owners Scott and Ginny Lillie who moved to Wake Forest from Grand Rapids, Michigan, to open Christian Brothers Automotive in 2015.
The couple believe in putting customers first and providing ethical, professional service. Their customers have access to free shuttle service, refreshments and wireless internet in a comfortable waiting room.
Their hard work and volunteer involvement have been noticed in the community that they now call home.
Scott and Ginny met while in college at Michigan State University and married upon graduation. The couple will soon celebrate 35 years of marriage.
Prior to becoming the independent owners and operators of Christian Brothers Automotive Wake Forest, Scott worked in grocery store management, directed a food outreach program for a non-profit and owned a fresh flower market. Ginny worked as a primate caretaker, a veterinarian technician and co-managed the flower business. She became a stay-at-home mom and school volunteer when their adopted children were born-- Emilee in 1998 and Nathan in 2003. Once the children were older, Ginny worked in food services at her children's schools.
The Lillies are members of St. Luke the Evangelist church and spend time volunteering for Wake Forest and Rolesville Chambers of Commerce events, the Rolesville BBQ Cookoff, Wake Forest Charity Car Show, Friday Night on White music series and the Wake Forest Christmas Parade. Ginny is a Chamber Ambassador and member of Women in Networking-Wake Forest.
They enjoy activities they can do together as a family, including camping, hiking, biking, canoeing and traveling the road less traveled.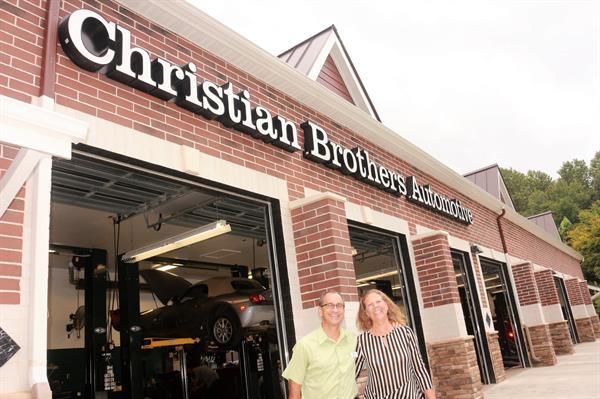 ---
Meet Our Service Team
You'll find our service team at the front desk as you enter the Christian Brothers Automotive lobby. They are our customers' first contact and want to provide you the best car repair experience possible. Our service team help customers understand the work that needs to be done to their cars and why.
Carolyn Robinson – Service Manager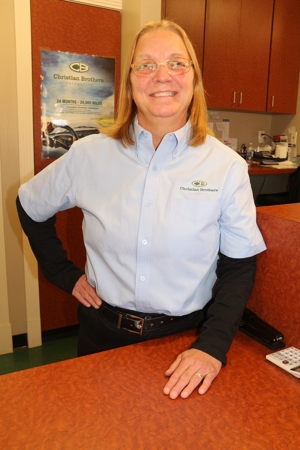 With nearly four decades of experience working in the automotive repair industry, Carolyn is the service manager for Christian Brothers Automotive in Wake Forest. She oversees customer service, manages the technician workflow throughout the auto repair shop and is responsible for inventory and parts deliveries.
Originally from Illinois, she always wanted a career that allowed her to work with her hands. It was at Joliet Junior College where she discovered her love for working on cars. Upon graduation, she began her career as a service technician in Chicago, working for Sears, Firestone and a commuter bus system.
A job opportunity and family ties brought Carolyn to North Carolina in 1984. She worked at auto repair shops in Jacksonville and Swansboro, before moving north to work as a district manager for a national chain of car, muffler and exhaust repair shops. She was responsible for eight locations in the Baltimore, Maryland-area and Northern Virginia.
Her first service advisor job for a car dealership brought her back to North Carolina. Prior to joining Christian Brothers Automotive in November 2018, she was service advisor for local car dealership.
Carolyn and her husband live in Youngsville, N.C. When she's not working, she enjoys gardening and cooking. Her favorite food to prepare is chicken wings in her Masterbuilt electric smoker.
Michael Levatino - Service Advisor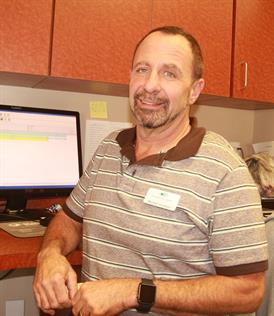 Michael was the first technician hired when Christian Brothers Automotive Wake Forest opened in 2015. In August 2017, he was promoted to service advisor. In this role, he greets customers as they arrive, gathers information about their service needs, makes estimates and maintains work flow and progress.
Michael moved to Raleigh from Long Island, New York. Prior to joining Christian Brothers Automotive, he worked in the service department for a Toyota dealership, a muffler and brake service company and an auto sales company. His training includes Suburban Technical School and training through General Motors and Toyota.
His certifications include ASE Master Technician, ASE Service Advisor and ASE GI.
In his free time, Mike serves on the board of directors of Wake Forest Alano Club. He and his wife Nesha enjoy camping, riding Harley Davidson motorcycles and hosting bible study in their home.
---
Meet our Technicians
Christian Brothers Automotive technicians are ASE-certified through the National Institute for Automotive Service Excellence to provide the best quality of vehicle repair and service and certified North Carolina State Vehicle Inspectors.
Mike Whitfield - Technician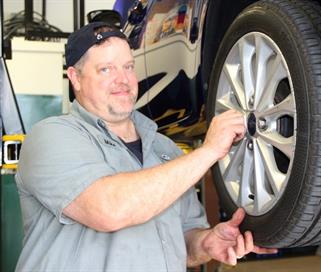 Originally from Virginia, Mike moved to Wake Forest in 2013 and began working for Christian Brothers Automotive in July 2017 as a technician who diagnoses and repairs vehicles.
Mike received his training at a technical college in Northern Virginia and is certified as an ASE Master Technician, Mini Cooper Master Technician and BMW Master Technician.
He and his wife Missy have a son Travis and daughter Amanda who are college students. Mike's hobbies include barbecuing and smoking foods and working in his garden. On weekends, you'll find him drag racing or road course racing at the Virginia International Raceway.