About Christian Brothers Shawnee, KS
Meet your auto repair experts for Western Shawnee:
Tammie and Scott Green – Owners/Operators
Tammie and Scott have owned the Christian Brothers Automotive location in Western Shawnee since January 2013. With over 15 years in the automotive industry, Scott understands your vehicle is a huge investment and automotive repair jargon can be intimidating. That's why our shop is committed to explaining the cause of car trouble and the solution to each problem in simple, understandable language. Our goal is to educate our customers about automotive maintenance and car repair. No pressure sales at this auto repair center! We only provide information about what our technicians see and manufacturer scheduled maintenance recommendations.
As long-time residents of Shawnee, Scott and Tammie are passionate about giving back to the community. Christian Brothers Automotive Shawnee has partnered with Shawnee Mission Northwest High School, Maranatha Christian Academy, DeSoto High School and Mill Valley High School in a number of different programs, including a driver's education class. As the parents of two daughters, they do all they can to ensure teenage drivers are safe on the road.
Claude Potter – Technician
Claude i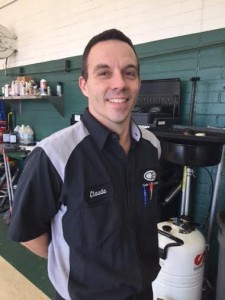 s a very experienced automotive technician with 28 years of experience. He can repair both domestic and foreign vehicles with ease. His main concern when working on a vehicle is making sure it's safe for the people who ride in it. It's how he can use his talent to serve and make people's lives better. No two days are the same for Claude; he loves working on different types of vehicles and solving a new problem every day.Claude is also a traveler and a racer. He's been to all 48 continental states and even to Canada and Mexico. He's owned drag cars that can run a 9-second quarter-mile and pro-street class cars that can reach 240 miles per hour.
Alex Johnson – Service Advisor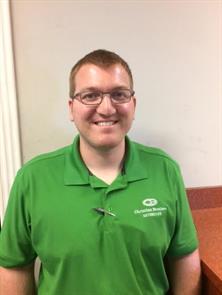 Alex has 12 years of experience in the automotive field as a technician. He started working on cars in high school with his friends. His specialty is Chevrolet, but he has experience with all makes and models. He is a unique service adviser because he has experience in the shop and can relay information to the customer in both a technical and/or non-technical manner, depending upon the customer's knowledge level. If he could own just one car, it would be a 1967 Ford Mustang Shelby GT500. His main hobby is playing golf at the Shawnee County Club.
Luis Mayoral – Technician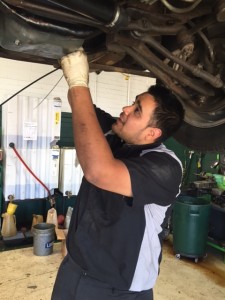 Luis has 4 years of experience in the automotive repair industry under his belt and is fluent in Spanish! He can work on many different cars, but he especially knows his way around Hondas and Chevys. His favorite part of the job is taking components apart, fixing them, and then putting them back together again like new.Pool is Luis's game of choice. It's a fun way to spend an evening with friends. He also enjoys his monthly tradition of visiting the local gun range to fire a few rounds and practice his target shooting.
Allen Asher – Technician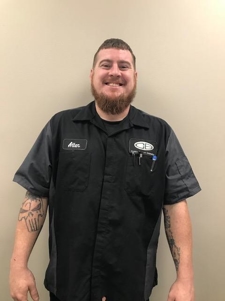 Allen has always had a passion for automotive repair. He has been a technician since he graduated high school in 2006. He can work on all domestic vehicles. His specialty is suspension and diagnosis. He can remove and replace engines and transmissions. He is married with 3 daughters. He likes to spend time with his family. His dream vacation would be to swim with sharks in Australia.
Matthew Erickson - Service Writer
Matthew has be
en in the automotive industry since 2000. He loves to come to work everyday and making a difference for our customers. He strives to give our customers the personal attention they deserve to better their vehicles for themselves and their families. Matthew likes to hunt and spend time with his children.
Ryan Dailey - Technician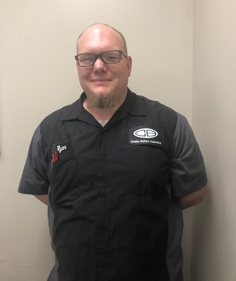 Ryan likes the automotive service industry because it is fast paced, always evolving, and challenging at times. Ryan enjoys time off with his boys. They all like to play video games. Fishing and camping are other favorite past times.
Jackpot - Official Mascot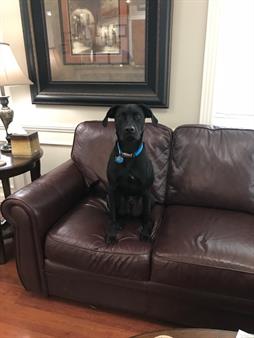 New Years Day 2016, this 6 pound puppy was found on the side of a road. The Greens gave him a home and he quickly became the official mascot of Christian Brothers Automotive Shawnee. Jackpot greets customers with a happy tail wag. Even though he's 50 pounds, he still thinks he's a lap dog. Young and old dog lovers alike enjoy spending time with him. And if you are not fond of dogs, then he stays in the office with the Greens.
Location Info: 22240 Midland Dr Shawnee, KS 66226