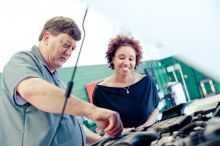 As the seasons change from cool temperatures to blistering hot, it's a good idea to get your vehicle ready by checking hoses and belts as part of your car maintenance schedule. Check belts and hoses at least once a month to avoid being stranded once a hose or belt snaps or fails in any way.
Though they may seem insignificant, belts and hoses in your car take on the brunt of the pivotal work your vehicle does. Belts kick start the alternator and help operate the water pump, while hoses carry gas, air, brake and anti-freeze fluid. Even though belts and hoses are checked during tune-ups, your vehicle's health is dependent upon these parts. Working these checks into your car maintenance schedule can help you side-step thousands of dollars in repairs.
Newer vehicles use serpentine belts that drive most parts of the engine. When checking serpentine belts, look for cracks, fraying and exposed threads. Older vehicles use V-belts, so you'll want to overturn the belt and look for glazing or cracks that show wear underneath the belt.
Pinch radiator hoses to check for rigidity. A good radiator hose is flexible and shouldn't stick together when pinched. Check for swelling at the connection to the engine or radiator. Hoses that carry power steering fluid and brake fluid shouldn't be swollen, so replace immediately if they are.
If you're uncomfortable checking your car's belts and hoses, let the trustworthy mechanics at Christian Brothers Automotive take care of it for you. Since 1982, Christian Brothers Automotive has provided the best auto repair service paired with the best customer service that thousands of people have grown to trust and depend on. Christian Brothers Automotive with shake the winter wear off your vehicle and get it ready for the summertime.