About Our Waco, TX Auto Shop
Christian Brothers Automotive Woodway: The neighborhood experts in virtuous auto repair
At Christian Brothers Automotive in Woodway, TX, we focus on customer service. Customer loyalty is the backbone of our business, and we understand the time and energy put into building strong relationships with each guest. Whether you're due for a state inspection or emissions test, needing an alignment adjustment or it's time to replace your brake pads, our ASE-certified technicians will get you taken care of.
We believe prevention is the key to a car's longevity. With regular oil and filter changes, fluid flushes and brake pad replacements, you can avoid most major car breakdowns and engine problems. Let us protect you from more dangerous – and expensive – damages down the road.
Christian Brothers Automotive Woodway is conveniently located south of Waco, right off of Woodway Drive. We're near Lake Woodway, Midway Park and Highway 6 (West Waco Drive).
We leave our customers satisfied. But don't just take our word for it! One look at our satisfied customer ratings and reviews will prove our dedication to customer service. We expect every service to end with a healthy car and a happy customer.
Christian Brothers Automotive Woodway is independently owned and operated by Sterling and Leigh Woody. Call the Woodway auto repair shop south of Waco to receive an answer to any and all auto repair questions. Sterling and Leigh look forward to solving your car problems or just getting to know you! Call Christian Brothers Automotive in Woodway, Texas today. Notice the nice difference!
Meet the Friendly Owners
Sterling and Leigh Woody are native Texans that God called back to Texas after a 4 year project in Nashville, TN. Sterling was born in Abilene and graduated from New Braunfels high school. Leigh was born in Brenham and after spending most of her school years in Anchorage, Alaska, graduated from high school in California.
Both attended Baylor University and graduated in 1978 (Sterling BBA and Leigh BSN). Even though at Baylor at the same time, they did not meet until moving to Dallas to pursue their careers in business and nursing.
After marriage and two boys (Abe and Ben), Leigh gave up her nursing career to take care of the family with the first few years in Tulsa, Oklahoma and then Round Rock, Texas where the boys finished high school.
Sterling worked in various industries and positions but mainly focused on operations in the import/export market before being introduced to the Christian Brothers Automotive concept. He knew in his heart that this was an opportunity that he had been seeking and God had prepared for him.
With the chance to create an atmosphere where customers and employees would know that our goal is to strive to implement the simple but effective Golden Rule of treating others as you would be treated, is an environment that is the only true way to be in business.
Sterling and Leigh's oldest son Abe (Baylor BA, 2011) and wife Debbie (Baylor BA, 2005) have three sons, Brooks, Walker and Davis and live in Carlsbad, CA. Ben attended Baylor and finished his BBA at the University of Incarnate Word and after working at the Christian Brothers in Georgetown and a short stint at the Woodway store, he is now the General Manager for the Christian Brothers Store in Tyler, Texas.
Meet the Professional Staff
Bill Gebert – Service Manager
Started from the opening, May of 2012
Bill Gebert, an Arlington Texas native, has been in the automotive repair business for over 30 years in the Dallas-Fort Worth area. In his vast experience in various aspects of the automobile industry, his love for his work is evidenced his confidence that he can help all of our customers with all their automotive needs, whether it is a major repair or maintenance.
Bill moved to Waco in 2011 to marry his high school girlfriend, Cindy Neal, and has two daughters, Jennifer and Kelly. He can be found on the golf course near Lake Waco on most Saturdays.
---
Jeb Clemons – L-1, Master Tech
Started from the opening, May of 2012
Jeb Clemons was born in Lufkin in East Texas and graduated from Groveton high school. After a stint of playing football in college, Jeb graduated from Texas State Technical College here in Waco. Starting his career at local Waco automotive shops, Jeb has built a solid reputation as a Master ASE certified technician with and L-1 designation with a focus on diagnoses and electrical complications on trucks and automobiles.
As a Master Tech with 12 years' experience in the industry, Jeb enjoys the challenge and sense of accomplishment by "fixing things right the first time."
Jeb and Stacey live in Lorena, just a few miles south of Waco with their boys and new sister, Alexis, Lance and Luke. As an avid good enthusiast and avid shooter, when he has free time, you will find Jeb at the local gun range.
---
Greg Grams – General Service
Greg Grams started with Christian Brothers in January of 2013 after a brief stint at Advance Auto Parts. He worked his way through Texas State Technical College by working part-time at Wal-Mart, Alcoa Fastening Systems and 3 summers at National Security and Alarm.
Greg is responsible for the majority of maintenance work done on vehicles, including oil changes, flushes, tire rotation and alignments and is working towards his ASE certifications.
Greg was born in Houston and grew up in Waco with his parents, Steve and Cindy, sister Bethany and brother David. After graduating from Connally High, Greg has earned two associate degrees from TSTC. He spends his spare time hunting with his family, shooting guns and gaming and just recently built his own personal computer.
---
Leo Lopez – Technician
Leo is a native of Waco and has been working on cars and trucks as long as he can remember. Leo graduated from an Automotive Tech school located in Waco and began his professional career at the Waco Dodge Dealership.
After a short stint in Lubbock at another Dodge Dealership, Leo moved back to Waco, Texas and began working at Christian Brothers in February of 2013. He enjoys spending time with his wife and two boys, is an avid Dallas Cowboy fan, and tries to get to the gym as often as possible.
---
Bryan Mirick – Service Writer
Bryan Mirick from Lorena started with Christian Brothers in August of 2013. His love of cars started at a young age and began his career in the automotive industry in the tire business. He spent a few years as a service writer at another Waco, Texas automotive shop and has also spent some time in the parts business.
Bryan's time away from work are spent with his wife and two young boys, attending church events and some time working on restoring his "old Ford Mustang."
---
Josh Ryan – Technician
Josh is a Belton, Texas native that has been working on cars since a teenager and now has over 10 years of professional experience at another Waco, Texas automotive repair facility and joined Christian Brothers in November of 2014. He specializes in steering and suspension work, and brakes as well as ensuring all of the maintenance for vehicles is up to date. His talents and passions align in his desire to provide excellent customer service and ensure that each vehicle is safe and running properly. He was recently recognized by Christian Brothers Home office as a Top Producer at the annual awards ceremony.
He enjoys spending time with family and friends hunting and fishing in central Texas and driving his "Camo Kia" to the deer lease from his small farm just south of Waco.
---
Mike Loyd – Technician – Master ASE – L-1 – ASE Parts Specialist – ASE Service Consultant

Mike is originally from Austin, Texas and graduated from Liberty High School. While attending Texas State Technical College in Waco, Texas he worked at Waco Engine Works as a machinist. Upon graduation from TSTC, he moved back to Austin and began his automotive career at Britt's Automotive but eventually moved over to Pep Boys Automotive. Having enjoyed to home town feel of Waco, Mike transferred to the Waco location of Pep Boys where he worked for over 25 years. After careful consideration and prayer, Mike joined Christian Brothers Automotive in September of 2017.
Mike enjoys any D.I.Y. project as well as hanging with his 2 boys, video gaming and electronic/computer de-bugging. He grew up in the church and attends Highland Baptist Church in Waco with his wife and boys.
---
Josh Huff – Service Writer
Josh was born and raised in the Ft. Worth, Texas area and attended North Richland Hills High School before enrolling at McLennan County Community College in Waco, Texas. He moved permanently to Waco in 2000 where he started his career in the automotive industry as a Service Advisor in a local Waco shop. During his time in Waco he has developed many beneficial relationships with customers, vendors and parts houses that help fulfill his passion for serving the people of Waco with their automotive needs.
Josh has successfully completed the Genesis Sales Training Program that is provided for Service Advisors and Managers by Christian Brothers Automotive at the corporate headquarters in Houston. After a week-long of intensive classes and role playing, Josh returned to Waco to complete the ten-week follow up that includes real life sales presentations, leadership skills and even book reviews.
One can find Josh on his off days and weekends cooking while enjoying all kinds of music, any outdoor activity near Waco and spending time with family and friends.
---
Fidel Gonzales – General Service Technician
Fidel joined Christian Brothers Automotive as a General Service Technician in August of 2017 after working in manufacturing for the past 5 years and is eager to apply his manufacturing background to the repair and maintenance of vehicles.
Fidel is a native of Waco, Texas and graduated from Midway High School.
---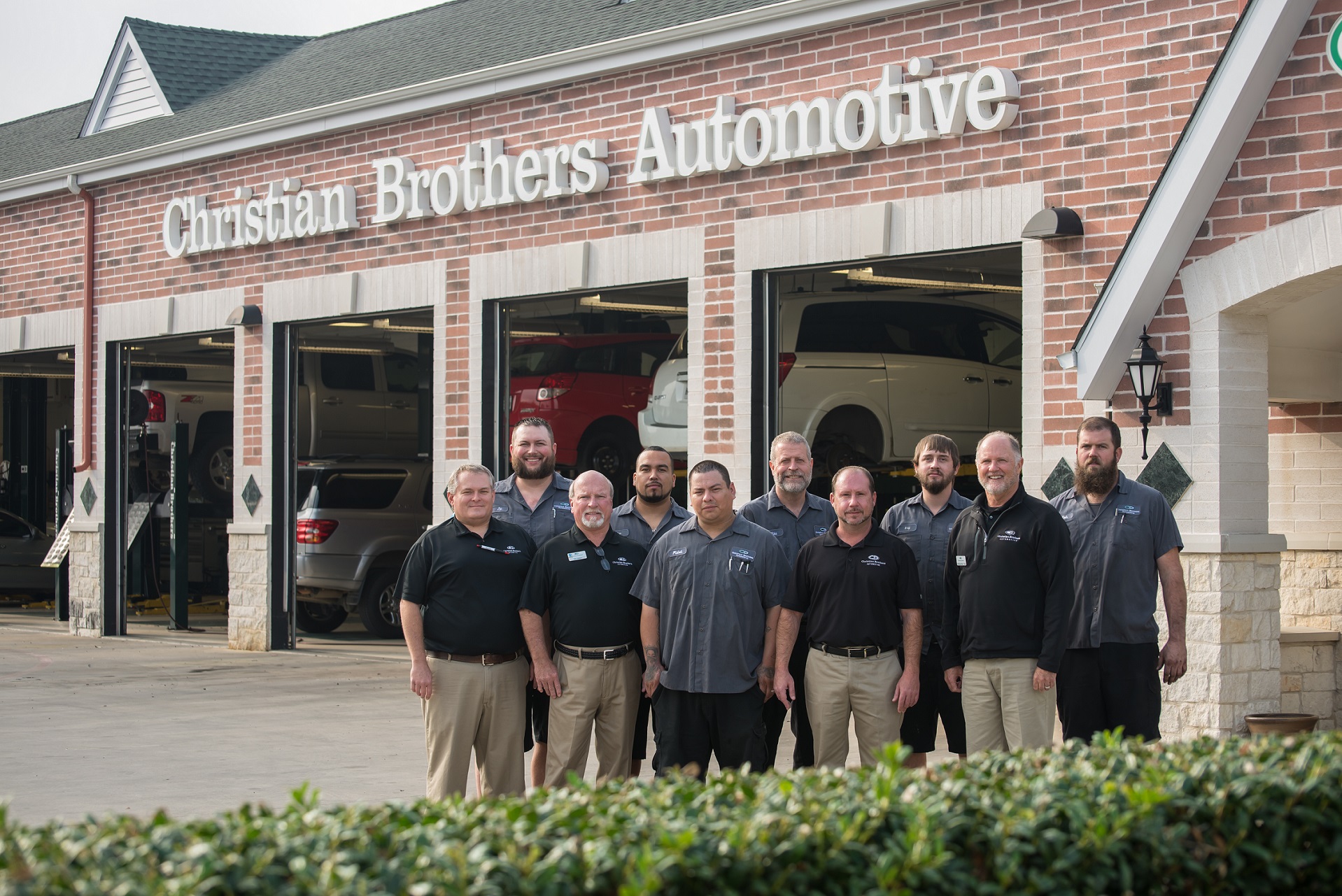 Location Info:
101 Archway Dr
Woodway
,
TX
76712