About Christian Brothers Springfield, MO
Christian Brothers Automotive is your neighborhood expert for all auto repairs and services.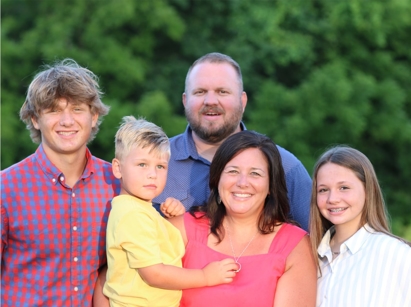 Christian Brothers Automotive Springfield is Owned and Operated by Lee and Jessie Grant of Nixa, Missouri. The Grants have three children who span 12 years in age; Tanner, Tatum and Henry Bo. The Grant family are active members at LIfepoint Church in Ozark, MO and also enjoy watching their children participate in youth sports.
Jessie attended Missouri State University in Springfield, graduating in 2001. Since that time, she has continuously worked in elementary education in Florida, Arkansas and Missouri. She is currently serving as a reading specialist at High Pointe Elementary in Nixa after obtaining a Master's degree in reading from the University of Arkansas Little Rock. Jessie enjoys family, summer time, and exercise.
Lee attended University of Central Missouri in Warrensburg, graduating in 2002. Prior to becoming a franchisee of Christian Brothers Automotive, he enjoyed a successful career in construction management, being employed by the large private firms Hensel Phelps Construction Company of Greeley, CO and JE Dunn Construction Company of Kansas City, MO. He was involved in all aspects of projects such as airports, prisons, hospitals, churches, secondary education facilities and FEMA shelters. Lee is an avid "car guy" and enjoys building, collecting and driving classic cars and hot rods. He also takes pride in developing leadership among his staff while celebrating successes, as well as guiding the process of overcoming challenges. You will always find him personally available for questions, concerns or comments.
Christian Brothers Automotive Springfield employs highly skilled technicians, who are invested in their careers through continuing education and professional certifications such as ASE. Using state-of-the-art technology combined with a "what is best for the customer" mentality allows our staff to provide full service ability beyond that of many competitors. Our goal is to understand your goals and help you make decisions that are best for you and your family about your vehicle in a friendly, informative and respectful manner.
Thank you for considering Christian Brothers Automotive Springfield for your auto repair needs. We would love the opportunity to earn business.
Whether you are unsure about the current condition of your vehicle and would like for us to perform a free Courtesy Inspection, or are having a specific problem or just have automotive questions please call us at
(417) 799-3345 or schedule an appointment online.
Location Info: 2315 W. Republic Springfield, MO 65807