A Tailgate Win and $10 Off
One of my favorite times of year is upon us. Whether it's cheering on the Longhorns, one of our Round Rock schools, or little league- every weekend there is a great excuse to gather friends, throw a tailgate party, and root for a victory.
As you get ready for the big game, here's four tailgating tips for a winning party.
4 Tips for a Winning Tailgate Party
Freeze water bottles- If space is tight in your coolers, freeze water bottles to serve double duty as ice packs for the cooler and ice cold water for later.
Label coolers- How many times have you opened 4 coolers before you find the one you're looking for? Label the lids and you'll avoid losing that contained cold air while your guests play hide and seek for their favorite drink.
Tie a big helium balloon to your car- Cell phone reception is always a little spotty at big arenas. When you make your morning run for bags of ice, grab a big helium balloon and attach it to the top of your car so your friends can easily find you.
Plan for foods that you can eat with your hands- If you want to simplify your tailgate menu, plan for foods that don't require forks or spoons to eat with. This will also save you on the amount of trash you have to haul back after the game.
Ok, one more tip from someone who cares about you and your car- don't forget your jumper cables. You never know when that one dome light you forgot to turn off might decide to drain your battery.
In the name of a great tailgate, bring your car into Christian Brothers Round Rock during the month of September and we'll take $10 off any service or repair. Click below to see offer.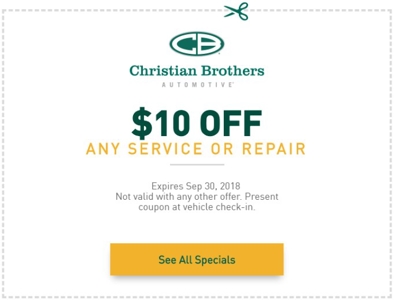 You can easily schedule an appointment online, or stop by our shop at 413 Louis Henna Boulevard and we'll take care of you.
If you have any questions or concerns about your car, feel free to give us a call at 512-920-6658
As a locally owned auto repair shop here in Round Rock, we want to make it easy for you to support our local teams. To find tickets and information about Round Rock ISD sporting events, click here.
Enjoy your tailgate!
Posted By
Edward Carey, Christian Brothers Automotive
Categories: