Christian Brothers Automotive New Tampa
Our Commitment Is To Give Back To The Community.
Love Your Neighbor As Yourself.
Christian Brothers Courtesy Shuttle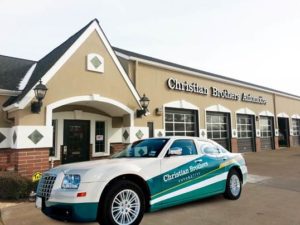 Keep an eye out in your neighborhood or your workplace parking lot and you will likely see the Christian Brothers Courtesy Shuttle driving through on any given day. Drop your car off at Christian Brothers. We will give you a ride back home, to work, to the gym, the grocery store, or wherever you need to go. And, we will come back to pick you up at your convenience.
Is there anything more inconvenient than wasting a Saturday sitting at an auto shop, or trying to work out a schedule with your spouse or friend to get your car to the garage, then still have to pick up kids and run errands? Life doesn't stop just because your car is at the shop.
We hope that our Courtesy Shuttle makes your life a little more manageable.
Bay Chapel Food Pantry Partnership
Christian Brothers Automotive is proud to partner with the bay chapel Food Pantry. Every Saturday since 2013 the Bay Chapel Food Pantry has been open from 9:00 a.m. to 12:00 p.m. Just show up at Christian Brothers and you will be directed to the Food Pantry on the back side of the shop. Lee Schielka, owner of Two-Can Painting, coordinates Bay Chapel volunteers who will load up boxes of food for you. If you wish to donate non-perishable food items to the Pantry, just bring them to Christian Brothers any time from 7:00 a.m. to 6:00 p.m. Monday through Friday.
Trinity Outreach Women's Center
Christian Brothers has coordinated the donation of more than 15 cars to the Trinity Outreach Women's Center of Zephyrhills. Trinity Outreach is a residential re-entry center for women who have completed the Trinity Outreach Program in jail and are returning from incarceration. One of their biggest needs is dependable transportation so they can enter the work world. Our generous customers who have cars that require just too much work have donated their cars to this cause and written off their contribution. The Ride-On Mission, part of First Baptist Church of Lutz, is a collection of retired mechanics and just good hearted grease monkeys who do the repair work to bring these cars back to life. We at Christian Brothers provide parts or facilitate parts donations from some of our kind suppliers like Napa Auto Parts, Autozone, and Advance Auto Parts. When everyone works together, remarkable things can happen.
"How Cars Work" - Saturday Car Classes at Christian Brothers
Saturdays we are closed for our employee 'family days.' It's a great opportunity to use the Christian Brothers auto shop and all our equipment to teach "How Cars Work." We host school groups, Girl and Boy Scouts, Brownies and Cubs. One homeschool group won an award at the Strawberry Festival for a model engine they built during our Saturday classes.
If you have a group interested in having a class, just give us a call and we will get it scheduled. We've even had requests for Mom's and Dad's classes and are more than excited to schedule one for you, too.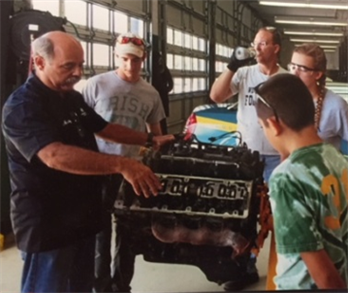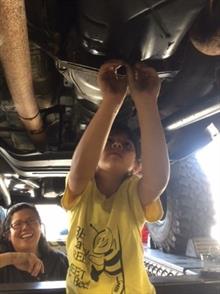 Christian Brothers National Service Day
Every year we at Christian Brother partner with our local churches and schools to provide free oil changes and minor repairs for single mom's, wives of deployed soldiers, widows and widowers, and others with a need. Our parts partners like Napa, Autozone, Advance Auto and Amalie Oil generously pitch in with free parts and oil to support our National Service Day.
If you are a church, school or other group that would like to partner with us, just give us a call.
Florida Hospital Wesley Chapel

If you are a Florida Hospital Wesley Chapel employee, did you know you could get your oil changed or have other car work done while you are at work? Just bring your keys to the Concierge Desk at Florida Hospital, we will pick up your car from the parking lot, do the work you request, and return your car to the same spot you parked in before your work day is over. And, the work is discounted! This is a special service we provide at the request of your Human Resources Department.
If other organizations would like to coordinate similar valet services for their employees, we at Christian Brothers would be glad to partner with you as well. Just give us a call.
Tampa Bay News

Christian Brothers Automotive, New Tampa has had articles featured in Tampa Bay News & Lifestyles, answering questions and providing helpful tips regarding car trouble and helpful maintenance tips. Click Here to check out the Garage Guru articles in the Tampa Bay News magazine.
---
Acknowledgements
Only Shop In New Tampa Earning These Awards.
AAA Authorized Service Center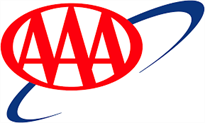 Christian Brothers is proud to have been awarded the AAA Authorized Service Center in 2014. It took over two months of inspections and reviews to earn this designation. And, we were surprised when AAA informed us we are the only auto repair center in both New Tampa and Wesley Chapel to meet their standards and earn this designation. My father gave me a AAA membership when I first started driving way back in the mid 1960's and I have been a member ever since. So to now become an Authorized Service Center for AAA is an honor and a proud moment.
Napa Car Care Center Award

Napa Auto Parts has just completed their inspection of our Christian Brothers shop and awarded us the designation as a Napa Car Care Center. Once again, we were informed we are the only auto repair shop awarded the Napa Car Care Center designation in New Tampa and Wesley Chapel.
What this means to our customers is that if you are on a road trip you will have two nationwide warranty programs protecting you for any work done here at Christian Brothers, each covering you for 2 year or 24,000 miles, whichever is longer. If we used Napa parts you can go to any Napa Car Care Center in the nation. Otherwise, your Christian Brothers warranty will cover you. Our goal is for you to drive cross country confident that you will always have a service center nearby when help is needed.
Costco Partnership

COSTCO has approached Christian Brothers NewTampa/Wesley Chapel to partner with their Tire Sales Department. COSTCO sells high quality tires at discounted prices, but does not do alignments nor inspect or perform suspension repairs. To protect your investment in new tires, you should always have your suspension inspected and an alignment completed. Therefore, COSTCO looks for quality auto shops to provide services to their customers. What this means for COSTCO tire customers is Christian Brothers will perform free suspension inspections and provide discounted alignment and suspension repairs if needed.
So, when buying new tires at COSTCO, give Christian Brothers a call to schedule an appointment for a discounted alignment and a free suspension inspection.