Fran and Hampton Holdsworth
Meet the experienced service team
Meet our service manager, Aaron Steele.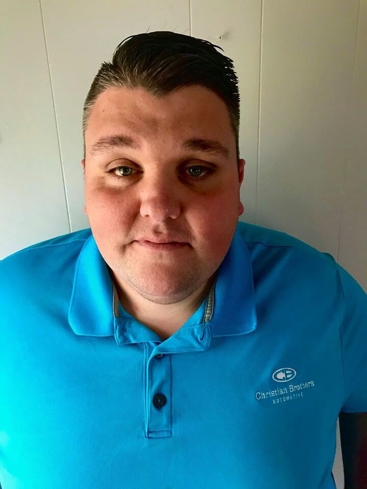 Aaron has been with CBA for the last four years. Growing up his dad owned a shop so he's always had a love of cars. After working for a fire service for 10 years, he was excited to return to the industry.
Aaron and his wife, Amanda have six children between the two of them. Their ages range from 4 to 16 and keep them very busy when everyone is at home.
Aaron loves working on all things cars, especially building race cars. He also enjoys coaching youth football.
Life motto/words to live by: " Be strong and courageous. " - Joshua 1:9
Meet our service writer Ashley.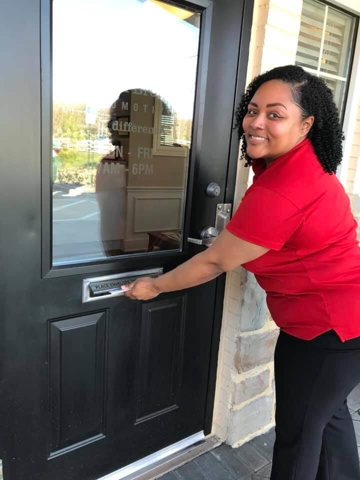 Ashley just celebrated her one year anniversary in March with us here at Christian Brothers. We love having her as part of our team.
Ashley grew up here in Virginia and started working in the car industry over 10 years ago. When asked what she enjoys most about working in this industry, she says, " I learn something new every day and that keeps it interesting."
When not working she enjoys spending time with family, her boyfriend Vince, and her fur babies.
Ashley's motto is to learn to find the positive in every situation, smile, and be kind.
Meet our service writer Chris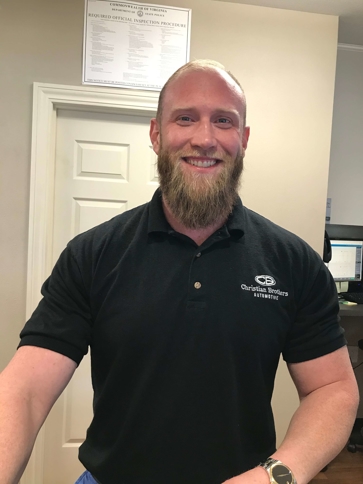 While growing up in the Hampton Roads area, Chris says that " I grew up with a fascination with cars and an interest with anything with an engine." Chris and his dad rebuild the engine in his first car, a 1966 Mustang. After high school, he went on to automotive trade school and was a technician for several years before transitioning into the service writer role.
Chris enjoys boating on the weekends and spending time with family and friends. Chris also has a passion for fitness and personal training.
Chris's motto, "Winning isn't everything, but wanting to win is." – Vince Lombardi
Meet our technician, Kevin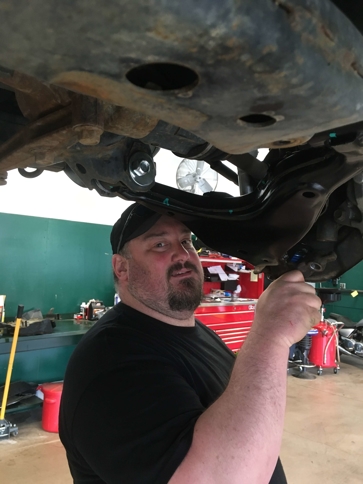 Kevin celebrated his one year anniversary with Christian Brothers this spring. Kevin grew up sweeping the floors at his Dad's mechanic shop and has enjoyed working on cars for over 20 years.
Kevin and his wife, Jennifer have 5 children, teenagers who keep them busy and entertained. Kevin coaches both football and wrestling and enjoys participating in community sports.
Kevin's motto, "If there's a will, there's a way. "
Meet our technician, Randy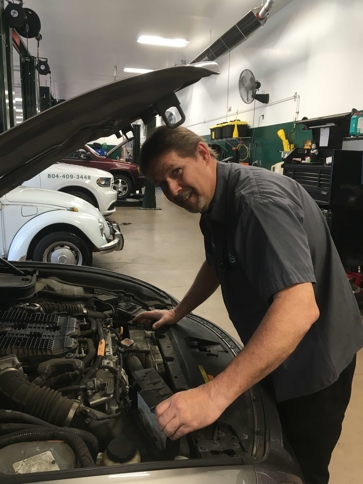 Randy fell in love with working on cars while in high and has continued on in the industry for over 30 years.
Randy enjoys spending time with his wife and puppies. They love camping, fishing and traveling, especially adventuring in their R.V. In the winter he loves to snow ski!
Randy's life motto: " Do the best you can do and live life to the full!"
We are so thankful for our team and the way they serve our guests! Come in and meet them today!