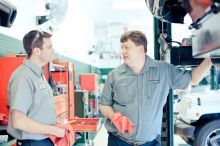 Did your vehicle's check engine light turn on recently? The only thing more annoying than when your check engine light turns on is when you don't know what caused it. Simply driving around and waiting for it to turn off is not a good idea. A car's check engine light turns on for several different reasons.
Do your car a favor and bring it into a Christian Brothers Automotive repair center for a check engine light diagnostic today. An ASE certified technician will work on your vehicle and diagnose the exactly what triggered the check engine light. Here are some reasons your car's check engine light turns on:
O2 Sensor
An o2 sensor monitors the amount of oxygen used in the combustion process.
If an o2 sensor fails, the vehicle will not perform up to its normal standards and gas mileage will decrease significantly. Not repairing a vehicle's o2 sensor will end up costing you thousands of dollars.
Spark Plugs and Engine Wires
Spark plugs ignite the fuel in your vehicle's cylinders.
Although spark plugs are fairly cheap to replace (around $10), they are known to cause vehicles' check engine lights to turn on. Failing to replace spark plugs can lead to catalytic converter and other auto part failure.
Gas Cap
Did you know your gas cap can cause the check engine light to come on? A loose or broken gas cap can dramatically affect your vehicle's gas mileage and increase fuel emissions. Your vehicle's check engine light turns on as a way to tell you that the vehicle is not performing regularly.