About Christian Brothers Knoxville, TN
Christian Brothers Automotive is your neighborhood expert for all auto repairs and services.
Our expert, ASE-certified technicians care about every car that visits our shop, and we offer you a complimentary Courtesy Inspection on every visit. No work is ever performed without your permission and you will always be informed about your car in language that's easy to understand. No technical jargon here.
For a car repair experience that's clean, courteous and caring, choose your neighborhood Christian Brothers Automotive. But don't take our word for it. Take a look at reviews from real customers at our shop and those around the country. Every visit to Christian Brothers should end in a happy car and a happy customer.
Christian Brothers Automotive offers auto repair service and maintenance for every vehicle. Gas or diesel, foreign or domestic, car or truck – no matter the vehicle, we have the expertise and experience to fix it right the first time. We have the same manufacturer recommended equipment and diagnostic tools as the dealerships, but the local ties and industry partnerships to often offer better prices.
All locations are independently owned and operated and the owner is on site. Speak directly with the owner about your car repairs. We know you have a choice in car care – thanks for considering Christian Brothers Automotive. Schedule an appointment today or send your questions to our experts.
Meet The Friendly Staff
Keith – Service Manager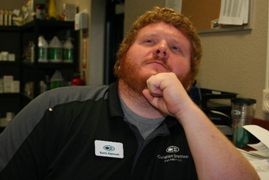 Keith has been in the customer service business for over 5 years. He is a fun loving, high energy, people-person. He works daily to reset people's low expectations for customer service to a higher standard in the automotive industry through honesty and integrity. If you come in and talk to Keith he will probably make you smile! When he's not in the shop, you can find him playing sports or video games. His love for cars sparks his passion for the auto industry, including his Chevy Traverse, Volvo S60, and Ford F150.
Motto: "The only things you can control are your attitude and your effort."
---
Justin – Assistant Service Manager
Before coming to Christian Brothers Automotive, Justin worked in non-profit fundraising and economic development. He enjoys getting to know the customers and serving their best interests. He hopes you'll stop in to say hello, and if you need advice with your vehicle he can assist you with that as well. Outside of the shop, he enjoys spending time with friends and family, boating, and enjoying the outdoors. His personal vehicle: Honda Accord.
Motto: "Consider the rights of other before your feelings and the feelings of others before your rights."- John Wooden
---
James – Technician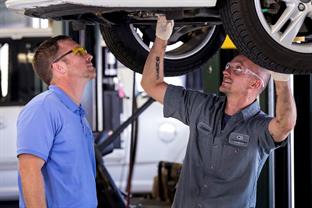 James brings over 15 years of experience to the Christian Brothers team! One of his favorite hobbies is repairing vehicles, which is why he loves coming to work in the shop everyday. Outside of work, you can find James playing sports or spending time with his family and two dogs, an English Bulldog (Buddy) and German Shepard (Elly). James owns an 05 Acura TL and 08 Honda CRV.
Motto: "Life's a garden, dig it."
---
Tony - Technician
Tony is excited to be a part of the Christian Brothers team, and he brings over 9 years of experience to the company! When he's not in the shop, you can find him spending time with his wife and dog, a Jack Russell/Dachshund mix. Tony also enjoys hiking, fishing, and of course, working on cars. He owns a 1996 Acura Integra GSR.
Motto: "Life is what you make of it."
---
Rick - Technician
Rick brings over 10 years of experience to the team. His passion for the auto industry stems from his love of cars, including his personal vehicles, a Buick Century and Jeep Grand Cherokee. Outside of the shop, you can find Rick spending time with his wife and daughter. His hobbies include playing golf and anything that involves building something!
Fun Fact: He's not a fan of heights.
Stop by today and meet our whole team!
Location Info: 10406 Kingston Pike Knoxville, TN 37922