What to Expect With AC Maintenance And Repair Service
1. Schedule Your Appointment
Whether scheduling online or over the phone be sure and let us know what you're experiencing so we can provide fast and accurate service advice.
2. Diagnostics and Inspections
Drop off your vehicle and the shop will get to work with inspections and diagnostics using the same equipment as the manufacturers to determine issues and next steps.
3. Digital Vehicle Inspection Report and Estimate
Following the diagnosis we will text you a digital vehicle inspection report, containing pictures and videos of our findings and recommendations.
4. Review and Approval
A service advisor will reach out to walk you through the findings and recommendations to determine how you would like to proceed, or you can approve work directly in your DVI.
5. Work Performed or Scheduled
Most work can be completed immediately, or scheduled based on parts and customer availability.
Call For a Quote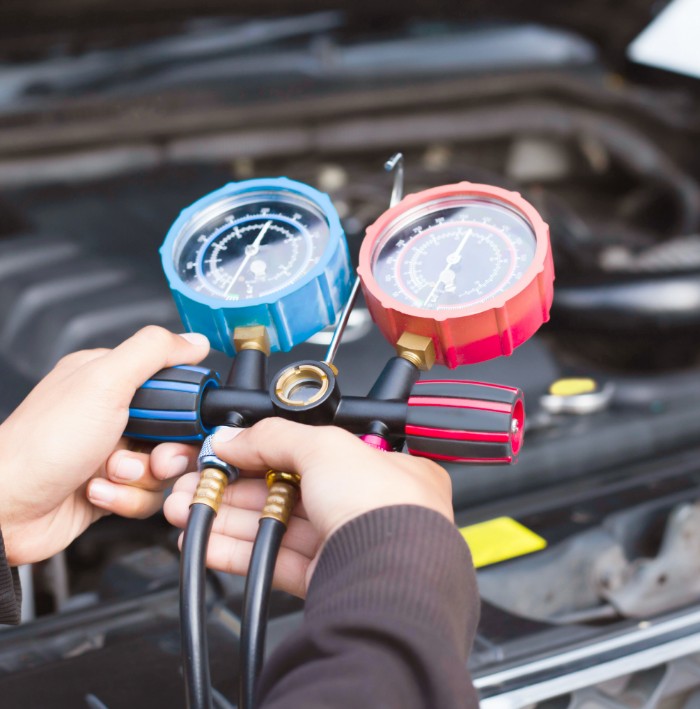 common Vehicle AC Problems
The first step in keeping your car's AC running smoothly is making sure you get an annual tune-up from a professional mechanic or technician who specializes in automotive air conditioning systems. This will include:
checking for any leaks
inspecting hoses and belts
topping off refrigerant levels if needed
cleaning condenser coils
overall cooling system check up
If any issues are found during this check-up they can be fixed before they become major problems down the road which could end up costing more money than necessary on repairs or replacements later on!
Signs of AC Issues
Sound: If strange noises are coming from the inside of your airvents, your ac system may be failing
Smell: unexplained odors can be due to bacteria build up on your evaportaor
Feeling: inconsistent temperatures can indicate a problem with your compressor
It's important to not ignore these warning signs. But rather, take action immediately by having an experienced technician diagnose what might be wrong so that proper repairs can be made quickly. This can prevent further damage due to overheating parts within the system itself!
Common Car AC Issues
It is important for drivers to be aware of common car ac issues, as proper maintenance and repair can save you time, money, and energy. Common causes of malfunctioning air conditioners include low refrigerant levels (which must always stay topped off), and faulty compressor clutches failing due to wear & tear over time - both of which require replacement parts plus labor costs associated with installation/repair work done by certified professionals only!
Additional causes of AC failure include:
Electrical faults
A leaking or clogged condenser
Broken cooling fan
Refrigerant leaks
And more.
Regular maintenance of the air conditioner components like compressors and condensers can help prolong your car's lifespan and potentially help prevent more expensive repairs in the future. The sooner you diagnose an AC issue the better off you'll be in terms of cost and avoiding high levels of discomfort while driving in high temperatures.
Partner With Christian Brothers Automotive Inver Grove Heights
When looking into repair options make sure you choose a mechanic with experience specifically dealing with auto ac systems. When you choose Christian Brothers Automotive Inver Grove Heights, this is guaranteed! Some mechanics may have general knowledge but lack specific expertise when dealing with directly related matters like these.
Additionally, our team proudly offer our customers a warranty on all services provided. Our goal is always to exceed expectations and provide top-notch repair services so that everyone drives away satisfied. Whether you need routine maintenance or repairs, rest assured that as long as your vehicle has been cared for by Christian Brothers Automotive Inver Grove Heights, it has the support of our fantastic warranty!
Need your AC serviced in Inver Grove Heights? Turn to the professionals at Christian Brothers Automotive. Call us today at (651) 758-8522 or schedule an appointment online.
Read More
Read Less
FAQs
Have more Questions?
Our friendly auto service experts have the answers.
Call your local Christian Brothers Automotive car shop today
Hear What Our Customers Had to Say About Us
"I liked the customer service and going above and beyond to make sure I was comfortable while waiting in the store for my vehicle work to be done, specifically being offered a nice hot coffee with creamer."

- J.L.
Read More Testimonials