Mike & Donna Loter
Meet the experienced service team
Ed Simon, Service Advisor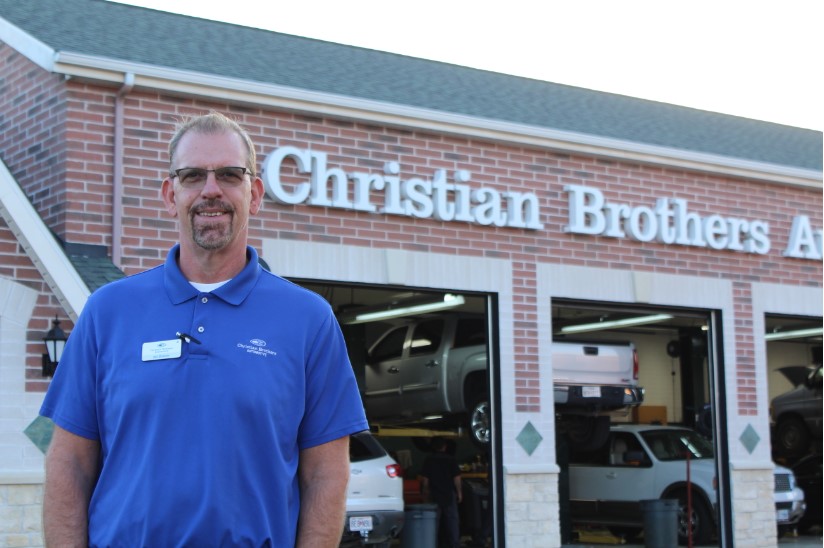 Hometown: Winnie, TX
Years of Experience: 18 years
Areas of Expertise: Steering and suspension, tires and wheels, brake systems, great customer service/sales.
Credentials and Certifications: Gold Star Genesis graduate from CBA University, Sales and Customer Service training, Certified Michelin Tire Expert, Certified in Automotive Retail Management.
Family: Wife Candy of 31 years and three children (1 daughter and 2 sons). First granddaughter born May 2020 in Granbury to his daughter and her husband.
Fun Facts: Ed once wrestled a 900-pound grizzly bear in his younger years (grizzly won). He enjoys spending time with his best friend and wife Candy, playing with their new grand baby and making his lawn look great with his new Toro Zero Turn Mower. Ed's experience in the auto industry and his commitment to great customer service makes him a true asset to our customers and team.
---
Tommy Halko, Service Manager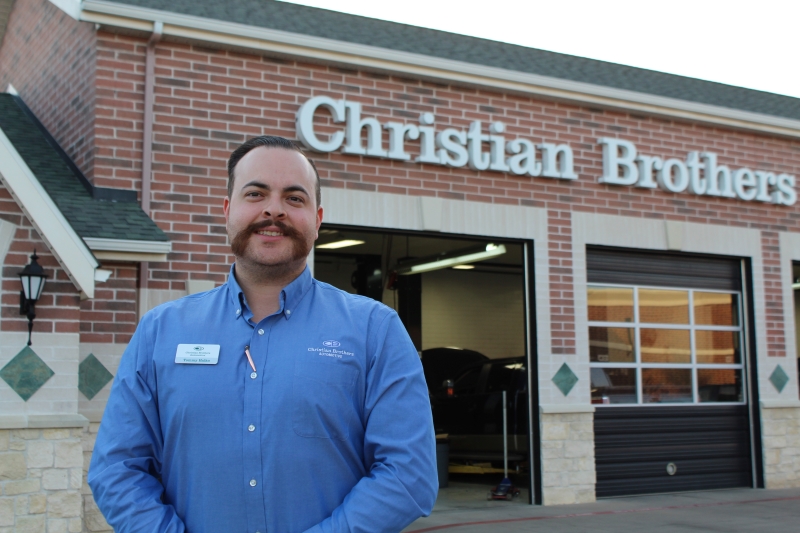 Hometown: Temecula, California
Years of Experience: 4 years
Areas of Expertise: Tommy has lots of general knowledge of the automotive industry and wants to learn as much as he can.
Credentials and Certifications: Tommy is a prior certified EMT and has a service manager certificate from Nissan.
Family: Almost all of Tommy's family are still in California, but after visiting some friends here in Granbury he and his fiance fell in love with the place and decided to move here.
Fun Facts: Tommy has broken more bones than you can count on your fingers and hands.
---
Ashley Rose, Guest Relations Specialist
Hometown: Granbury, Texas
Years of Experience: 6 years
Areas of Expertise: Journalism, customer service, retail and sales
Credentials and Certifications: Ashley graduated from the University of North Texas in 2015 with a bachelor's degree in print journalism and a minor in political science and sociology.
Family: Ashley has lived in Granbury her whole life and has a twin sister, two younger sisters and two younger brothers.
Fun Facts: Within a few weeks after graduating college, Ashley received a job at the Cleburne Times-Review newspaper as the education reporter and was there for five years. In her free time, she enjoys indoor rock climbing, reading, writing short stories and poems and hopes to create novels in the future. She attends Stonewater Church and is also a member of their production team.
---
Waylon Simon, General Services Technician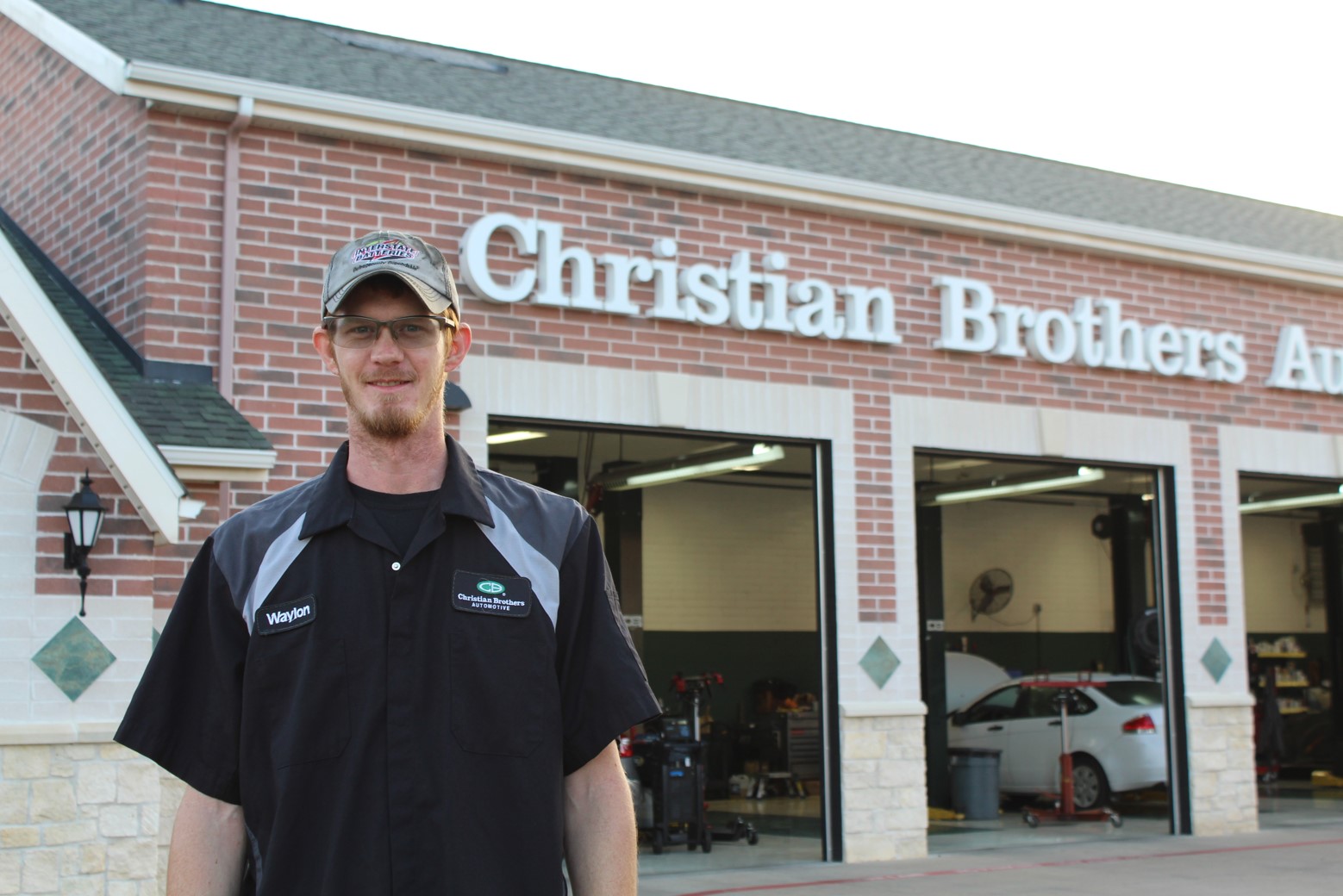 Hometown: Galveston, Texas
Years of Experience: Waylon has less than a year of experience working on vehicles, but he is ready to learn all he can about the industry.
Areas of Expertise: Waylon is a Jack of all Trades. From working on vehicles to welding and construction, he's ready to learn more and more.
Family: Waylon is a certified fork lift operator and is also certified in welding.
Fun Facts: During his free time, Waylon enjoys watching TV and playing video games. He describes himself as a laid back person who's a good listener. He's also left handed.
---
Matt Rhoades, Technician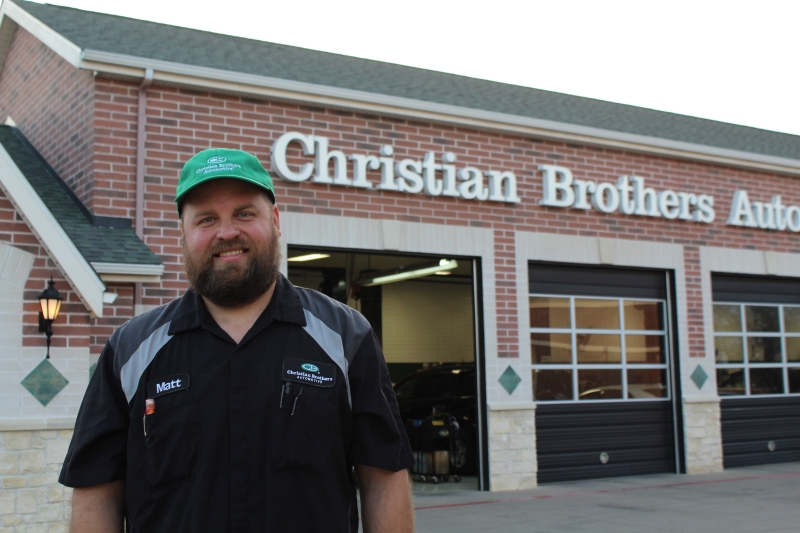 Hometown: Bluff Dale, Texas
Years of Experience: 11 years
Areas of Expertise: Matt has experience with auto/manual transmissions; Driveline; noise, vibration and harshness; HVAC; and electrical.
Credentials and Certifications: Matt received his bachelor of business administration degree from Tarleton State University in 2006 and an associate degree from Texas State Technical College in Waco in 2010. Matt is a Chrysler, Dodge, Jeep Ram Master Tech, a Nissan Tech and is ASE certified as well as MACS certified.
Family: Matt's family is full of educators. His sister is a high school teacher, his brothers-in-law is a junior high school teacher/coach and is in the Navy Reserve and his mother was a teacher for 33 years.
Fun Facts: In the automotive industry, Matt has worked as a car salesman for Classic of Granbury before moving to the service department. Matt has been a volunteer firefighter and truck captain for the Bluff Dale Volunteer Fire Department for 12 years. He lives on the family ranch where they raise Black Angus Cattle.
Matt loves the outdoors and has driven up to Pikes Peak as well as The Million Dollar Highway in Colorado where he also worked as a stunt double for The Sasquatch in the San Juan Mountains.
---
Quinton Harris, Technician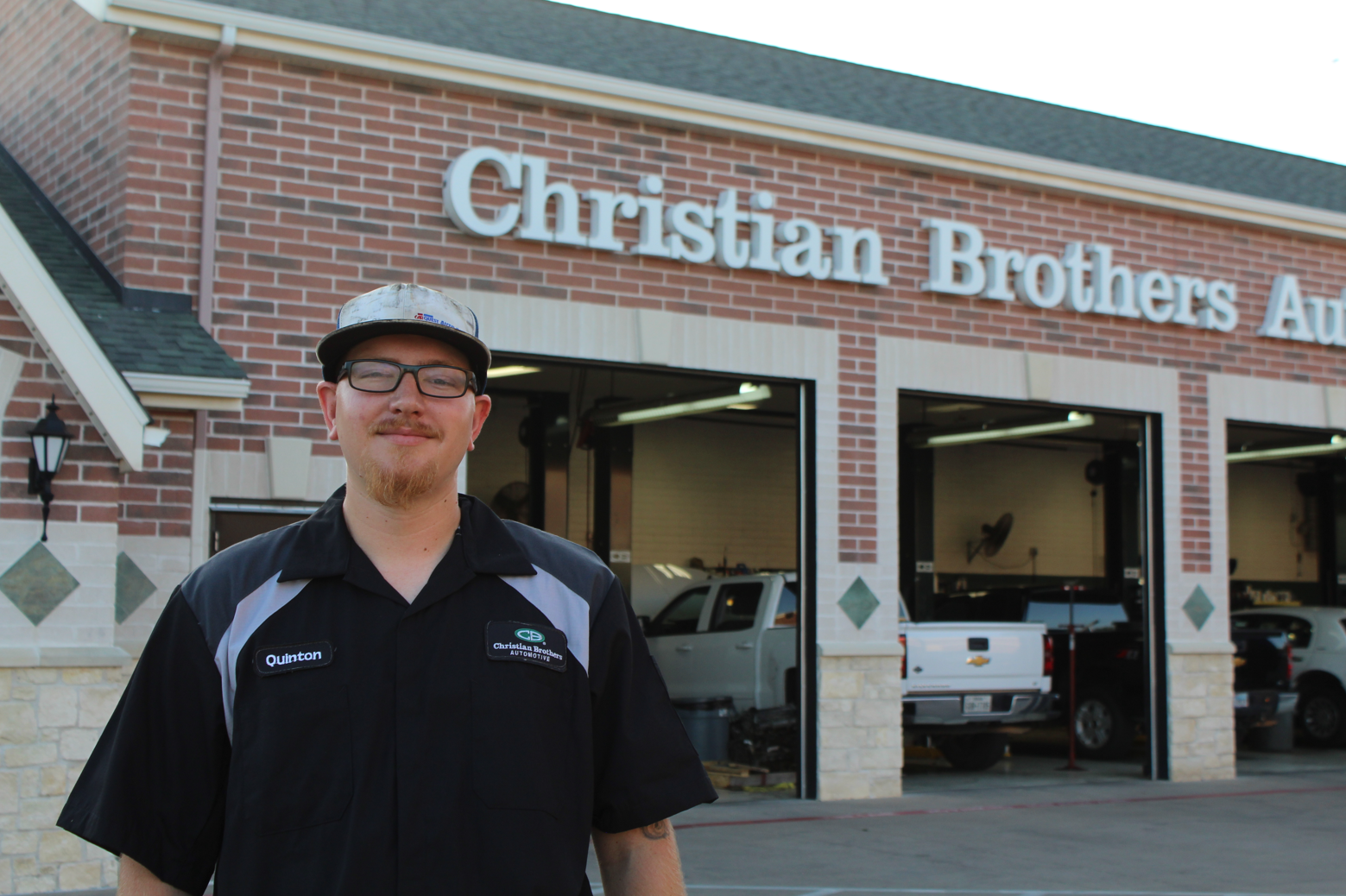 Hometown: Carlsbad, New Mexico
Years of Experience: 7 years
Areas of Expertise: Steering and suspension, HVAC diagnostics and repairs, electrical and drivability.
Credentials and Certifications: Quinton earned his associate's degree in automotive technology from the Universal Technical Institute. He also has his ASE A1 certification in engine repair, A5 in brakes, A6 in electrical, A8 in engine performance, A9 in light vehicle diesels, his E609 refrigerant certification and many certifications with Ford and General Motors.
Family: Quinton has a wife who is currently striving to receive her master's degree in social work.
Fun Facts: Quinton, or "Q" for short here at the shop, grew up around motors his entire life. From dirt bikes, four-wheelers and cars, he's always enjoyed working with them with his dad.
---
Chris Dobbins, Technician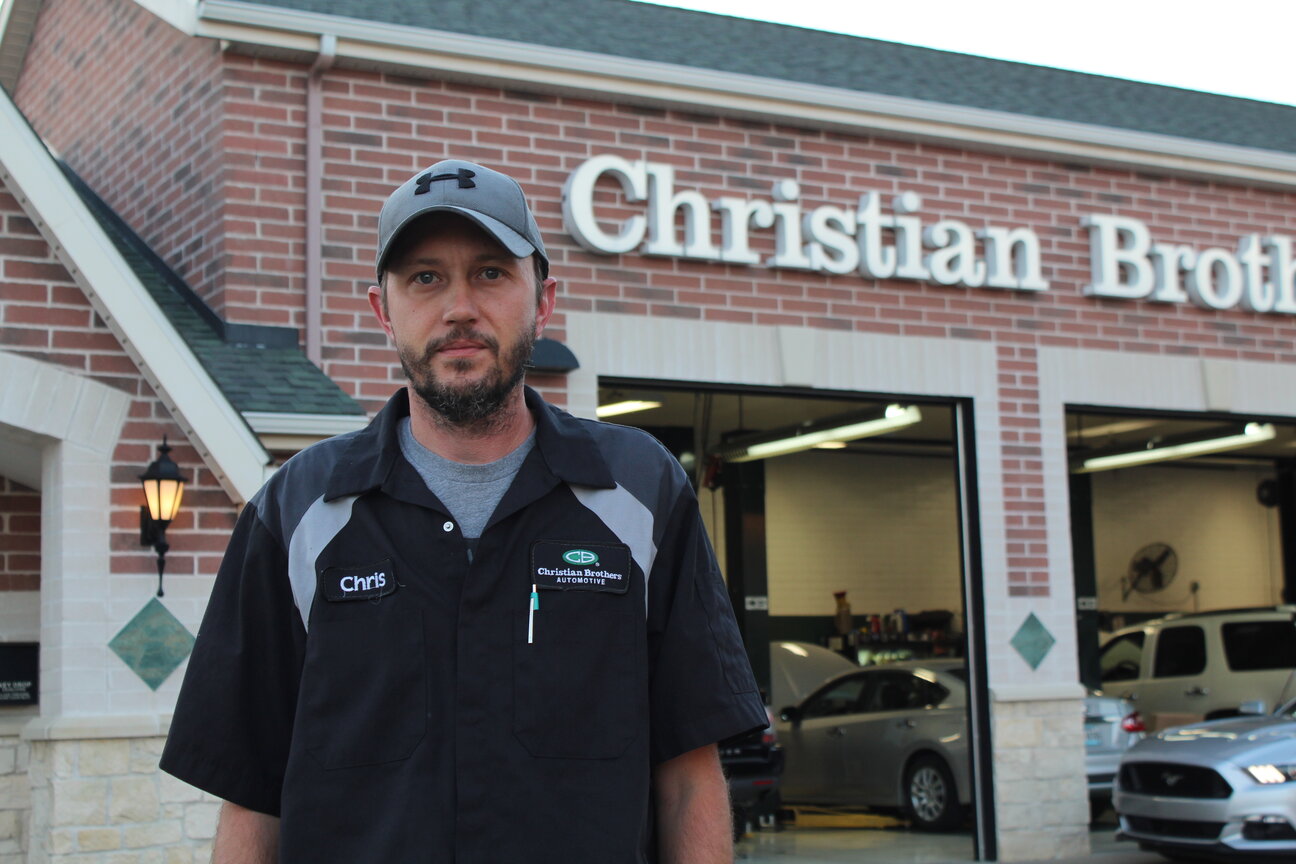 Hometown: Alvarado, Texas
Years of Experience: 24 years
Areas of Expertise: HVAC, trim, electrical and drivability
Credentials and Certifications: Chris has a two-year degree from Tarrant County College in automotive. For his entire career, he's worked for Ford, and during the last five years as the shop foreman. Chris is certified in HVAC, electrical, electronics, hybrid systems and gas drivability.
Family: Chris and his wife, Megan, have a blended family of six children: 13-year old Hannah, 7-year old Addie, 15-year old Conner, 12-year old Brandon and 1-year old Brady.
Fun Facts: Chris enjoys spending weekends with his family by fishing, grilling and going on many adventures. He has also enjoyed building and racing Mustangs for over 20 years.
---
Jacob Fleshman, Technician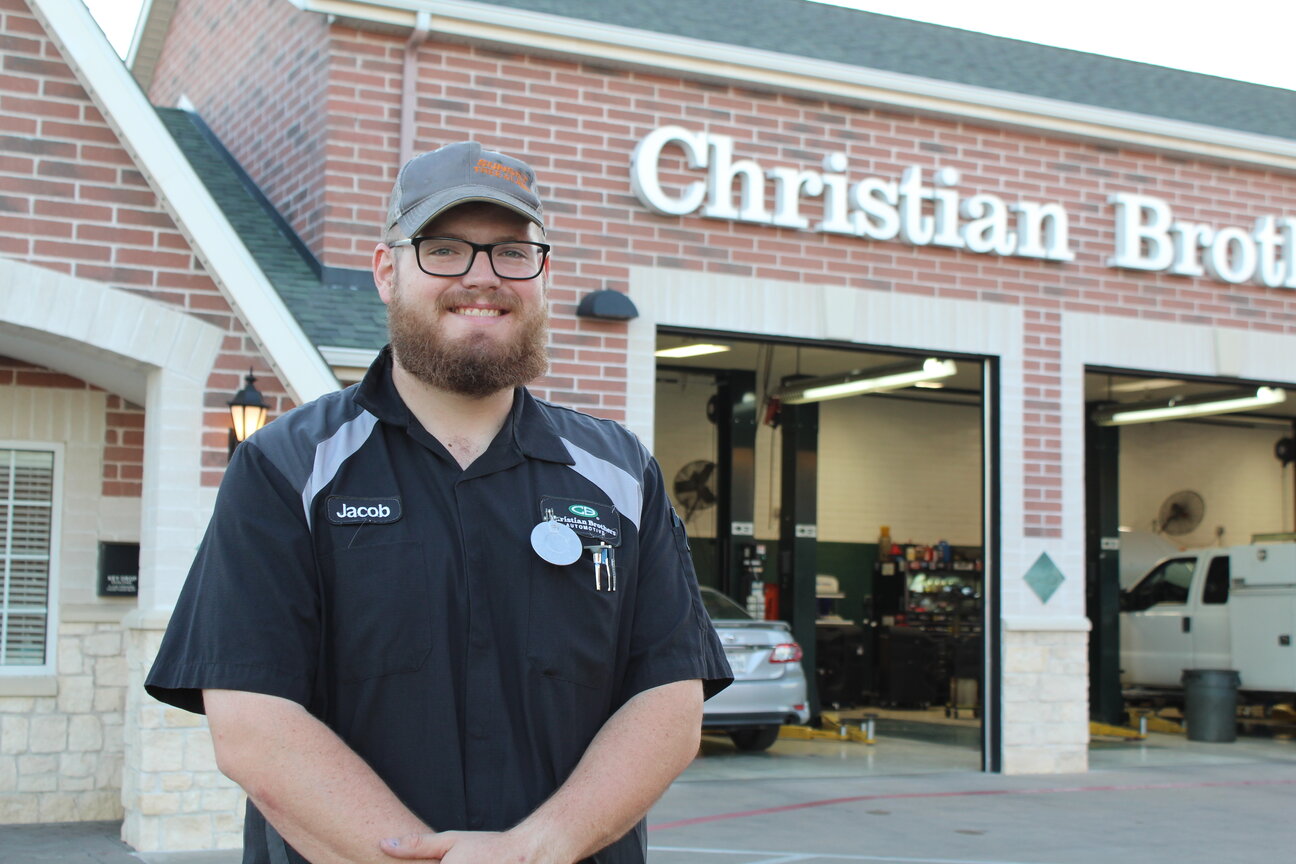 Hometown: Granbury, TX
Years of Experience: 4 years
Areas of Expertise: Oil changes, steering and suspension, brakes, starting and charging systems and coolant systems.
Family: Jacob is a local guy who has three sisters and spends lots of time with both his parents.
Fun Facts: When he's not fixing cars, Jacob is striving to become a Texas Game Warden. He says that's his dream job and loves to spend as much time outside as he can. He can also be seen helping church members park their cars at Lakeside Baptist Church on Sundays.