About Our Car Repair Shop in Aubrey
Contact Christian Brothers Automotive Aubrey Today
At Christian Brothers Automotive Aubrey, we are committed to meeting the needs of our customers in a timely, professional, and courteous manner. We understand that getting your car serviced can be inconvenient. That is why we strive to provide the best possible services. Whether you need to repair or replace a part on your vehicle, or you just need routine maintenance, our Aubrey car repair technicians have the tools and training to get the job done right. We will explain everything in detail, and will answer your questions along the way. Furthermore, we will never use technical jargon or try to get you to purchase something you don't actually need.
We are committed to making a difference in the automotive industry by:
Offering courtesy inspections with every service
Explaining your options so you can make informed decisions
Telling you of any potential problems with your vehicle
We know that auto shops have a reputation of being unscrupulous. However, our team is committed to the highest standards of integrity and honesty. We will explain every item on your bill and discuss your options in an easy-to-understand way. We will also inform you of any problems we discover with your vehicle that may need to be repaired in the future.
Customer Satisfaction & Safety Is Our Number-One Priority
At Christian Brothers Automotive Aubrey, we are committed to taking care of our customers first and foremost. If you have questions about your vehicle or the services being done, our Aubrey car repair technicians will gladly talk with you and explain anything you want to know! When you bring your car to us, you can trust that it will be treated like one of our own. Our team has the tools and training to service all makes and models, and we will never cut corners.
About the owner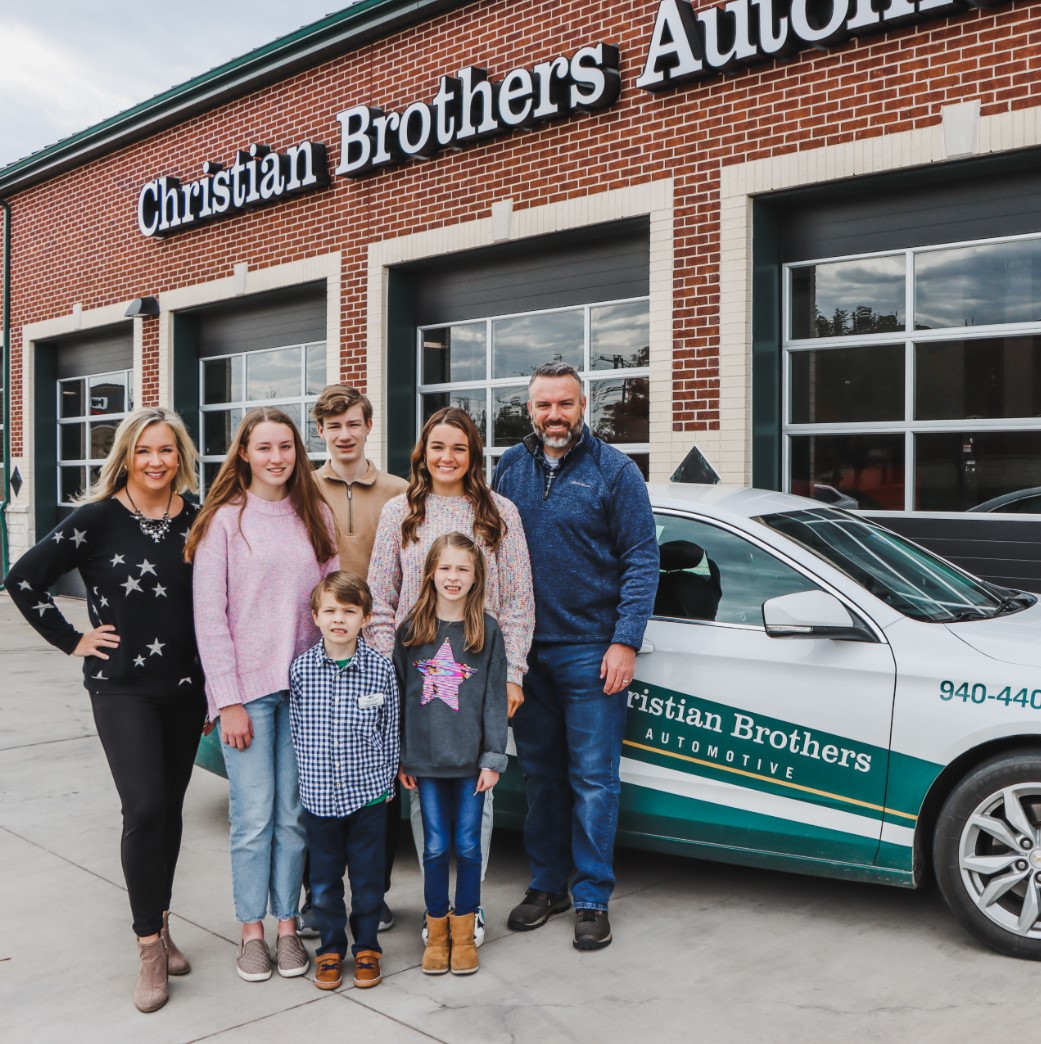 In the summer of 2019, John took his mother to pick up her car at a Christian Brothers Automotive and was astonished by how they cared for his mom and the repairs to her vehicle. Discovering that Christian Brothers was a franchise model, he immediately expressed an interest in becoming an owner. In November of 2019, Christian Brothers approved John and Gillian Norman as a franchisee. In April of 2020, they were blessed with the opportunity to purchase the location in Aubrey Texas.
John and Gillian have fallen in love with the greater Aubrey area that encompasses many communities along and near the 380 corridor and aim to be a bright light not just in auto repair, but in overall community involvement. John brings 30 years of experience in service and leadership and Gillian's experience as an owner of home-based businesses, health and wellness and vast non-profit volunteer work aim to be a holistic blessing to the community here.
Being the proud parents of five wonderful children, three of which are driving age, John and Gillian understand what gives you peace of mind when it comes to transportation. This perspective is kept top of mind by the entire team here
"Quality, reliable, and trustworthy auto repair is our business, and being a servant to our employees, customers, and community is at the forefront of our Christian faith and we strive to witness to it every day." – John Norman
Service Areas:
380 Corridor
University Drive
Aubrey
Crossroads
Savannah
Providence Village
Union Park
Cross Oak Ranch
North Little Elm
North West Frisco
South West Prosper
Krugerville
Paloma Creek
Oak Point
Arrowbrooke
Sutton Fields
Silverado
Sandbrock Ranch
Windsong Ranch
Dell Webb
Braswell High School
Navo Road
Bell Elementary
Contact Christian Brothers Automotive Aubrey today by calling (940) 557-5363 and schedule an appointment with our high-quality car repair services in Aubrey!