About Christian Brothers – Atascocita
Christian Brothers Humble, TX
Your Neighborhood Expert for all Auto Repairs and Services
OUR TEAM
Johnny Santana, our service manager, has over 15 years of experience in the automotive repair field.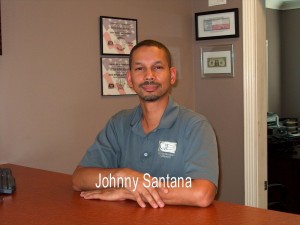 He is bilingual, very knowledgeable and always goes the extra mile with customers to explain the need of their repairs. Johnny is married, has two children and is recognized in Atascocita, where he resides. He enjoys swimming and traveling and helping out his neighbors. Johnny also has a passion for his motorcycles, eating BBQ and hot dogs, and working on his Texas Accent.
OUR PLEDGE
Customer Service is our passion! Our Customer Service pledge. "We pledge to be a courteous, friendly, and service-oriented shop , treating customers as family. We understand our customers have many shopping alternatives, so providing service above customers' expectations will make customer want to choose us over the other choices they may have. We understand that you never get a second chance to make a great first impression! We will strive to make every customer experience outstanding!"
OUR SERVICES
From simple oil changes, state inspections and tire replacement to complete engine or transmission replacement, we have the technical know-how to address any automotive concern you may have. A master certification consists of 8 specialty areas: engine repair, transmissions, drive train/axles, suspension/steering, brakes, electrical, heating/ac, and engine performance. Our team has over 75 years of experience in automotive repairs.
We have invested in the latest dealer-level diagnostic tools and equipment and our OEM software is updated regularly. Some repair shops or parts stores just "read the code" and then hope that it will fix the problem. Our experience has shown us that over half of the time that the code obtained from the computer is only a symptom and that the real problem lies somewhere else.
Don't guess, Test!!!! The next time your Check Engine, Service Engine Soon, ABS, Traction Control, "Trac-Off", Service Ride Control, Air Bag, SIR or Passenger Restraint System light comes on, let the professionals at Atascocita Christian Brothers Automotive do a complete diagnosis of your electrical system.
We also check the Starting & Charging systems of your vehicle: Complete battery, alternators & starters testing.
Emissions Repairs are hassle-free! We repair vehicles of all years (both "1995 and older" and "1996 and newer"). We can complete the drive cycle and re-inspect for you before we say "it's done"!
Our Brake Service will have you stopping smoothly and quietly! We always begin with a free brake inspection of your entire braking system. We machine your rotors or drums, if they are above mfg's limits, lubricate all necessary hardware and only use the best quality of brake pad.
Manufacturer recommended 30,000, 60,000 and 90,000 mile maintenance services can be performed here and will keep your vehicle's warranty in force. Don't leave your vehicle at the dealer for days; we have the same equipment, fluids, chemicals and trained technicians to perform your vehicle's scheduled maintenances. We can also perform most extended warranty repairs and you pay only your deductible. These services are not only important during your warranty, but also extend the life of your vehicle after the warranty has expired. After all, if they weren't important, they wouldn't be a requirement of the warranty.
We offer wheel alignments and tire balancing to keep your car driving straight and smooth.
Keep your vehicle running at its peak performance and prolong its life with regularly schedule flushes:
Coolant flush
Transmission flush
Air Induction cleaning
Brake Flush
Power Steering flush
Don't Overheat! We service and repair all components in your engine's cooling system. From radiator flushes, radiator replacement, water pumps, thermostats to heater cores– we service it all. If your car begins to run hot, pull over right away. Driving a car for even a short distance while overheated can cause thousands of dollars in damage.
Air Conditioning Service and Repairs. It goes without saying, "It is hot in Houston." Let our technicians examine you A/C System. They can diagnose and repair the system and make sure that it is performing to peak efficiency. We have extensive experience in replacing compressors, evaporator cores, condensers, orifice tubes, expansion valves and hoses and lines.
Engine Repairs and Maintenance by Experienced Master Technicians. We have Technicians with over 20 – 30 years personal experience who are trained, tested and certified Master Technicians. From timing belt replacement to engine repairs, you can rest assured that the repair will be done right. We are very thorough in investigating the source of oil leaks and explaining the scope of repairs to you.
Transmission Services. We have the computers and equipment to diagnose your transmission problem. We repair transmissions for servo, electronic and electrical component faults. We also service clutches, flywheels and the hydraulic clutch linkage.
We also install, mount, and balance new tires!
Location Info: 6935 Atascocita Road, Humble, TX 77346