About Christian Brothers Weatherford, TX
Christian Brothers Automotive Weatherford: The neighborhood experts in professional auto repair
Welcome to Christian Brothers Automotive in Weatherford, Texas. Looking for a friendly and fair auto repair shop in the 76086 zip code? You've found it! We are independently owned and operated by Scott and Kelley Stidd.
Whether you're looking for a "check engine" light diagnosis, brake pad replacement or simply an oil change, our ASE-certified technicians will make sure you're taken care of!
Christian Brothers Automotive Weatherford is conveniently located on South Main and I-20 West, off exit 408. You'll find us near Discount Tire, Walmart and Home Depot. We sit proudly between Weatherford High School and Weatherford College, down the road from Clear Lakes.
Meet the Generous Owners
Scott and Kelley
Scott and Kelley work hard running our successful Weatherford repair shop while raising two beautiful daughters, Megan and Robyn.
When he's not working at the store, Scott can be found serving his community with the Weatherford Chamber of Commerce. As a professional partner of BNI International's DFW chapter, Scott has a passion for serving both the residents and local business owners of Weatherford.
---
Meet the Experienced Staff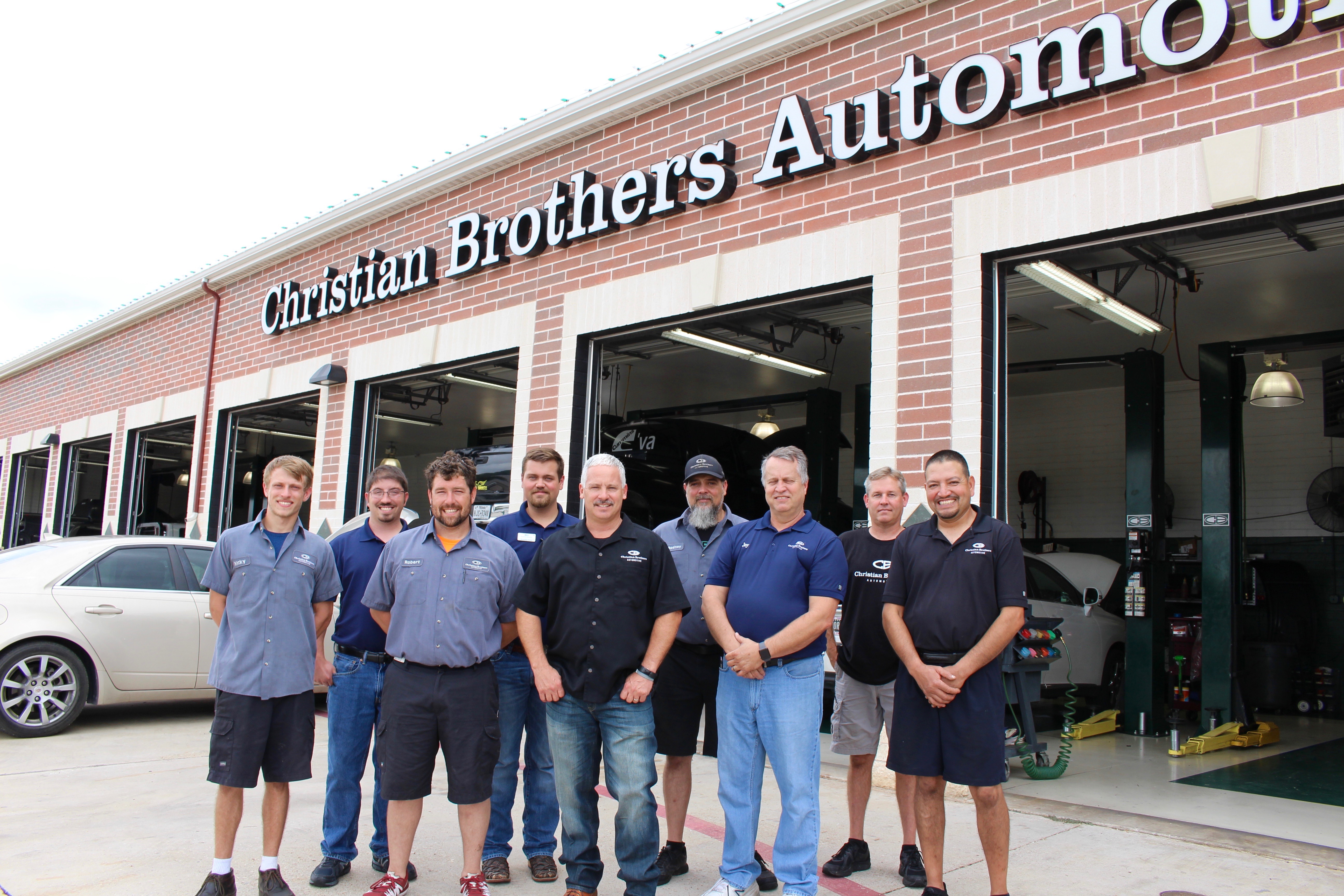 Jay Jones – Service Manager
Jay is a Weatherford local! He is very excited to be a part of the Christian Brothers team in the town he was born and raised. Outside of work, Jay enjoys traveling and scuba diving.
Favorite Vehicle: 69 Camaro
---
Brandon Jones – Service Advisor
Brandon is a Weatherford local. Stop on by to say hello and you may recognize him from around town! When he isn't assisting customers in the shop, Brandon loves to go flying and boating.
Favorite Vehicle: Dodge Truck
---
Rodney Hobbs – L1 Certified Master Technician
As a Weatherford local, Rodney loves being a part of the community as a technician for Christian Brothers. Some people refer to him as a "Rock N' Roll" type of guy, but he performs a wide variety of music. He has even performed in three operas! If he's not in the shop, you can find him playing music.
Favorite Vehicle: Camaro
---
Juan Garcia –Master Certified Technician
Juan is from Mexico City and is excited to be a part of the Christian Brothers Team. When he isn't managing the shop, you can find Juan playing baseball!
Favorite Vehicle: Old VW Chevy Truck
---
Ricky Hobbs - General Service Technician
Ricky's hometown is Brock, TX. He is very excited to be a part of the Christian Brothers team! When he isn't working hard in the shop, Ricky enjoys fishing, woodwork, and driving four-wheelers.
Favorite Vehicle: Toyota Tacoma
---
Kale Ogden - Technician ASE Master
Kale's hometown is Weatherford, Texas. He is a man of many talents, including restoring and racing Jet Boats as his hobbies. If he had to pick a favorite car it would be the 73' - 87' Chevrolet P/U & Blazers.
---
Robert Foster - Technician

Robert's hometown is Mineral Wells. His favorie hobbies include watersports, fishing and hunting. Robert belives that one of the most effective way to influence a persons attitude, is to smile. His favorite car is between a Chevy Silverado or a 5.9L Ram 2500 STD SB 4x4.
---
Joe Weist - Customer Service Advisor
Joe is our last but not least Weatherford local who loves being part of the Christian Brother team. His favorite hobbies are camping, fishing, and playing music. Fun fact about Joe Weist is that he is left handed and his favorite vehicle is a Dodge Viper!
---
We service all vehicles, including classic cars and diesel trucks. No matter the car type or the repair needed, you'll be welcomed into the Christian Brothers Automotive family! To schedule an appointment, call Christian Brothers Automotive in Weatherford, Texas today!
Location Info: 156 IH 20 West Weatherford, TX 76086