What to Expect With AC Maintenance And Repair Service
1. Schedule Your Appointment
Whether scheduling online or over the phone be sure and let us know what you're experiencing so we can provide fast and accurate service advice.
2. Diagnostics and Inspections
Drop off your vehicle and the shop will get to work with inspections and diagnostics using the same equipment as the manufacturers to determine issues and next steps.
3. Digital Vehicle Inspection Report and Estimate
Following the diagnosis we will text you a digital vehicle inspection report, containing pictures and videos of our findings and recommendations.
4. Review and Approval
A service advisor will reach out to walk you through the findings and recommendations to determine how you would like to proceed, or you can approve work directly in your DVI.
5. Work Performed or Scheduled
Most work can be completed immediately, or scheduled based on parts and customer availability.
Call For a Quote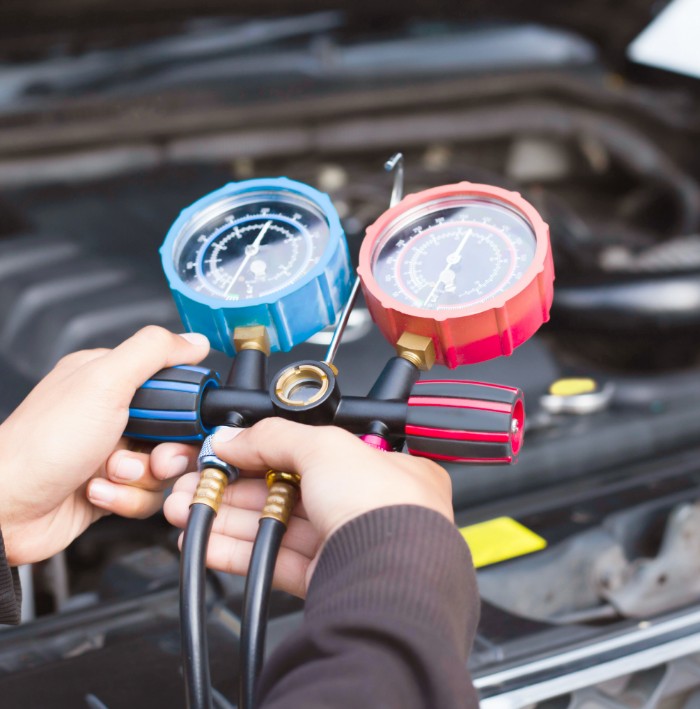 Troubleshooting AC Issues in Spring, TX
It is not uncommon for poor AC performance to be the byproduct of simple fixes. Including inadequate refrigerant levels. If such is the case, we offer professional services that can resupply refrigerant to your AC unit in no time. We know when it comes to low refrigerant levels, some car owners will take the DIY route. Then they buy a refrigerant canister to pour in themselves. We do caution against this. Small errors and misapplication can compromise the effectiveness and functionality of the AC.
Here are some common AC issues that usually warrant larger services and repairs:
Broken Belts
Clogged Condensers
Defective Pressure Switches
Broken AC Compressor
Clutch Problems
Inoperative Evaporator
Busted O-Rings or Front Seals
Contaminated Refrigerant
Obstructed Cabin Air Filters
Leaky AC Hoses
Simple solutions like refilling your refrigerant are unfortunately not always the answer. Often, an automotive AC system can wear out and malfunction. These can be consequence of more serious issues. There is no need to subject yourself to a scorching hot car. That is why we recommend acting preventively and seeking out necessary AC repairs. Before it is too late.
AUTO AIR CONDITIONING REPAIR SERVICE IN SPRING, TX TO THE RESCUE
CBAC knows the urgency experienced when your car's air conditioning doesn't work and the relief that results from quality auto air conditioning service.
We use all the best tools and car repair technologies in the industry. As well as employ transparency and technical expertise with our Spring, TX air conditioning repair technicians. Ask us about our 3 years/36,000 miles guarantee.
We will make sure you return to the road in a refreshing temperature-controlled car. When you need reliable auto AC repair in Spring, TX Christian Brothers Spring Stuebner is your trusted name.
Car AC Compressor Replacement Services in Spring, TX
When the Texas heat starts to rise, you rely on your car's AC system to keep you cool and comfortable while you're on the road. If your AC isn't blowing as cold as it used to, it might mean that your compressor is failing. The AC compressor is responsible for circulating refrigerant throughout the AC system. If it isn't working properly, the entire system will have issues.
At Christian Brothers Automotive, our certified car technicians have the skill to fix all your car AC issues. They will diagnose the problem and work swiftly and efficiently to get your car's AC up, running, and blowing cool air. Contact us for more information.
Need ​AC Services in Spring? Turn to the professionals at Christian Brothers Automotive. Call us today at (281) 771-0517 or schedule an appointment online.
Read More
Read Less
FAQs
Have more Questions?
Our friendly auto service experts have the answers.
Call your local Christian Brothers Automotive car shop today
Hear What Our Customers Had to Say About Us
"I liked the customer service and going above and beyond to make sure I was comfortable while waiting in the store for my vehicle work to be done, specifically being offered a nice hot coffee with creamer."

- J.L.
Read More Testimonials