What to Expect With an Auto Repair Estimate
1. Schedule Your Appointment
Whether scheduling online or over the phone be sure and let us know what you're experiencing so we can provide fast and accurate service advice.
2. Diagnostics and Inspections
Drop off your vehicle and the shop will get to work with inspections and diagnostics using the same equipment as the manufacturers to determine issues and next steps.
3. Digital Vehicle Inspection Report and Estimate
Following the diagnosis we will text you a digital vehicle inspection report, containing pictures and videos of our findings and recommendations.
4. Review and Approval
A service advisor will reach out to walk you through the findings and recommendations to determine how you would like to proceed, or you can approve work directly in your DVI.
5. Work Performed or Scheduled
Most work can be completed immediately, or scheduled based on parts and customer availability.
Call For a Quote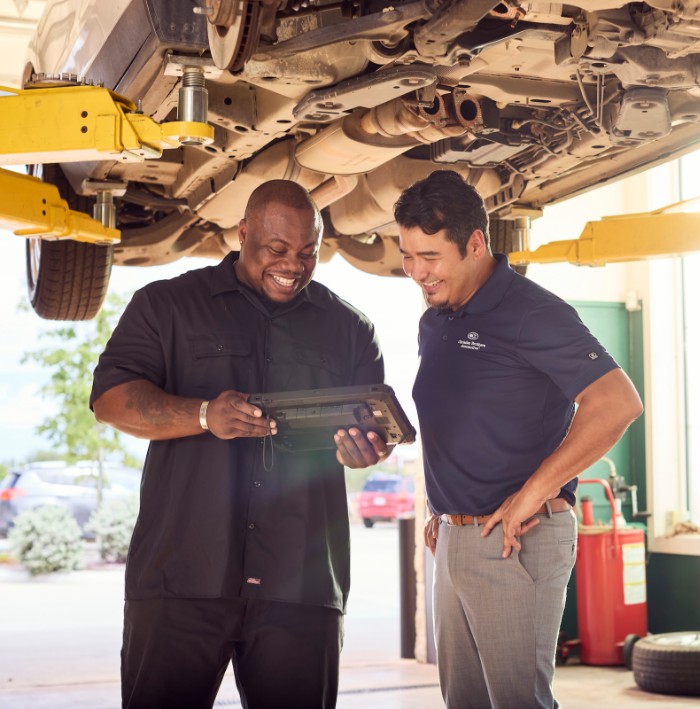 Why We're Different
While Christian Brothers Automotive Spring Klein (Stuebner) are a locally owned business, our auto repair shops are located nationwide and backed by a recognized brand name. Our local car repair estimate technicians in Spring, TX are skilled at providing you with high-quality car repairs at a price you can afford. We are proud to serve the Spring, TX community and surrounding areas with exceptional auto care service.
The Christian Brothers' "Nice Difference" for Reliable Auto Repair
When you bring your car in for repairs, we know it's a stressful time. Other auto repair shops may have tried to upsell you in the past with underhanded tactics, making your experience uncomfortable and less than enjoyable. You can rest assured that Christian Brothers Automotive is different. We are committed to your satisfaction and delivering the Nice Difference. This means we will never recommend unnecessary parts or services or do anything to your vehicle without your consent. Our team members are dedicated to ensuring you understand what is going on with your vehicle from start to finish. We walk you through every diagnosis, repair, and expense with transparent explanations, giving you complete control of the process to make informed decisions.
How Much is the Average Car Repair Bill?
Car repair bills can vary greatly depending on the scope of work, the hours spent, and so much more. If you're worried about your repair costing an arm and a leg, don't be. At Christian Brothers, our goal is to find the best solution that fits your situation and provide viable options to you. We try to keep your budget in mind—if you have one. We want to fix your vehicle effectively and keep you in the loop the entire time.
Our 3-Step Repair Estimate Process
When you bring your car or truck to us for a diagnosis, you're likely looking for the most inexpensive solution. While we can work within a realistic budget, we avoid going the "quick fix" route just to save a buck. You'll always get quality work from us, which is why we go through a thorough process when we give auto repair estimates for your vehicle.
Step 1: Diagnosis - Our goal is to get you back on the road as safely and quickly as possible. That's why our automotive technicians are equipped with various manufacturer diagnostic tools. We take the time to thoroughly assess your vehicle, explain the issues, and recommend feasible solutions for you. Waiting will only prolong the problem and could make it worse. We make it at a point to get you the answers you need quickly.
Step 2: Communication - Once we've evaluated your vehicle and have determined the problem, we don't keep you in the dark. Our experienced service staff will effectively and transparently communicate the issue and explain your options, pricing, and make recommendations to help you decide on repairs.
Step 3: Repair - After discussing your options and making the best choice for your situation, it's time to complete the repairs. We will do our best to estimate an accurate timeline for completion and let you know when your vehicle is ready to go.
Need your ​Auto Repair Estimates serviced in Spring? Turn to the professionals at Christian Brothers Automotive. Call us today at (281) 771-0517 or schedule an appointment online.
Read More
Read Less
FAQs
Q. "How do I know I am only paying for what I need?"

We utilize a Digital Vehicle Inspection (DVI) system that sends you a report of what our technicians find and it contains firsthand photos of your vehicle from under the hood. We will also tell you how urgent each service/repair recommendation is that way you are not servicing anything you don't have to. Most importantly, you have the ability to approve or decline each recommended service. If you would like to learn more about how our DVI system works, click here.

Q. "How long will an auto repair estimate take?"

Every Christian Brothers Automotive location is equipped with manufacturer diagnostics, analysis, and repair tools, which helps us avoid time-consuming steps during the process, such as taking your vehicle to other locations for testing. Our methods allow us to give you an auto repair estimate in a timely fashion.

Q. "Do you offer a warranty?"

As part of our Nice difference.® commitment to providing our customers the best auto service experience possible, we also offer a3-year/36,000-mile warranty on all the work that we do. We offer this warranty at every Christian Brothers Automotive nationwide, and it will be honored at any location, regardless of which branch did the initial work.

Q. "Can you provide service under my extended warranty?"

Yes. At Christian Brothers Automotive, we work with all major extended warranty providers to make needed repairs for our customers. If you have an extended warranty, you can discuss your carrier with our team when scheduling an appointment and confirm that the work will be covered. You can find a partial list of the extended warranty companies we work with here.

Q. "Do you offer a shuttle service?"

Yes! we understand you have a full schedule. Whether you need to get to work, school, or need to attend to other responsibilities, we can take you where you need to go. Click here to learn more.

Q. "Do you look at all makes and models?"

Yes! Christian Brothers Automotive has been providing reliable car maintenance and repair for over 40 years. Over that time, our professionals and ASE-certified technicians have handled a vast range of makes and models, and they continue to navigate the forefront of the auto industry's technologies. If you own a vehicle from a major American or foreign car maker, we are ready to service it.
Have more Questions?
Our friendly auto service experts have the answers.
Call your local Christian Brothers Automotive car shop today
Hear What Our Customers Had to Say About Us
"I liked the customer service and going above and beyond to make sure I was comfortable while waiting in the store for my vehicle work to be done, specifically being offered a nice hot coffee with creamer."

- J.L.
Read More Testimonials