Car Electrical System Repair in Spring, TX
Auto Repair You Can Trust
Have you noticed common signs of electrical problems in your car? Whether it's a burning smell, electrical surges, or your engine won't crank, it may be time to visit your local mechanic.
Most cars need a functional electrical system to run well, especially when that car is a hybrid or a fully electric model. An automobile's electrical system functions using its battery, starter, and alternator. If one of these parts is out of alignment or is starting to age or fail, it's best to make that visit to the mechanic sooner rather than later.
That's where we step in. At Christian Brothers Automotive Spring Klein (Stuebner), we can take a look at any electrical problems your car is having. Then, we'll deliver an honest, upfront price for any required repairs. If you decide to move forward, we will get those repairs done quickly and efficiently.
For car electrical repairs near you, call Christian Brothers Automotive Spring Klein (Stuebner) at (281) 771-0517 or contact us online today to get started!
What Causes Electrical Problems in a Car?
Diagnosing your electrical issues can be dangerous. If your vehicle is experiencing obvious electrical problems, the safest thing to do is to take it in for inspection.
Most electrical problems stem from the following:
Battery
Alternator
Starter
Spark plugs
Fuses
Loose wires
Ignition
Electrical short
If you're unfamiliar with the ins and outs of your vehicle, it can be challenging to determine the source of the problem. However, you may be able to safely solve some electrical issues on your own.
For example, if your battery is dead, solving your car problems could be as simple as calling a roadside assistance service to replace your old battery with a new one. But, if you're unsure if the battery is the problem, you could be replacing a completely functional battery for no reason.
Additionally, if you notice one of your fuses has blown, solving an electrical issue could be as easy as replacing the blown fuse with a functional one.
How Much Does It Cost to Fix Electrical Problems in a Car?
Fixing an electrical problem can be as easy as replacing a blown fuse, in which case the cost can be as small as $6. However, the more complicated the problem is, or the bigger the part that needs replacement, the more expensive the repair will be. Replacing a battery, for example, could cost anywhere from $220 to $270 in addition to the cost of labor.
Additionally, if your electrical issue is a loose or damaged wire, fixing that issue is more complicated and expensive, since it might involve the removal of several mechanical parts to repair or replace the wires completely.
The best way to determine the expense of your repair is to ask a professional auto repair expert from Christian Brothers Automotive in Spring, TX. Our ASE- certified technicians have the training needed to diagnose your vehicle's electrical issues quickly and efficiently.
Why Christian Brothers?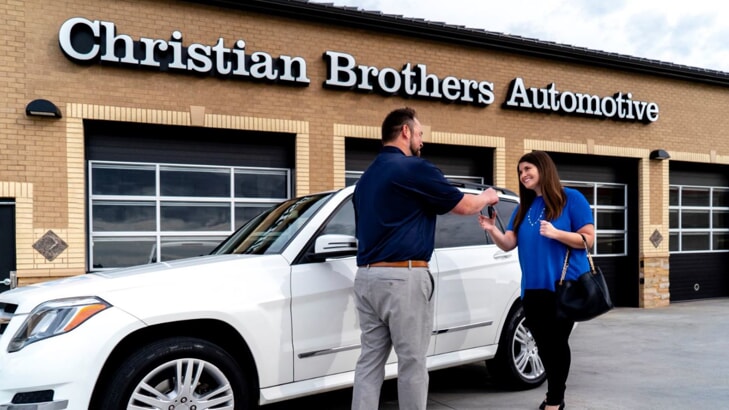 There's no shortage of auto repair shops in Spring, TX, so what makes us different?
The entire basis of our business is our honesty and trustworthiness. Christian Brother's Automotive was established in 1982 on the premise that we "love our neighbor as yourself." That simple idea created a strong foundation on which Christian Brother Automotive of Spring Stuebner relies.
We exemplify this guiding idea by making your appointment as friendly, pleasant, and informative as possible. Our auto repair team is just as committed to fixing your car as we are to making the entire experience a positive one. Don't believe us? Check out our reviews on Google!
During the COVD-19 pandemic, we are also offering vehicle pick-up and drop-off free of charge for customers within a five-mile radius. This allows us to be in compliance with changing CDC protocols.
Take a look at some of our other auto repair specials for more opportunities to save on your next repair.
Call us at (281) 771-0517 or contact us online to schedule an appointment for auto electrical repairs near you.