The automatic transmission is one of the most important elements of your vehicle. A damaged transmission can cause big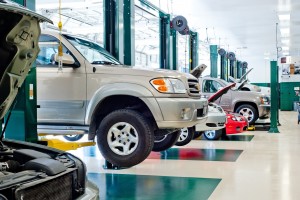 problems for your car or truck, and it's wise to take care of the transmission as laid out by your owner's manual.
The ASE-certified technicians at Christian Brothers Automotive Sandy Springs are here to share the answers to a few frequently asked questions about the transmission. This information will help you the next time you're at a local auto repair shop in Sandy Springs.
Are there any warning signs that point to transmission trouble?
Transmission fluid is usually bright red in color, so check your parking spots to see if there's any fluid leaking. If the transmission fluid is leaking dark brown or black, it has lost the ability to adequately lubricate the transmission parts. It should be replaced as soon as possible to prevent any damage to the car.
If your vehicle experiences a delay in shifting when you put it into gear or won't shift into gear at all, the fluid may be low. Strange sounds such as a humming or clunking noise, the check engine light turning on or abnormal acceleration are all signs that there's a deeper issue with the transmission.
Why does automatic transmission repair cost so much?
The cost of rebuilding or repairing a transmission matches the amount of work involved. Modern transmission systems are very complex. They easily have over 3,000 electrical parts packed into a little box. It's a lot more involved than changing spark plugs. Just getting to the transmission can be a major hassle on some vehicles.
When should I go to Christian Brothers Automotive Sandy Springs?
Anytime you have a concern with your car or truck's transmission, we're happy to look at it! We'll thoroughly explain our findings before letting you make the final decision for your car. Our technicians are experts at what they do and we back our work with 2-year/24,000-mile Nice Difference warranty! Call Christian Brothers Automotive in Sandy Springs, Georgia to schedule transmission service today, and see the nice difference!