Loving Your Neighbor as Yourself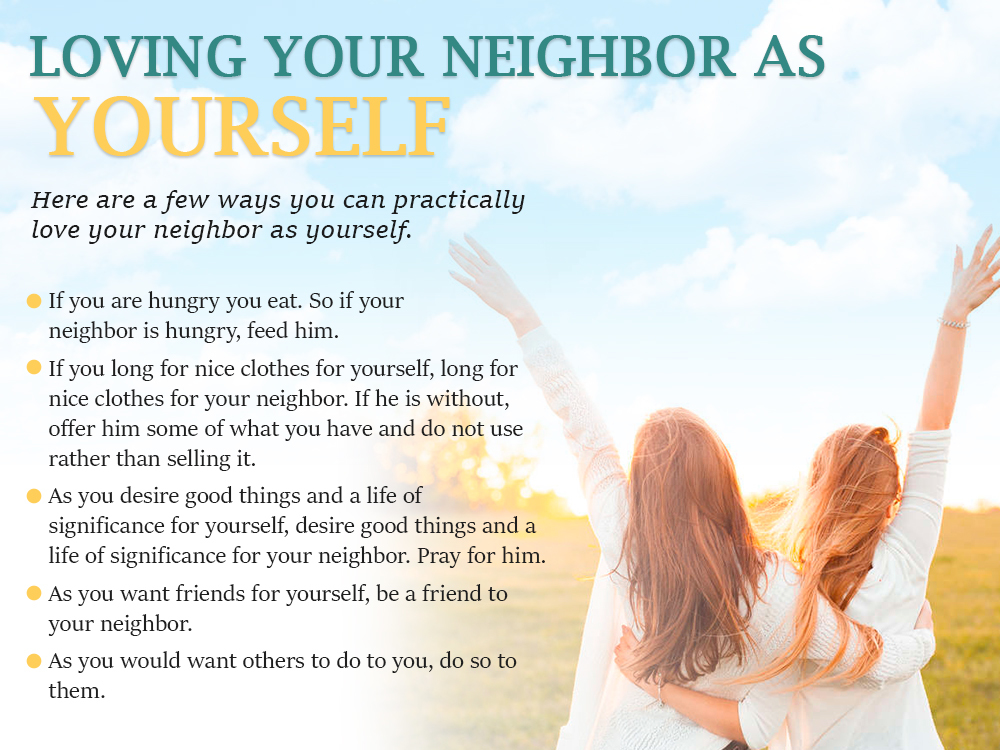 Why you should want good things for your neighbor
In a day in age that is focused mostly on self, such as concepts like "looking out for number one," it is important as followers of Christ that we stop and take a look at what the bible has to say. We need to continually renew our thinking (that can so easily be swayed away from God) back to a God-glorifying mindset. Although much of today's society encourages us to love ourselves, it is still of utmost importance that we love those around us. Let's take a look at what Jesus says about loving your neighbor as yourself.
What Does the Bible Say About Loving Your Neighbor as Yourself?
Two of the greatest stories in the bible that pertain to loving your neighbor are known as "The Greatest Commandment" and the parable of "The Good Samaritan."
Matthew 22:34-40:
But when the Pharisees heard that he had silenced the Sadducees, they gathered together. And one of them, a lawyer, asked him a question to test him. "Teacher, which is the great commandment in the Law?" And he said to him, "You shall love the Lord your God with all your heart and with all your soul and with all your mind. This is the great and first commandment. And a second is like it: You shall love your neighbor as yourself. On these two commandments depend all the Law and the Prophets.
In response to the Jewish lawyer's question, Jesus responded by challenging the attitude of the day with the parable of the Good Samaritan, which defines what exactly it means to love your neighbor. In the story, a man is left half-dead on the side of the road after being beaten by robbers. While lying there helpless, two people (a priest and a Levite) walk by, only to act as if the hurting man was never there. Later, a Samaritan sees the victim's need for help and responds.
In this story, the two Jewish leaders deliberately avoided the situation while the Samaritan personified neighborliness, showing mercy to someone regardless of any benefits he may reap himself. This is what true neighborly love looks like. The Samaritan loved this man in a way he would have wanted to be loved if he were hurting.
So we know that it is important to love your neighbor as you love yourself, but how? To love your neighbor (or friend, or family member or anyone), you must know them.
A Radical Command
To love your neighbor as yourself cuts to the root of our sinfulness, exposing it and severing it. The root of our sinfulness is our own desire for our happiness apart from God and apart from the happiness of others in Christ.
Loving Your Neighbor as Yourself
Here are a few ways you can practically love your neighbor as yourself.
If you are hungry you eat. So if your neighbor is hungry, feed him.
Posted By
Christian Brothers Automotive
Categories: