Things You Should Know About Suffering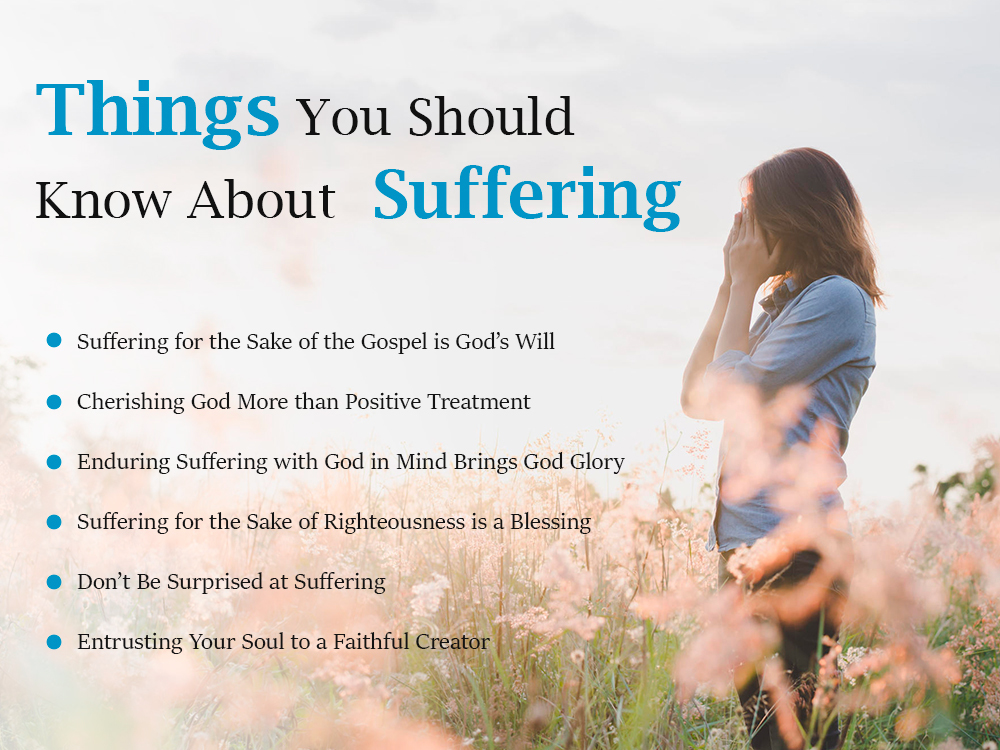 What we can take from suffering while doing good.
Suffering is not a popular topic in any circles – Christian or not-. But it is important for Christians to understand from a biblical perspective. One of the best places to look for an exposition on suffering is in 1 Peter. Based on this letter from Peter, here are some things we as Christians can learn about suffering – specifically suffering while doing good.
Suffering for the Sake of the Gospel is God's Will
Christians suffer only if God wills for it to happen, according to Peter. In 1 Peter 3:17, scripture says "For it is better to suffer for doing good, if that should be God's will, than for doing evil." You may suffer for doing good and you may not, but the ultimate choice is God's. Furthermore, in 1 Peter 4:19, Peter states "Let those who suffer according to God's will entrust their souls to a faithful Creator while doing good." God sovereignly governs all things that happen to us, including the distresses we face.
Cherishing God More than Positive Treatment
1 Peter 2:19 tells us that it is actually a gracious thing when one endures sorrows while mindful of God. This same concept is repeated in the verse later. Peter is saying that favor and blessing from God comes to those who cherish God over any earthly treatment or vindication.
Enduring Suffering with God in Mind Brings God Glory
God often wills that suffering happens when we do good so people will see it. When we suffer with humble perseverance with faith, people will be compelled to notice and wonder where it comes from or how one does that. They will notice that you, a Christian, are empowered and energized by more than what they may have in their own hearts. This shines a bright light on the grace and glory of God.
Suffering for the Sake of Righteousness is a Blessing
1 Peter 3:14 says that even if you suffer for the sake of righteousness, you will be blessed. The blessing may come in several forms. It come in the form of a sanctified heart or it could be the blessing of security in Christ, knowing that you have identified with Christ who suffered himself. It may also be a blessing that leads others to saving faith as a result of seeing your perseverance in suffering and the all-sufficiency of Christ.
Don't Be Surprised at Suffering
Don't be surprised when trials or suffering come your way as though "something strange were happening to you." Suffering happens to all people but especially believers. But why? Peter says it is to test us as suffering is not a sign of the absence of God but instead of his purifying presence. It is essential to the formation of your character.
Entrusting Your Soul to a Faithful Creator
As we said before, all suffering passes through the hands of God. Nothing falls before us that he has not permitted or allowed and he promises it will be used for our ultimate good.
Posted By
Christian Brothers Automotive
Categories: