What to Expect With a Brake Service
1. Schedule Your Appointment
Whether scheduling online or over the phone be sure and let us know what you're experiencing so we can provide fast and accurate service advice.
2. Diagnostics and Inspections
Drop off your vehicle and the shop will get to work with inspections and diagnostics using the same equipment as the manufacturers to determine issues and next steps.
3. Digital Vehicle Inspection Report and Estimate
Following the diagnosis we will text you a digital vehicle inspection report, containing pictures and videos of our findings and recommendations.
4. Review and Approval
A service advisor will reach out to walk you through the findings and recommendations to determine how you would like to proceed, or you can approve work directly in your DVI.
5. Work Performed or Scheduled
Most work can be completed immediately, or scheduled based on parts and customer availability.
Call For a Quote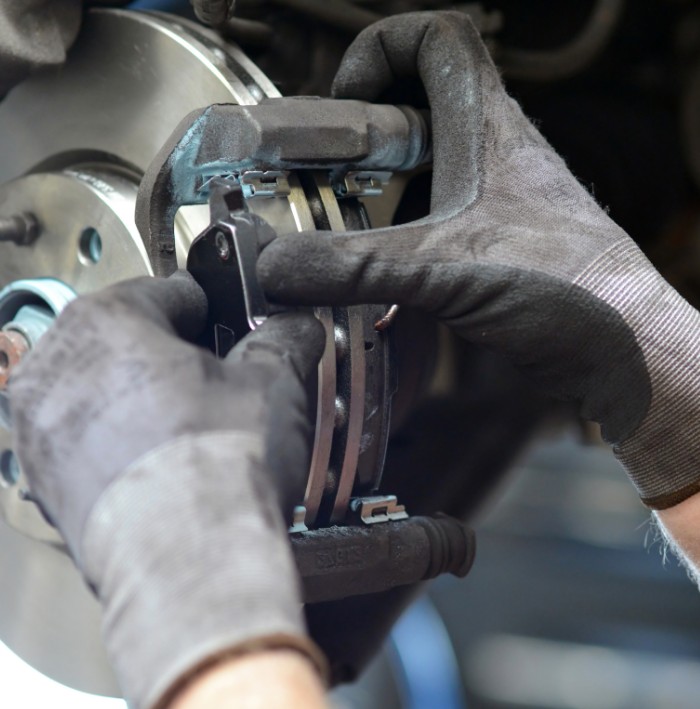 How Christian Brothers Automotive Can Help
Identifying Brake Issues
Don't ignore the warning signs! Your brakes may exhibit various symptoms that indicate potential problems. Stay vigilant for the following indicators:
Squealing or squeaking sounds
Grinding noise when coming to a stop
Shaking or vibrations in the steering wheel
Spongy brake pedal
Vehicle pulling to one side when braking
Wobbling or vibrations at highway speeds
Common brake issues often stem from worn brake pads or rotors. These crucial components require regular maintenance to ensure optimal performance. If necessary, our experienced technicians can promptly replace worn brake pads and damaged rotors, restoring your vehicle's braking efficiency.
Addressing Low Brake Fluid: Preserving Performance and Protection
Insufficient brake fluid can adversely affect the performance of your braking system. This vital fluid amplifies the force you apply to the pedal, enabling effective braking. It also plays a crucial role in protecting the internal metal components of your brakes from corrosion. Our team can inspect your brake fluid level and condition, recommending replacement as necessary to maintain peak performance and protect your braking system.
Our Approach to Brake Service
At Christian Brothers Automotive Longmont, we prioritize transparency and your satisfaction. When you choose us for brake service, expect a thorough inspection and open communication throughout the process. Our comprehensive brake inspection covers the following key areas:
Assessment of brake pad thickness
Examination of calipers
Check of brake/hydraulic fluid level and condition
Regular inspection of brake hoses for wear and tear
Evaluation of brake hardware
Assessment of rotor wear
We believe in empowering our customers with information. Before proceeding with any repairs, we provide a detailed breakdown of the necessary fixes, including a transparent cost analysis of parts and labor. Your consent is essential, and we will never proceed with any work without your approval.
Driving Habits and Maintenance: Extending Brake Life
To maximize the lifespan of your brakes, including pads and rotors, adopt responsible driving habits and adhere to regular maintenance schedules. Consider the following tips:
Address brake issues promptly when you notice any symptoms
Follow your vehicle manufacturer's recommendations for brake fluid replacement
Minimize exposure to stop-and-go traffic and reduce excessive vehicle loading to minimize wear and tear on your brakes
Why Choose Christian Brothers Automotive Longmont for Your Brake Service
At Christian Brothers Automotive Longmont, we are committed to exceeding your expectations for automotive repair and service in Longmont. We aim to provide exceptional service by treating our customers as valued neighbors. When you trust us with your brake service, you benefit from:
Certified technicians with expertise in brake maintenance and repair
Convenient shuttle service* within the local area
Leading industry warranty: 3 years or 36,000 miles, whichever comes last
Free courtesy inspection provided during each visit
Comfortable waiting area with complimentary Wi-Fi and beverages
However, our most important commitment is building a genuine partnership with our customers. We treat your vehicle with utmost care, providing transparent explanations from our knowledgeable service team throughout the repair process. Rest assured that we always respect your decisions, never performing any service or repairs without your consent, and avoiding unnecessary recommendations.
Schedule Your Brake Service Appointment Today
Ensure the safety and reliability of your vehicle's braking system by taking proactive steps. Contact Christian Brothers Automotive Longmont in Longmont today to schedule your brake service appointment. Our friendly team is ready to assist you. Call us now and experience the difference of partnering with a trusted automotive care provider like Christian Brothers Automotive Longmont.
Need your brakes serviced in Longmont? Turn to the professionals at Christian Brothers Automotive. Call us today at (720) 594-7563 or schedule an appointment online.
Read More
Read Less
FAQs
Have more Questions?
Our friendly auto service experts have the answers.
Call your local Christian Brothers Automotive car shop today
Hear What Our Customers Had to Say About Us
"I liked the customer service and going above and beyond to make sure I was comfortable while waiting in the store for my vehicle work to be done, specifically being offered a nice hot coffee with creamer."

- J.L.
Read More Testimonials