We Care About Your Vehicles But We Also Care About Your Family.
Sure, our ASE certified techs and friendly service staff love to make sure your vehicles are in top shape. Everyday they meet our customers' needs with a range of auto repairs - oil changes, tune ups, brake jobs and even total engine overhauls. But the real fun for us is supporting our customers in the community.
We care about your vehicles but we also care about your family. So, post a picture and tag us on social media if you attended or caught us in action this month at any of the fun events we were part of. We had a blast!
Hutto Middle School Color Run Sponsorship
We were thrilled that Hutto Middle School asked us to sponsor their color run.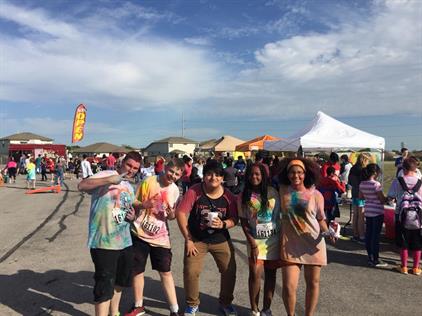 Hutto High School Spring Game Sponsorship
We know everyone's favorite season in central Texas, Football Season! So when Hutto High School asked us to sponsor their spring game, we JUMPED at the opportunity to come out and support the team as they geared up for next season. Twenty pizzas sounds like a small price to pay to take the sting off the amount of days we still have to wait until the first kick-off!
Chamber of Commerce Meetings
Our owner attended and served on the Hutto Chamber of Commerce this month to stay engaged in ways Christian Brothers Automotive can better serve our customers in and out of the shop.
Whether we see you around town or in our shop our mission is to treat you like family. We invite you to stop by our auto repair shop on Highway 79 in Hutto for an honest and comfortable auto repair experience. Just look for the big orange hippo!
Posted By
James & Christina Guzman, Christian Brothers Automotive Hutto
Categories: