What to Expect with an Oil & Filter Change
1. Schedule Your Appointment
Whether scheduling online or over the phone be sure and let us know what you're experiencing so we can provide fast and accurate service advice.
2. Diagnostics and Inspections
Drop off your vehicle and the shop will get to work with inspections and diagnostics using the same equipment as the manufacturers to determine issues and next steps.
3. Digital Vehicle Inspection Report and Estimate
Following the diagnosis we will text you a digital vehicle inspection report, containing pictures and videos of our findings and recommendations.
4. Review and Approval
A service advisor will reach out to walk you through the findings and recommendations to determine how you would like to proceed, or you can approve work directly in your DVI.
5. Work Performed or Scheduled
Most work can be completed immediately, or scheduled based on parts and customer availability.
Call For a Quote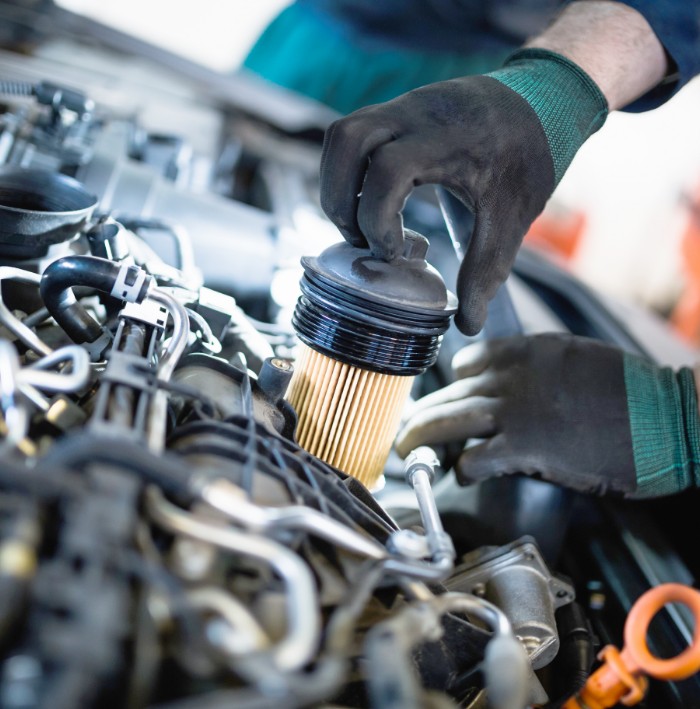 How to know when it's time for an oil change
Maintaining a healthy engine and ensuring peak vehicle performance relies on timely oil changes. Recognizing the signs that indicate it's time for this essential maintenance task is crucial:
Discolored, Contaminated Oil: Clean oil appears amber, but with the accumulation of dirt and contaminants, it darkens. If your dipstick reveals dark, gritty oil, it's a telltale sign that an oil change is due.
Sudden Oil Level Drop: A rapid decline in oil level may point to a leak or excessive oil consumption. Regularly monitoring oil levels helps catch significant drops in time.
Strange Engine Sounds: Low oil levels or degraded oil can lead to louder engine noise or knocking sounds, signaling that crucial engine components lack proper lubrication.
Decreased Fuel Efficiency: Outdated, sludgy oil forces the engine to work harder, resulting in reduced fuel efficiency. A noticeable drop in gas mileage indicates it's time for an oil change.
Check Engine Light Activation: When the check engine light illuminates, it may indicate various issues, including low oil pressure. Ignoring this warning could lead to severe engine damage.
Burnt Oil Odor: A burnt oil scent while driving signals potential engine overheating due to insufficient lubrication.
Abnormal Exhaust Smoke: Excessive blue or gray smoke from the exhaust indicates oil combustion along with fuel, a clear indicator of oil-related issues.
Regular oil changes are a fundamental yet crucial aspect of vehicle maintenance, ensuring a smoothly running engine and prolonging the lifespan of your vehicle. If you notice any of these issues, schedule your oil change at Christian Brothers Automotive Grayson, GA - we're here to help!
Need An ​Oil & Filter Change in Grayson? Turn to the professionals at Christian Brothers Automotive. Call us today at (678) 820-5504 or schedule an appointment online.
Read More
Read Less
FAQs
Q. "What happens if I wait too long for an oil change?"

Q. "What type of oil should I get for my vehicle?"

This depends on what vehicle you drive. Each type has its own benefits such as life expectancy or price. If you are unsure what type of oil is right for your car, we can help you determine the best option for you.

Q. "How much oil does my vehicle require?"

Most vehicles hold between 5 and 8 quarts, but it largely depends on the size of your engine.

Q. "What is a Digital Vehicle Inspection?"

With a complimentary Digital Vehicle Inspection (DVI) on every visit, you'll see firsthand photos of your vehicle from under the hood. We'll let you know if everything is functioning properly or if there are any areas of concern. You can even approve or deny our service recommendations, all straight from your smartphone, or you can, of course, give us a call and we'll explain our findings in further detail.

Q. "Do you offer a warranty?"

As part of our Nice difference.® commitment to providing our customers the best auto service experience possible, we also offer a 3-year/36,000-mile warranty on all the work that we do. We offer this warranty at every Christian Brothers Automotive nationwide, and it will be honored at any location, regardless of which branch did the initial work.

Q. "Can you provide service under my extended warranty?"

Yes. At Christian Brothers Automotive, we work with all major extended warranty providers to make needed repairs for our customers. If you have an extended warranty, you can discuss your carrier with our team when scheduling an appointment and confirm that the work will be covered. You can find a partial list of the extended warranty companies we work with here.
Have more Questions?
Our friendly auto service experts have the answers.
Call your local Christian Brothers Automotive car shop today
Hear What Our Customers Had to Say About Us
"I liked the customer service and going above and beyond to make sure I was comfortable while waiting in the store for my vehicle work to be done, specifically being offered a nice hot coffee with creamer."

- J.L.
Read More Testimonials