About Christian Brothers Grayson, GA
Christian Brothers Automotive Grayson is your neighborhood expert for all auto repairs and services.

Upon earning a B.S. degree in Political Science from Georgia Southern University, Kevin spent almost 20 years in the homebuilding industry. While working he went on to earn an M.B.A. from Georgia State at night. He worked in Gwinnett County as a District Sales Manager for R.C.S. and then Builder's Specialties. With the demise of the residential market he sought out an affable business model which would allow him to apply his personal level of resolve to taking care of customers. Upon finding out about Christian Brothers and their plans to come to Grayson he was awarded the franchise for the area in 2009. The shop opened on June 27, 2011 and is about to celebrate 3 years of serving customers.
He noticed the Christian Brothers location in Suwanee while working with the homebuilders in the area and investigated the franchise. Kevin has a passion for people and a love for cars and trucks. He believes that doing whatever it takes to build long-term customer relationships is the key to any successful business.
He and his wife Tricia have two daughters, Carley and Katie, and spend most of their time involved with the girl's activities and with their extended family and friends. They truly feel blessed to have a business they can call their own in a community they love.
Meet our Friendly Staff
Service Manager: Jeff Stephenson: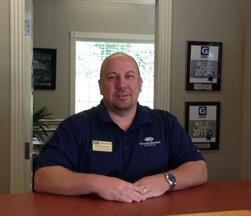 Jeff is our ASM and comes to us with a diverse automotive knowledge background. He has spent almost two decades in various positions at number of prominent automotive dealerships. He particularly enjoys the personal touch of working at Christian Brothers-Grayson where he can give a customer great service with an honest evaluation of their car or truck every time. He and his wife Christy are members of Graystone Church and have two daughters who are active in softball, chorus, and dance. They have been in the Grayson area for several years and love the people here.
Assistant Service Manager: Joseph Renter
Joseph recently joined the CBA Grayson team after spending 15 years with Volkswagen. He and his wife Jenny live in the Lawrenceville area. He is an avid fan of German Automobiles and has vast knowledge in the maintenance and performance area for these and looks forward to becoming reunited with all of his former customers at VW.
Service Writer: Bryan Peter

Lead Technician: David G. Adams
David is an L-1 Master Technician with over 24 years of professional experience in automotive repair. He is an honors graduate of the Toyota T-10 school at Gwinnett Technical College and has a very keen sense for driveability concerns. He is fully capable in the gas and diesel car and truck fields of repair and enjoys keeping himself constantly updated to keep current with technology in the automotive field. He and his wife Leighann and daughter Cheyenne are residents of Bethlehem and enjoy Harley Davidson motorcycles, Boating, and Bowhunting to name a few. We are very proud to have David leading our team.
Master Technician: Lee Brooks
Lee is the newest addition to our technician team. Lee has over 25 years of experience working with vehicles and he says he is glad to finally find a place he is proud to call his work home. His beliefs that the customer should come first and not the dollar amount makes him a perfect fit for our team. Lee and his wife of 13 years, Kristin, like to spend time with their 3 daughters and their family dog. They enjoy riding motorcycles, go camping, mudding, and riding 4-wheelers. Lee also has a special interest in working with Jeeps and diesel trucks, as well as drag racing and riding motorcycles. We are thrilled to have Lee service your cars and trucks with excellence.
Master Technician: Newton Frazier
Newton has just recently joined our team. A lifelong Gwinnett County native, he grew up in Lilburn and is a graduate of Berkmar High School. He has approximately 24 years of professional experience himself. He is a currently certified ASE Master Technician who holds advanced certifications in both L-1 (advanced engine performance) and X-1 (undercar specialist). He is a master welder and is high skilled at all metal work. He and his wife Jessica have one daughter, Ansley who is 12 years old.
General Service Technician: Josh Ramsey
Josh is a 2006 graduate of Grayson High School. He is a skilled technician who pays true attention to every detail. He takes pride in making sure every customer's car is in top condition. He and his wife Annie live in Winder.
Location Info: 2547 Loganville Highway Grayson, GA 30017