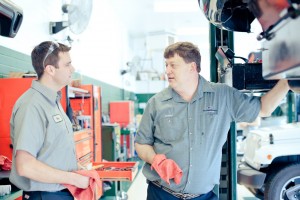 Technology is constantly changing, especially in cars. Regardless of whether it's due to safety features or upgrades that are made in mechanical systems, there are always new things that come out each year. In fact, a lot more automobile manufacturers are now making cars with EPS (electronic power steering) systems. In any case, a majority of vehicles on the road these days still use hydraulic steering systems. It's critical to have some knowledge about the type of power steering system your car has.
The technicians at Christian Brothers Automotive Concord, in Concord, NC, are going to discuss the differences between the electric and hydraulic power steering systems.
Electric power steering provides better fuel economy
Cars with EPS systems do not come with hydraulic pumps or pistons. However, they come with a more simplified electric motor designed to augment the steering commands made by drivers. This method reduces the amount of weight in the vehicle. Also, the EPS system doesn't use power from the engine as the hydraulic systems do. Overall, the electric power steering system is more efficient.
Less maintenance is needed for electric power steering systems
It's obvious that cars containing hydraulic power steering need fluid to operate. The vehicles with EPS have one less type of fluid to be concerned about. In addition to that, it's easier to calibrate cars with electric systems. Typically, all it needs is a small tweak in the programming.
Which system handles better?
The system that offers the best handling to drivers is still a topic that's often debated. Some feel that the hydraulic system provides a better feel for the road and that the EPS system has a tendency to make the driving experience somewhat dull. Since these opinions are subjective, you should get behind the wheel of an EPS vehicle and try it out for yourself.
Repair Services for Power Steering Problems at Christian Brothers Automotive Concord
If you notice that your car is not properly responding to your steering or that the steering wheel itself is more difficult to control, it's more than likely that you have a problem with your power steering system. Cars with hydraulic systems may experience fluid leaks. Fixing the leak, followed by filling the car with power steering fluid, will correct the problem. There are other components, such as belts, seals and hoses that may also require replacement to ensure the car continues to run smoothly.
We value our customers at our local automotive repair shop in Concord, NC. If you're having problems with your power steering, our team will be more than happy to diagnose your vehicle and discuss each of your auto repair options with you. It's our goal to educate our customers and let them make the most informed decision about their vehicle.
Our services are also backed with our 2-year/24,000-mile Nice Difference warranty. To schedule an appointment for any of your power steering maintenance needs, just give us a call at Christian Brothers Automotive Concord. See the nice difference!