About Christian Brothers Omaha, NE
Christian Brothers Automotive is your neighborhood expert for all auto repairs and services.
Thank you for visiting and welcome to Christian Brothers Automotive in Omaha, Nebraska. Located just west of 168th and Maple in Northwest Omaha, Christian Brothers Automotive is your friendly, family owned automotive service center. Owned and operated by Stephen Ciesielski, Christian Brothers Automotive – Omaha provides ethical and excellent automotive repair services for our customers. Our business is based on ethics and morals such as love your neighbor as yourself. Our priority is to repair your vehicle right the first time and to provide you with an excellent customer experience.
Having your vehicle repaired should not be an inconvenience which is why we offer a free shuttle service that can take you to work, school or shopping. If you choose to wait in our comfortable waiting room we offer free Wi-Fi and refreshments to make your stay as pleasant and productive as possible.
Christian Brothers Automotive – Omaha provides affordable, reliable automotive repair service. We never use technical jargon and can utilize multimedia tools to ensure our customers have a complete understanding of each repair. Our technicians have been repairing vehicles for over 60 years, so they know the ins and outs of every vehicle. No matter if the automobile is gas or diesel, foreign or domestic, car or truck, our technicians can repair it! Since Christian Brothers Automotive has the right type of equipment and diagnostic tools, they can offer better prices than the dealerships.
Your repairs are backed by our Nice Difference 2-year/24,000 mile warranty, whichever benefits you the most.
If you are in the Omaha area and are looking for a quality automotive service center that you can trust, visit Christian Brothers Automotive on West Maple Road, North 168th Street or give us a call at (402) 401-4535 today!
Meet the Friendly Staff
Christian Bradley – Service Manager

Christian Bradley – Christian joins us in the role of Service Manager where he is responsible for ensuring our customers receive outstanding automotive repair service. Christian brings over 8 years of experience in the automotive service industry advising customers and running store operations, most recently as a store General Manager with Firestone. When not serving our customers, Christian enjoys spending time with his children and enjoying the outdoors.
Andrew Hickson – Sales Manager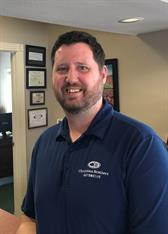 Andrew is the Sales Manager for Christian Brothers Automotive Omaha. Andrew brings over 10 years of automotive service experience to Christian Brothers Automotive. Andrew is responsible for taking care of our customers, communicating vehicle service and maintenance needs and sourcing the best parts for the best price. Andrew's prior experience in the automotive industry was with Sears Automotive Center and Walker Tire. When Andrew isn't at the store he enjoys spending time with his wife and 4 children making use of Omaha's parks, trails and zoo.
Travis Barker - Technician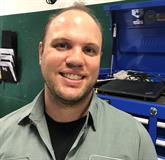 Travis Barker is an ASE Certified Master Automobile Technician and is also ASE Certified in Automobile Advanced Engine Performance. Travis joins us with over 11 years of automotive repair experience, most recently as Ford Senior Master Technician at Baxter Ford. Travis has also gained experience with Certified Transmission and Woodhouse Lincoln. Travis has earned his Associates Degree in Automotive Technology from Southeast Community College in Milford, NE and his Bachelors in General Administration from the University of Nebraska Omaha. In his spare time Travis enjoys spending time with his wife and two year old twins as well as working on and racing his Mustang track car.
John Casson – Technician
John Casson is an is an ASE Certified Master Technician and is also ASE Certified in Automobile Advanced Engine Performance. Over the past decade, John has developed a passion for anything with an engine. It's fitting then, that his specialty is drivability. John just loves being under the cars! Outside of work, John enjoys spending time with Melissa and taking long weekends in Estes Park, Colorado. He's also looking forward to building his Mercury Comet.
Austin Lyman – Technician
Austin joins us with over three years of automotive repair experience. Austin has earned his ASE Certification for Steering and Suspension and has completed an ASE recognized Hunter Wheel Alignment course. In his spare time Austin enjoys playing hockey and fishing.
Location Info: 17330 Evans Street Omaha, NE 68116