Preventative Car Care- Routine Oil Changes
Believe it or not, most people don't celebrate car repair. Many people push preventive maintenance off until the last possible minute, and sometimes it is to their detriment. Stopping by for an oil change with a very busy schedule can seem cumbersome, and it can quickly become a low priority. It is so easy to disregard the sticker on your dash, telling you that your oil change is due, as just another errand to run when we don't realize how regular maintenance can have major affects on the life of our vehicles.
At Christian Brothers Automotive in Hutto, it is important to our ASE certified technicians and friendly service staff to keep your vehicle healthy and help you make it last for many miles to come. One of the best and simplest ways for us to accomplish this together is for you to take a few moments out of your day to come in for an oil change. They are inexpensive, yet avoiding oil changes can be very costly.
Below you will find images from two vehicles we serviced recently.
One of the vehicles is from a customer who regularly performs scheduled maintenance, and the other is from a customer's vehicle that does not have oil changes performed consistently. Do you spot the "Nice Difference" in the internal parts of an engine due to consistent oil changes?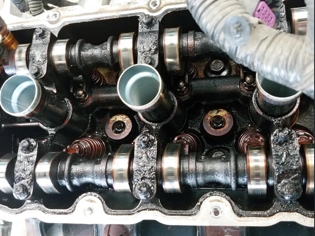 Come See Us
Even though car repair can seem burdensome and just another errand on your long list, the rewards definitely outweigh the sacrifice. When you come to see us, you'll not only have access to experienced, skilled, and honest professionals, but to several amenities: comfortable lobbies, free Wi-Fi, complimentary shuttle rides to get you where you need to go, and a clean restroom. We hope that not only your vehicle recognizes the "Nice Difference" after you bring it in for maintenance, but that you and your family feel you've experienced a comfortable and efficient service. Whether you are due for an oil change or you can't remember the last time your vehicle received any scheduled maintenance, we invite you to stop by our full-service auto repair shop on Highway 79 in Hutto. Just look for the big orange hippo!
Posted By
Christian Brothers Automotive Hutto
Categories: