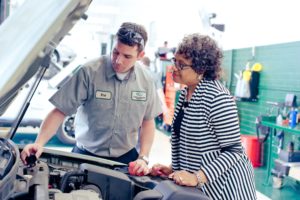 The holiday season is coming up soon, and many Arlington drivers are preparing to leave town. Before you schedule a drive out of state, make sure your car is up for the task. At Christian Brothers Automotive Green Oaks, we want to make sure your car is prepared to handle winter weather, no matter where you're driving. To help you get ready for a road trip, our Arlington auto repair experts have three areas of the car you should inspect.
Consider Winter Tires
Worn tires aren't suited for winter driving and can be hazardous in inclement weather. Snow isn't as common in North Texas as it is up north, but your tires still need to be ready for rain, sleet and ice. If your tires are worn out or the tread is gone, consider:
• Winter compound tires
• Tires with deeper tread
• Studded snow tires
While studded snow tires are less practical for Arlington residents, tires with deeper tread or winter compound tires can help you stay safe on any road trip.
Check the Heater and Defroster
Keeping your windshield clear and your family warm on a road trip is a must! The heater and defroster share many components, so if one fails, it is likely the other will too. Before heading out of town, make sure you:
• Fill up on windshield washer fluid
• Replace the windshield wiper blades
• Test the defroster and the heater
A working defroster and fresh wipers will clear your windshield and get you back on the road more quickly.
Test Your Car Battery
Freezing temperatures reduce battery power by up to 50 percent. This fact is especially troublesome for Texas drivers because winter weather requires more energy from your car than normal. To make sure your car battery is ready, inspect:
• The battery's case for corrosion
• The connections are in place
• The battery is able to hold a charge
Our friendly technicians will test your battery and recommend a replacement when needed. Make sure you're not left stuck in the cold!
Winter road trips can be fun, but they can also be dangerous without the right preparations. Before packing to leave, stop by our Arlington auto repair shop for an inspection. Our ASE-certified technicians will look over and service your car to make sure it's ready to take your family wherever you want to go. Call Christian Brothers Automotive Green Oaks for an appointment, and see the nice difference in auto repair!