What to Expect With a Brake Service
1. Schedule Your Appointment
Whether scheduling online or over the phone be sure and let us know what you're experiencing so we can provide fast and accurate service advice.
2. Diagnostics and Inspections
Drop off your vehicle and the shop will get to work with inspections and diagnostics using the same equipment as the manufacturers to determine issues and next steps.
3. Digital Vehicle Inspection Report and Estimate
Following the diagnosis we will text you a digital vehicle inspection report, containing pictures and videos of our findings and recommendations.
4. Review and Approval
A service advisor will reach out to walk you through the findings and recommendations to determine how you would like to proceed, or you can approve work directly in your DVI.
5. Work Performed or Scheduled
Most work can be completed immediately, or scheduled based on parts and customer availability.
Call For a Quote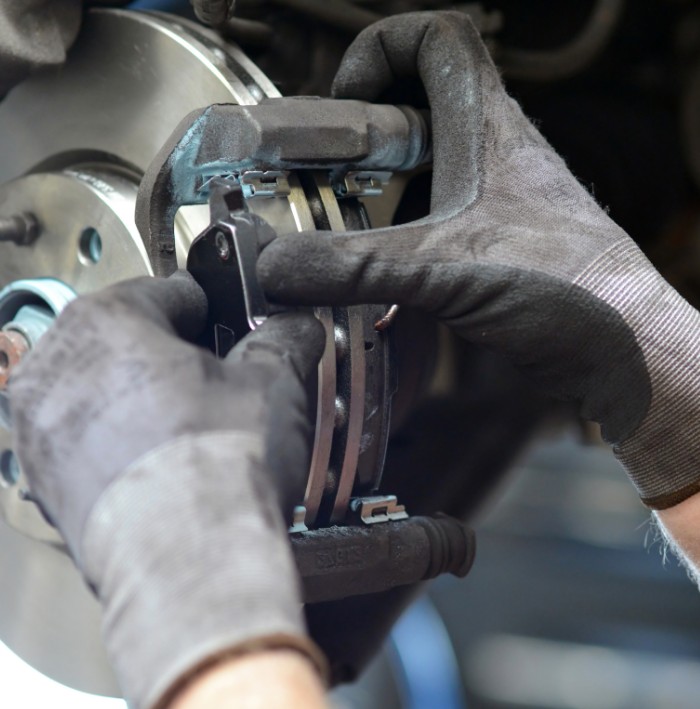 Why Brakes Are Essential for Safe Driving and Vehicle Performance
Brake problems can arise due to several factors such as wear and tear, environmental conditions, and mechanical issues, timely brake maintenance can help prevent these problems and ensure optimal vehicle performance on the road.
Our professional inspectors at Christian Brothers Automotive Chester can help identify and address any emerging problems before they lead to serious safety hazards. By replacing worn brake components, flushing old brake fluid, and addressing any mechanical issues, timely brake maintenance can help ensure your vehicle's braking system is functioning at its best, providing the peace of mind and safety you need while driving.
Symptoms of brake failure include:
Audible Squeal or Squeak: A high-pitched noise when you apply the brakes can indicate worn brake pads, which can damage the rotors and reduce braking power.
Stopping and Grinding: If the brakes grind or vibrate when you apply them, it may be due to worn brake pads or damaged rotors, which can cause complete brake failure.
Shaken Steering Column: If the steering wheel shakes or vibrates when you apply the brakes, it may be due to warped rotors, which can cause uneven braking and reduce safety.
Unstable Brake Pedal: If the brake pedal feels soft or spongy, it may indicate air in the brake lines or a brake fluid leak, which can reduce braking power and safety.
Vehicle Pulls to One Side: If your vehicle pulls to one side when you brake, it may indicate uneven brake pad wear, a stuck caliper, or a collapsed brake hose, which can cause a loss of control and accidents.
Wobbling or Vibrations: If your car wobbles or vibrates at high speeds, it may be due to warped rotors, which can cause uneven braking and reduce safety.
Common Brake Problems
Worn Brake Pads: Over time, the brake pads can wear down, reducing their ability to generate friction and bring the vehicle to a stop. If the brake pads are not replaced in time, they can damage other brake components, resulting in complete brake failure.
Contaminated Brake Fluid: Brake fluid can absorb moisture and other contaminants over time, leading to corrosion and damage to brake components. This can lead to reduced braking power, spongy or soft brake pedal, and brake failure.
Leaking Brake Lines: Brake lines can become damaged, corroded, or develop leaks over time, causing a loss of brake fluid and reducing braking power.
Malfunctioning Brake Calipers: The brake calipers can stick, become seized, or fail to operate correctly, resulting in uneven braking, pulling to one side, or complete brake failure.
Worn Brake Rotors: The brake rotors can become worn, damaged, or warped due to heat and friction, causing pulsations or vibrations in the brake pedal and reducing braking power.
Overheated Brakes: Overheating can cause brake fade, a condition in which the brakes lose their effectiveness due to high temperatures generated during heavy braking.
Regular Brake Maintenance for Safe Driving
Regular brake maintenance is essential for safe driving and preventing costly repairs in the future. At Christian Brothers Automotive Chester, our team of experienced technicians can provide comprehensive brake care for your vehicle in Chester, VA. We use state-of-the-art equipment and high-quality parts to ensure your brakes are functioning properly and smoothly.
Some of the benefits of regular brake maintenance include:
Improved braking performance
Increased safety on the road
Prolonged lifespan of brake components
Prevention of costly repairs in the future
Don't wait until you experience brake failure to get your brakes checked. Call Christian Brothers Automotive Chester today to schedule a brake inspection and maintenance appointment, and enjoy peace of mind knowing your vehicle is safe and reliable.
How Christian Brothers Automotive Chester Can Help Fix Your Brakes:
Diagnosis: A thorough diagnosis of the brake system typically involves inspecting the brake components such as pads, rotors, calipers, and brake lines, and identifying any visible signs of wear, damage, or malfunction.
Brake Pad Replacement: If the brake pads are worn out, they need to be replaced. This process involves removing the brake caliper, taking out the old pads, and installing new ones.
Rotor Machining or Replacement: If the brake rotors are warped or damaged, they may need to be machined or replaced. Machining involves resurfacing the rotors to remove any warping or damage. If the rotors are too worn or damaged, they may need to be replaced entirely.
Brake Caliper Repair or Replacement: If the brake calipers are sticking or not functioning properly, they may need to be repaired or replaced. This process involves removing the old caliper and installing a new one or rebuilding the existing caliper.
Brake Line Repair or Replacement: If there is a leak or damage to the brake lines, they may need to be repaired or replaced. This process involves identifying the location of the leak or damage and replacing the affected section of the brake line.
Brake Fluid Flush: Over time, brake fluid can become contaminated with moisture, dirt, and debris, reducing its effectiveness. A brake fluid flush involves draining the old brake fluid and replacing it with fresh fluid.
Test Drive: After completing the brake repairs, a test drive is essential to ensure that the brakes are functioning correctly. The technician will check for any abnormalities, such as pulsations, vibrations, or pulling to one side, and make any necessary adjustments
At a reputable auto repair shop, such as Christian Brothers Automotive Chester, all repairs are broken down upfront, and you will receive a clear estimate that includes both parts and labor costs. We pride ourselves on providing transparency in our pricing and services to our customers, so you can feel confident that you are not being taken advantage of.
Additionally, we believe in keeping you informed every step of the way. Our experienced technicians will explain any repairs that need to be done and provide you with a detailed explanation of why they are necessary. We understand that your vehicle is an essential part of your daily life, and we never want you to feel like you are in the dark about what is going on with it.
Maintaining your car and keeping it in good working order
If you maintain your brakes and change your driving habits, you can extend the life of your brakes, including pads and rotors. As soon as you notice any brake-related symptoms, service your brakes and replace your brake fluid as recommended by the manufacturer. Don't overload your vehicle and avoid stop-and-go traffic.
The Benefits of Choosing Christian Brothers Automotive
Our mission at Christian Brothers Automotive is to change the way you think about Chester Auto Repair Shops. We strive to always exceed your expectations as part of our commitment to the Nice Difference® and loving our neighbors as ourselves. Among the commitments are:
A certified technician.
Shuttle service is complimentary.
We back our vehicle with a 3 year, 36,000 mile warranty.
Courtesy inspections are available on every visit.
Beverages and wifi are free.
Shuttle service is provided within a three- to five-mile radius of the shop. Get more information by contacting our store
Partnering with our customers is one of our most important benefits. Every vehicle we see is treated as if it were our own, and our goal is to become your partner in automotive care. Guests are thoroughly and transparently informed about every step of the repair process by the Service Team. If you don't agree with our recommendations, we won't perform unnecessary repairs on your vehicle.
Need your Brakes serviced in Chester? Turn to the professionals at Christian Brothers Automotive. Call us today at (804) 999-7314 or schedule an appointment online.
Read More
Read Less
FAQs
Have more Questions?
Our friendly auto service experts have the answers.
Call your local Christian Brothers Automotive car shop today
Hear What Our Customers Had to Say About Us
"I liked the customer service and going above and beyond to make sure I was comfortable while waiting in the store for my vehicle work to be done, specifically being offered a nice hot coffee with creamer."

- J.L.
Read More Testimonials