What to Expect With an Alignment
1. Schedule Your Appointment
Whether scheduling online or over the phone be sure and let us know what you're experiencing so we can provide fast and accurate service advice.
2. Diagnostics and Inspections
Drop off your vehicle and the shop will get to work with inspections and diagnostics using the same equipment as the manufacturers to determine issues and next steps.
3. Digital Vehicle Inspection Report and Estimate
Following the diagnosis we will text you a digital vehicle inspection report, containing pictures and videos of our findings and recommendations.
4. Review and Approval
A service advisor will reach out to walk you through the findings and recommendations to determine how you would like to proceed, or you can approve work directly in your DVI.
5. Work Performed or Scheduled
Most work can be completed immediately, or scheduled based on parts and customer availability.
Call For a Quote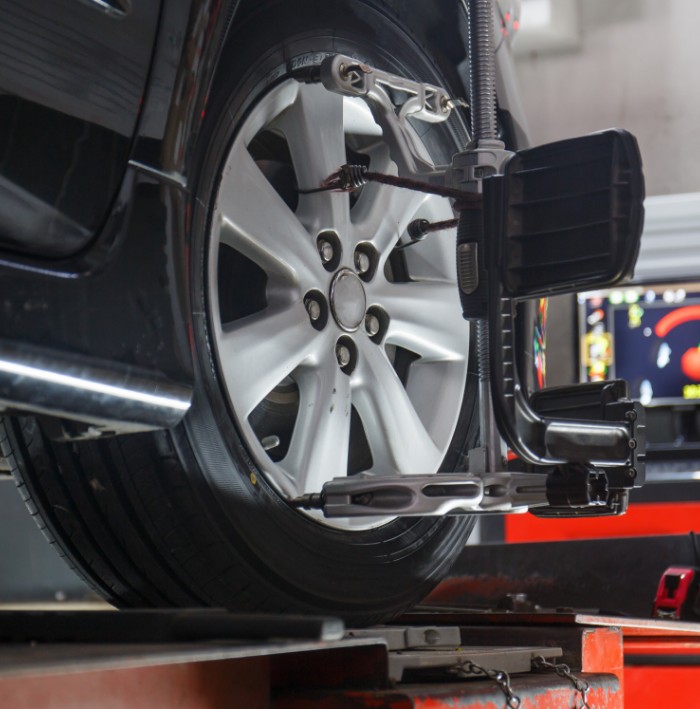 Types of Alignment Services
4 Wheel Alignment
A 4 wheel alignment, also known as a full alignment or all-wheel alignment, involves adjusting the angles of all four wheels to ensure they are parallel to each other and perpendicular to the road. This comprehensive service ensures optimal tire wear, handling, and safety for your vehicle.
Wheel Alignment
Wheel alignment refers to the adjustment of the angles at which the wheels make contact with the road. Proper wheel alignment is crucial for maintaining tire longevity, fuel efficiency, and overall vehicle performance. Our skilled technicians use advanced equipment to accurately align your wheels.
Alignment Shop
At Christian Brothers Automotive Bradenton, we take pride in being a trusted alignment shop. Our experienced technicians are equipped with the knowledge and expertise to perform precise wheel alignments for a wide range of vehicles. We prioritize customer satisfaction and ensure that your vehicle's alignment is done right the first time.
Tire Alignment
Tire alignment, also known as tire balancing or wheel alignment, involves adjusting the angles of the wheels to ensure even tire wear and a smooth ride. Proper tire alignment helps prevent premature tire wear, vibrations, and steering issues. Our team at Christian Brothers Automotive Bradenton specializes in tire alignment services to keep your vehicle running smoothly.
Car Alignment
Car alignment is a critical maintenance service that involves adjusting the angles of the wheels to ensure proper contact with the road surface. This service helps improve handling, stability, and tire longevity. Our skilled technicians at Christian Brothers Automotive Bradenton are dedicated to providing top-notch car alignment services to keep your vehicle in optimal condition.
Need your ​Alignment serviced in Bradenton? Turn to the professionals at Christian Brothers Automotive. Call us today at (941) 877-3705 or schedule an appointment online.
Read More
Read Less
FAQs
Q. "What is the difference between a wheel alignment and a wheel balance?"

Wheel alignment is the term for how your wheels sit when mounted to your car and wheel balancing is what's done to perfectly balance the weight of a tire and wheel assembly so that it travels evenly.

Q. "How often should I get a wheel alignment?"

We recommend every 6,000 miles or when you experience signs of misalignment.

Q. "What causes bad alignment?"

Q. "Do you offer a shuttle service?"

Yes! we understand you have a full schedule. Whether you need to get to work, school, or need to attend to other responsibilities, we can take you where you need to go. Click here to learn more.

Q. "Do you offer a warranty?"

As part of our Nice difference.® commitment to providing our customers the best auto service experience possible, we also offer a 3-year/36,000-mile warranty on all the work that we do. We offer this warranty at every Christian Brothers Automotive nationwide, and it will be honored at any location, regardless of which branch did the initial work.

Q. "Can you provide service under my extended warranty?"

Yes. At Christian Brothers Automotive, we work with all major extended warranty providers to make needed repairs for our customers. If you have an extended warranty, you can discuss your carrier with our team when scheduling an appointment and confirm that the work will be covered. You can find a partial list of the extended warranty companies we work with here.
Have more Questions?
Our friendly auto service experts have the answers.
Call your local Christian Brothers Automotive car shop today
Hear What Our Customers Had to Say About Us
"I liked the customer service and going above and beyond to make sure I was comfortable while waiting in the store for my vehicle work to be done, specifically being offered a nice hot coffee with creamer."

- J.L.
Read More Testimonials