What to Expect With an Auto Repair Estimate
1. Schedule Your Appointment
Whether scheduling online or over the phone be sure and let us know what you're experiencing so we can provide fast and accurate service advice.
2. Diagnostics and Inspections
Drop off your vehicle and the shop will get to work with inspections and diagnostics using the same equipment as the manufacturers to determine issues and next steps.
3. Digital Vehicle Inspection Report and Estimate
Following the diagnosis we will text you a digital vehicle inspection report, containing pictures and videos of our findings and recommendations.
4. Review and Approval
A service advisor will reach out to walk you through the findings and recommendations to determine how you would like to proceed, or you can approve work directly in your DVI.
5. Work Performed or Scheduled
Most work can be completed immediately, or scheduled based on parts and customer availability.
Call For a Quote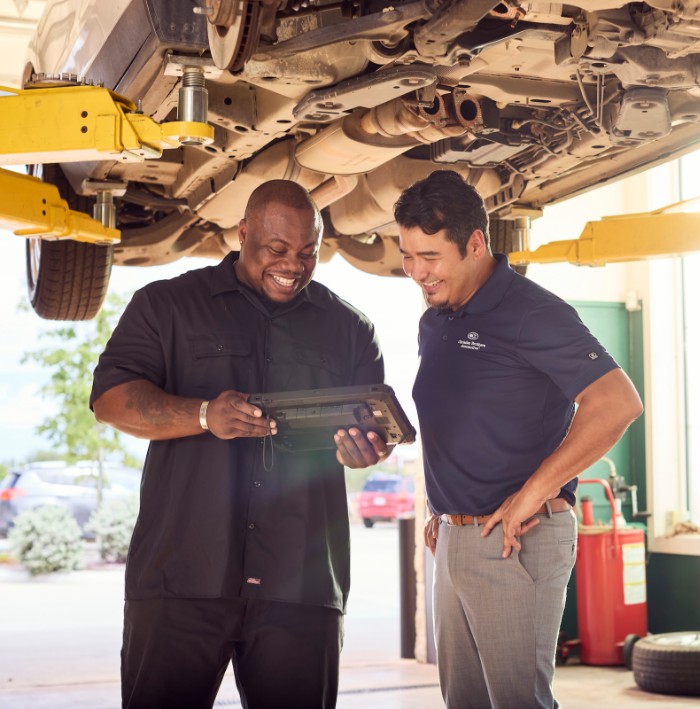 What Our Car & Engine Tune-Ups Include
With Christian Brothers Automotive Wheat Ridge, keeping your car running smoothly and getting back on the road after having engine trouble is as easy as 1, 2, 3.
Here is what you can expect from our Wheat Ridge car and engine tune-up services:
Detailed Inspection: We perform a thorough inspection to assess the condition of your engine and diagnose any potential problems. Plus, every person who turns to us receives a complimentary courtesy inspection.
Digital Inspection Report: We create an easy-to-read digital vehicle inspection (DVI) report that details our findings, includes photos of your vehicle, and provides an estimate for any recommended services. We are committed to being open and honest with customers, so you can trust the information we offer. That is The Nice Difference® at Christian Brothers Automotive Wheat Ridge.
Repair Recommendations: You can make decisions about maintenance or repairs with confidence. Our prices are affordable, and we offer a Nice Difference Warranty, meaning you can count on getting reliable solutions from us.
Why Are Car Tune-Ups Important?
A well-maintained vehicle is a safer vehicle for you and your family. Tune-ups ensure critical engine parts, brakes, suspension, tires, and more are in good condition. This often reduces the risk of accidents and breakdowns.
In addition to enhancing safety, car tune-ups can:
Improve your vehicle's performance and fuel efficiency.
Help you get ahead of unexpected issues.
Extend the lifespan of your car.
Allow you to stay covered by valuable warranties.
Our AES-certified technicians are prepared to help you reap the benefits of routine vehicle care.
Need a ​tune up in Wheat Ridge? Turn to the professionals at Christian Brothers Automotive. Call us today at (720) 842-7992 or schedule an appointment online.
Read More
Read Less
FAQs
Q. "What is the difference between a tune-up and scheduled maintenance services?"

For the most part, a tune-up should be a part of your regular scheduled maintenance services. Scheduled maintenance is aimed at taking preventative measures including all services in a tune-up.

Q. "What is included in a tune-up?"

Our tune-ups include a complete analysis of the components that help your car run including Spark plugs, Brakes, Oil and other fluids, Lights, Tires, Filters, and Emissions.

Q. "Why are tune-ups important?"

Tune-ups help prevent much larger repairs in the long run, in addition to keeping your vehicle's performance strong.

Q. "What is a Digital Vehicle Inspection?"

With a complimentary Digital Vehicle Inspection (DVI) on every visit, you'll see firsthand photos of your vehicle from under the hood. We'll let you know if everything is functioning properly or if there are any areas of concern. You can even approve or deny our service recommendations, all straight from your smartphone, or you can, of course, give us a call and we'll explain our findings in further detail.

Q. "Do you offer a warranty?"

As part of our Nice difference.® commitment to providing our customers the best auto service experience possible, we also offer a 3-year/36,000-mile warranty on all the work that we do. We offer this warranty at every Christian Brothers Automotive nationwide, and it will be honored at any location, regardless of which branch did the initial work.

Q. "Do you offer a shuttle service?"

Yes! we understand you have a full schedule. Whether you need to get to work, school, or need to attend to other responsibilities, we can take you where you need to go. Click here to learn more.
Have more Questions?
Our friendly auto service experts have the answers.
Call your local Christian Brothers Automotive car shop today
Hear What Our Customers Had to Say About Us
"I liked the customer service and going above and beyond to make sure I was comfortable while waiting in the store for my vehicle work to be done, specifically being offered a nice hot coffee with creamer."

- J.L.
Read More Testimonials