What to Expect With AC Maintenance And Repair Service
1. Schedule Your Appointment
Whether scheduling online or over the phone be sure and let us know what you're experiencing so we can provide fast and accurate service advice.
2. Diagnostics and Inspections
Drop off your vehicle and the shop will get to work with inspections and diagnostics using the same equipment as the manufacturers to determine issues and next steps.
3. Digital Vehicle Inspection Report and Estimate
Following the diagnosis we will text you a digital vehicle inspection report, containing pictures and videos of our findings and recommendations.
4. Review and Approval
A service advisor will reach out to walk you through the findings and recommendations to determine how you would like to proceed, or you can approve work directly in your DVI.
5. Work Performed or Scheduled
Most work can be completed immediately, or scheduled based on parts and customer availability.
Call For a Quote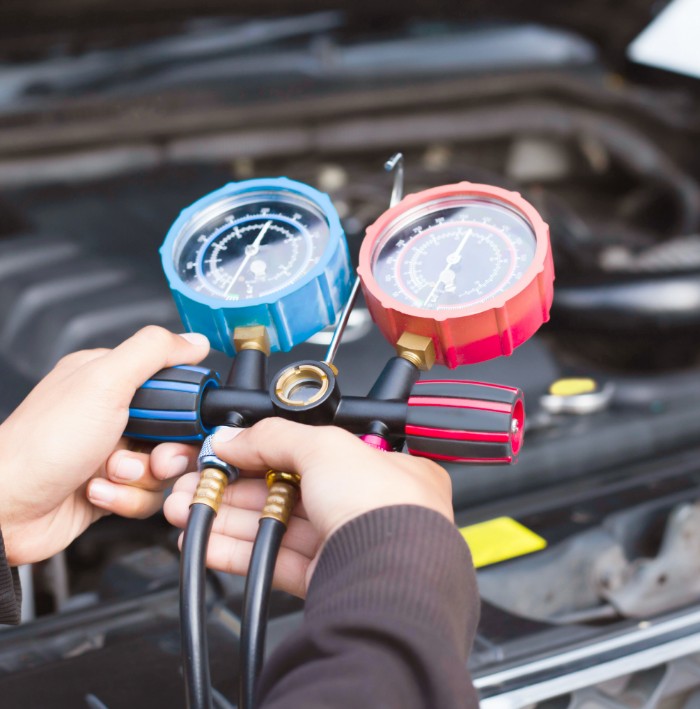 Vehicle Air Conditioning Issues
A number of factors can contribute to your AC breaking down or not working properly. Some of these include:
Clogged or Leaking Condenser
Improper Refrigerant Level
Refrigerant Cross-Contamination
Unresponsive Pressure Switches
Damaged Compressor
Clutch Problems
Broken Belt
Moisture & Debris-Ridden Filters
Leaks in the AC System
AC Control Head Malfunctions
Let Christian Brothers Automotive Help
Especially during the summer, we depend heavily on our cars' AC. However, the icy chill you feel may not always be as brisk as you remember. Low refrigerant levels are often responsible for diminished AC quality; however, that may not be the only problem. To detect the root cause of your vehicle's AC issues, our Dacula team offers a comprehensive inspection of your entire AC system. In the event that additional problems are discovered, our team can provide you with cost-effective solutions. To avoid irreparable damage to your car's system, it is recommended that you do not attempt to "recharge" your AC with a DIY can from the store.
Signs You May Need Our Dacula Vehicle AC Services
Strange Noises.
Hearing unusual noises from your vents or under the hood could signal that it's time to replace your AC.
Bad Smells.
A vehicle with an unexplained odor may have bacteria built up in the evaporator.
Inconsistent Temperatures.
Inconsistency in the temperature of your air conditioner could indicate a serious problem with the compressor.
Stay Cool on the Road with Routine AC Maintenance
Don't let a malfunctioning AC system ruin your driving experience. Regular maintenance can help keep your vehicle's air conditioning running smoothly, ensuring you stay comfortable no matter how hot it gets outside.
At Christian Brothers Automotive Hamilton Mill, we offer comprehensive AC maintenance services, including:
AC system inspections
Refrigerant level checks
Component replacements
Cleaning and sanitizing of AC vents
By scheduling routine maintenance, you can catch potential issues before they become major problems and avoid costly repairs down the line. Plus, a well-maintained AC system can even improve your vehicle's fuel efficiency.
Contact our Dacula location today to schedule your next AC maintenance appointment!
Let Our Dacula Auto AC Experts Help
Our team at Christian Brothers Automotive Hamilton Mill knows how critical it is to have a properly functioning air conditioning system, especially during the summer months. For this reason, we provide honest and transparent solutions for any AC problem you may be experiencing. To accurately diagnose and resolve problems, our Dacula technicians utilize modern diagnostic technologies.
Our technicians will recharge your system and add the correct amount of refrigerant to ensure that your AC functions at its best. If your condenser, tubes, or air filter needs to be replaced, our team can take care of it all. Our team of experienced and knowledgeable technicians is well-versed in repairing, servicing, and maintaining AC systems for all kinds of vehicles. When you trust Christian Brothers Automotive Hamilton Mill with your AC system, you can rest assured that your AC system is in good hands.
Need your ​AC Services serviced in Dacula? Turn to the professionals at Christian Brothers Automotive. Call us today at (770) 574-4310 or schedule an appointment online.
At Christian Brothers Automotive, we utilize modern diagnostic technologies to get to the root of your AC problems, and offer honest and transparent solutions to any issues you may face.
As your partners in automotive care, if your refrigerant levels are low, we will recharge your system and add the appropriate amount of refrigerant to help your AC blow cold air again. We will replace a broken condenser, leaking tubes, or dirty air filters. No matter the issue or vehicle, we've seen and done it all. Trusting Christian Brothers Automotive to handle your AC system service and repair is a decision you can feel confident making.
Read More
Read Less
FAQs
Have more Questions?
Our friendly auto service experts have the answers.
Call your local Christian Brothers Automotive car shop today
Hear What Our Customers Had to Say About Us
"I liked the customer service and going above and beyond to make sure I was comfortable while waiting in the store for my vehicle work to be done, specifically being offered a nice hot coffee with creamer."

- J.L.
Read More Testimonials