Winter in Texas may stereotypically be considered a wonderland, but we know things can get bad quickly. Depending on the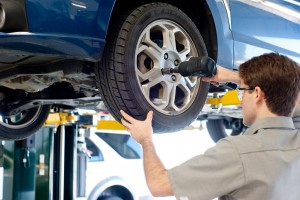 temperatures, you may be looking at sunny skies or taking in the winter weather from inside, wrapped in a blanket. No matter what weather is in store for us this season, it's still important to make sure your car is prepared for the worst.
At Christian Brothers Automotive Alamo Heights, we want to make sure your season of travel and cold weather fun is as safe as it can be. Today, our auto technicians in Texas are going to share with you a few pieces of advice to get your car through the colder season.
Visibility
One part of the car people often forget to take care of is the windshield. If you have ever driven behind a large vehicle throwing back dirty snow or water, you know windshield fluid can be a lifesaver. When buying washer fluid, it's best to invest in one with antifreeze. This will help stop your washer fluid from freezing over night if the temperature drops quickly.
Traction
You probably won't need to invest in snow tires here in Texas, but you should still make sure that the tread on your tires is good. It's always necessary to have enough tread on your tires to safely drive, but it's even more important during these colder months. In the winter, your tires have to break through hazardous and slippery conditions.
Accidents
Despite all the preparation you've done for your car or how good a driver you are, others might not be in the same position. An accident could still happen. This is why it's a good idea to create an emergency kit to keep in your car. Keeping a blanket in your car is also a good idea, especially if you may have to wait outside for roadside assistance.
Be certain your car is ready for winter by dropping by our San Antonio auto repair shop. We offer all of our customers a courtesy inspection and back most of our services with the 2-year/ 24,000-mile Nice Difference warranty. Call Christian Brothers Automotive Alamo Heights in San Antonio, Texas today to get your courtesy inspection and see the nice difference.