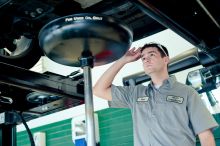 As gas prices skyrocket, we're all looking for ways to get more mileage out of our gas tanks. There are certain auto services you can perform to get more performance from your car, such as [proper tire pressure], oil changes and a Courtesy Inspection at Christian Brothers Automotive .
Gas mileage takes a considerable hit if you have a vehicle with a sun or moonroof or a convertible top. Driving at high speeds with your sunroof or convertible top open can decrease your gas mileage by as much as 15 percent.
Cars are generally designed to cut against the wind, aerodynamically forcing it up the windshield, over the roof and down against the back window. Any interruption of that flow can result in drag, which causes the car to work harder to perform at the driver's urging. According to former president of the Society of Automotive Engineers James Smith, "When you remove that roof line, you have more room for the air to get recirculated back in."
While not as dramatic as a 15 percent drop in gas mileage, open sunroofs and moon roofs create drag as well, especially those without wind deflectors. Wind deflectors and windscreens help to reduce the uncomfortable noise and intrusion that is usually associated with driving with a top down or an open sunroof.
If you're driving a long distance at a high speed, it is best to pull the top down or close your sunroof to get the best gas mileage. Other auto services that increase fuel efficiency include replacing your car's air filter, cleaning your fuel system and changing your oil every 3,000 miles.
Christian Brothers Automotive offers these auto services and much more to improve and maintain your vehicle's fuel efficiency. Schedule an appointment with your neighborhood Christian Brothers Automotive and take advantage of a complimentary Courtesy Inspection today.