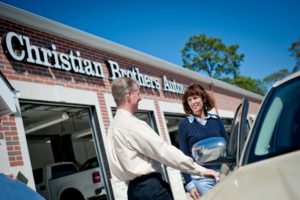 At Christian Brothers Automotive, we service thousands of cars each year. One of the most common questions we are asked is why car owners should go to an auto repair center instead of a dealership for assistance? Here are three reasons why you should use an auto repair center:
• Professional technicians. Christian Brothers Automotive only employs technicians who are professionally trained and ASE certified to determine the necessary repairs and maintenance schedule for your automobile. They have the training needed to ensure that your vehicle is properly taken care of.
• Knowledge base. We know cars. Our technicians continually participate in continued education related to the latest techniques and automotive products.
• Recall information. Almost every day there are recall notices pertaining to different vehicle components. Our technicians work hard to stay in the know about whether or not a recall might apply to your vehicle.
Come see the difference. We at Christian Brothers Automotive know that your time and your vehicle are valuable. Visit the location near you to see for yourself.