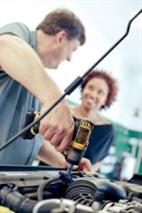 Engine replacement can be the most expensive, yet necessary, costs that your automobile will ever quire. Christian Brothers Automotive recommends engine replacement only as a last resort if engine repair cannot be performed. Most engine replacements could have been prevented with better preventative maintenance over the engine's lifetime.
Unfortunately, when your car's engine breaks down you will have to make the tough decision of whether to replace or repair your engine. Engine repair is only possible if your car's engine is still salvageable. Otherwise, you will have to completely replace it. Engine repair is possible for cars that produce odd noises or have locked up engines, but when an engine has completely broken down, we recommend replacing the engine.
Scheduled tune-ups are an effective way to help prevent costly repairs. Just like all other Christian Brothers Automotive repair services, scheduled maintenance and repairs come with a 24 month/ 24,000 mile warranty. Although tune-ups can vary for different auto makes and models, they usually involve spark plug replacement, spark plug wire inspection, setting the timing belt (or timing chain), a thorough diagnostic inspection of engine parts, and the replacement of air filters and fuel filters (if applicable).