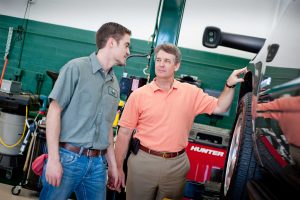 Have you ever thought about how much trust you put into your brakes? A vehicle's brakes are obviously one of the most critical auto parts for a driver. Are the brakes on your vehicle performing the way they should?
Take your vehicle into a Christian Brothers Automotive at the first sign of worn down brake pads or damaged rotors. An ASE certified expert technician will perform brake service or repair on your vehicle and provide you with industry leading customer service. Bring your vehicle to one of our auto repair centers if your vehicle is going through any of the following:
You have to apply more pressure to the brakes to slow the vehicle down.
If your vehicle's brakes have become significantly less sensitive to your foot when trying to brake, the brake pads are most likely worn down. Luckily installing new brake pads is an affordable auto repair and very easy for a Christian Brothers Automotive ASE certified technician to perform.
Your vehicle is making screeching or grinding noises while stopping.
When your vehicle makes noises that don't sound natural while stopping, it needs brake service or repair. Usually when a vehicle makes sounds like this it means the rotors are damaged or the brake pads need to be changed.
The brakes feel like they are skipping while decelerating.
If your brakes are skipping when being used, take your vehicle into your neighborhood Christian Brothers Automotive immediately for brake service. You are putting yourself and other drivers in a potential hazardous situation every time you drive.
There are several other signs that signal that it's time to bring your vehicle into one of our auto repair centers. Don't wait until it's too late. Call to schedule an appointment, or stop by Christian Brothers Automotive for brake service and repair today.