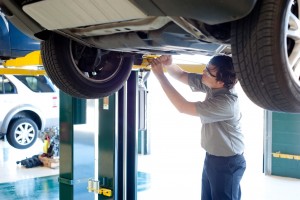 Do you know what your vehicle's transmission does for the car? A transmission makes it possible for the energy produced by the vehicle's engine to reach the wheels. Your car is useless without a transmission because it will be stuck in a stationary position. Keep your vehicle running correctly by having transmission service done at a Christian Brothers Automotive.
We require our employees to be ASE certified. Anytime a customer brings his or her vehicle into one of our locations, he or she can be assured an ASE-certified expert technician will perform industry leading work on the vehicle.
Has your vehicle ever had a transmission flush? A transmission flush works wonders on the transmission system. When you bring your vehicle into a Christian Brothers Automotive for a transmission flush, an ASE-certified technician flushes the transmission system with fresh transmission fluid and cleans the entire system. When your transmission system is being cleaned, all the debris (that accumulates over the years of driving) gets removed. A transmission flush is completed once the system is properly filled with new transmission fluid.
Neglecting your vehicle's transmission will result in huge transmission repair bills. Transmission flushes save you money in the long run.
Bring your vehicle into Christian Brothers Automotive for transmission service. Our ASE-certified technicians will diagnose the state of your vehicle's transmission and suggest further action. Call your local Christian Brothers Automotive auto repair center to schedule a transmission flush or transmission repair today. Stop by and see what our team of transmission experts can do for your vehicle today.