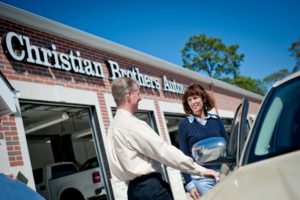 Christian Brothers Automotive has local auto repair centersthroughout the country. Every one of our locations is home to ASE certified expert technicians. Our employees provide customers with industry leading customer service.
When you bring your vehicle into a Christian Brothers Automotive, you can rest assured that your vehicle will get the service it needs, not the service other automotive repair centers want to sell you. Christian Brothers Automotive values our customers and want to save them money. Our ASE certified technicians will never sell you an auto part or service that your vehicle doesn't need.
We strive to provide our customers with honest auto services and repairs. You will never get a "surprise" auto service done on your vehicle. We tell you about a potential problem and ask your permission to fix it. Our technicians will not ever try to upsell you on a certain type of auto part or brand.
When a vehicle is brought into one of our auto repair centers, we perform a Courtesy Inspection. This is our way of providing customers with extra value in their auto repair service experience. Our Courtesy Inspection is similar to the type of inspection most states require vehicles to go through annually. During a Courtesy Inspection, ASE certified expert technicians thoroughly inspect a vehicle and report back to the customer. If there are signs of future auto damage, a Christian Brothers Automotive technician tells the customer, offers to fix it and provides him or her with expert advice.
Our auto repair centers are honest and equipped with the best automotive technology and tools available. ASE certified technicians are the only people Christian Brothers Automotive allows to work on a customer's vehicle. Are you looking for a better auto repair experience? Contact your local Christian Brothers Automotive repair center and have your vehicle serviced today.